Every business aims to maximize its profit. Also, as a business site owner, you should try new strategies like Cross-sell vs. Upsell to increase your revenue by bringing in more customers. Even then, gaining new sales isn't the only way you can use to increase profits and revenues.
For these reasons, you should aim to implement profitable strategies to help increase your revenue. Your chosen strategies should boost your average transactional value since new customers often come with more costs and work costs.
Usually, large businesses typically blend a form of up-selling with cross-selling, against with down-selling methods in order to boost their revenue.
Cross-selling and upselling techniques are focused on providing the customers added value, rather than limit the sale to the only product that your customers are interested in.  When you perform a cross-selling or upselling, the main goal is to increase the amount of money your customer spends on products.
You can do this by introducing additional products that your buyer might not have thought about.
When done right, cross-selling and upselling techniques will help to increase the average amount your customers are willing to spend on your site. What's more, it'll improve your customers' overall experience.
Cross-Sell vs. Upsell - Defined
What is Cross-Selling?
It's the concept whereby you encourage people to spend more on buying additional products that can complement their initial purchase.
The sales technique consists in stimulating customers to spend more money by buying an item that's related to what they're already purchasing.
Oftentimes, cross-selling involves buying items you need but they may have slipped your attention. An online store or a skilled salesperson that offers cross-selling recommendations helps ensure that you buy an additional item to your original purchase.
Next, let's look at the upselling definition.
What's Upselling?
Upsell meaning is a marketing tactic used to encourage customers to purchase high-end alternatives to their original purchase.
Here, the word "upsell" has been used to imply any situation where you suggest (or push) an item in addition to what the person is buying.
This strategy is used to sell a more expensive, superior high-end version of the product.
The superior version of the product is a better model of the item but with value-added features that raise its perceived value.
Cross-sell vs. Upsell: What's the Difference?
Now that we've defined upsell and cross-sell, it's important to make a distinction between these two.
While most people confuse upselling and cross-selling, cross-sell entails persuading your customers to put more products on their virtual carts.  Upsell is a strategy to push the most expensive item that you offer.
Even though upselling and cross-selling are two distinct concepts, you can leverage both in your marketing strategies.
Besides inviting customers to purchase multiple products, you can also encourage them to get more valuable products.
Also, sales reps can take advantage of cross-selling and upselling independently as well as in conjunction to generate the highest returns.
6 Upselling And Cross-Selling Best Practices To Increase Your Business Revenue
Upselling and cross-selling involves helping your customers reach the best decision. Here, personalization allows you to take care of your buyers with promoting the products in the proper way.
Both upselling and cross selling tactics are developed to boost your sales value. Yet, sellers have to make sure that their offers bring more value to customers' lives as well.
Let's explore some effective approaches that businesses can employ to boost their returns.
#1.Leverage User-Generated Content
With user-generated content, you'll have a more authentic form of product promotion or marketing. Usually, online users tend to trust more reviews from other customers, moreover brand marketers.
That's why you need some real-life situations when customers used your products in order to make them a social online proof.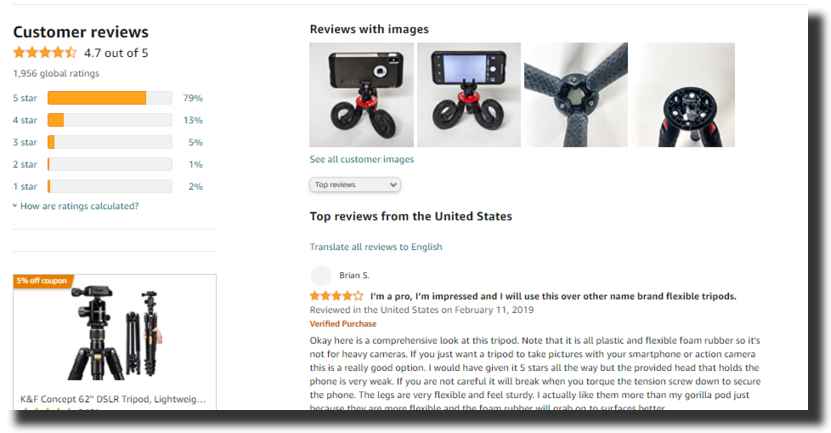 An example of user generated content on Amazon
The easiest way to do this is to collect testimonials, online reviews, and product ratings from customers who purchased premium items from your store in the past.
When you display these reviews, your customers will trust more that they'll be getting value upon buying the suggested products.
Many eCommerce platforms provide reviews to convince potential customers. A great example is Amazon. You have to let customers share their story by posting their experiences. Sharing social proof is a great trust signal that encourages conversion rates while driving more sales to your business.
When you repurpose their messages for customer case studies as well as success stories, you'll get more success.
#2.Use Ingenious Product Bundling Techniques
Bundling is among the most effective ways of cross-selling products. With this method, you'll offer supplementary products to your buyers, that make the use of the primary product easier in one package.

Suggesting related items on Amazon
A good example is when someone wants to buy a TV set and you offer him a bundle that comes up with a wall-mount, HDMI cables, and a sound system at a discount price.
Your customers will find such a bundle more attractive when it's sold at a lower price, compared with the total price of the individual products. The good thing is that your customer will benefit if you offer flat-rate shipping fees for items bought together.
You can increase your sales when you set a minimum order value because more customers qualify for free shipping with every product bundle that exceeds a given price point.

For instance, Amazon has the "frequently bought together" approach when recommending complementary products on every page.
Another way of suggesting supplementary items is when including sections like "people also viewed" or "you might also like" on your online store.
#3.Run Incentive and Discount Programs
To induce more purchases, you can offer discounts or other relevant incentives to your target audience. If customers feel that they're getting more value from your offer, they're more likely to make the deal.
Use the data you've collected from your previous buyers, in order to get personal data. This gives you an idea of what your customers like as evidenced from their past purchases. Therefore, use this information to upsell them.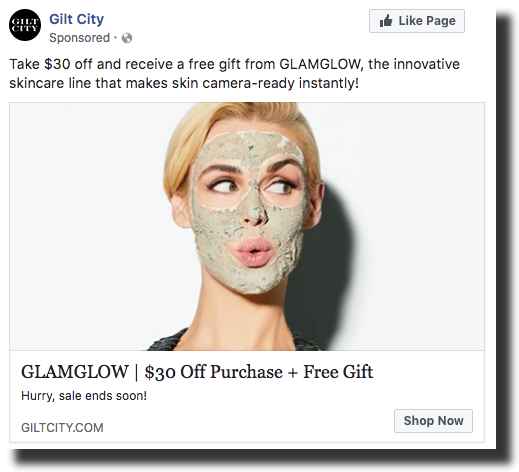 An example of discounts and free gift by Gilt City
One way you can make previous buyers feel more valuable is when you offer them loyal customer discounts and gifts when buying your products again. For example, you can share ads or messages for related services and offer gifts.
If you decide to use the points system where your customers receive loyalty points (good examples being Ulta and Sephora), you can use social ads and search to remind your customers that they've got points saved up that they can use for a purchase.
#4.Show What Other Customers Also Bought
To increase your sales, let your potential customers know about items that other people bought. This way, they can also benefit from several valuable items.
And if you've shopped on Amazon, then it's likely that you've seen examples of cross-selling. Let's say you're looking to buy a vlogging camera. You click on the brand that interests you.

When searching on Amazon, you'll have the title "Customers who bought this item also bought" appear on the sales page. Here, you'll have several "pages" of suggestions that your customers can view. This way you'll encourage more sales for increased profits.
#5. Use Expert Recommendations
When doing cross selling, expert recommendations can go a long way. While consumers will trust when they give reviews and feedback, they're more likely to trust more independent experts.
When an industry expert checks out or takes your course, be sure to ask for a short review that you'll include in your landing and sales pages. This makes a great tool to offer social proof on your website. Thus, you'll convince customers to purchase additional products from you.
#6.Focus on Timing & Limitations
In any business, you want customers to come back. And for this to happen, your team should provide great value and offer this value at the right time.
According to marketing metrics, it's easier to sell to existing clients by 50% than to new customers. So, start by selling to existing customers.
Include this approach in your existing customer lifecycle. Also, use the data you've collected to identify any problem that your existing customer wants to be resolved.
The next step is to show your consumers how the additional services you're offering will help them reach better success.
Note that when upselling and cross-selling to your customers, timing plays a critical part. Again, to change one sale into several purchases, you need to know your consumers' needs. Plus, try limiting the product usage, so you can create multiple upsell opportunities.
As such, putting customized limitations on the services you offer, gives your consumers an idea of what they'll be getting from you. That's why, look for what will attract different buyers.
Once they note the value your products or services provide, your customers will start asking for more. And this gives you a chance to upsell.
#7.Track your sales and send related offers via mail
Most marketers limit their upselling and cross-selling campaigns only to the online product pages. There are many channels that you could use to enhance your upsell and cross-sell efforts.
One effective way is by sending to your customers some suggestions and product offers through email. If the customer buy your products, and he is happy with them, you can then send follow-up emails with a suggestion of cross-sells or upsells that could interest them.
Using this type of email ads will greatly increase your chances of making more sales.
Also, note that there are numerous plugins and tools that you could use to embed upsell or cross-sell strategies for your online store, that's why, be sure to choose the right one for your chosen platform.
For instance, if you're using Shopify to run your store, you could use tools like "Product Upsell", "Receiptful", or "Unlimited Upsell" for your marketing campaigns.
How Implementing Upsell And Cross-Selling Strategies Ensures Business Success
In order to run a successful ecommerce business, you need to implement real-time marketing tactics by analyzing your customer persona and the market demand.
As such, the goal of your strategies is to offer the best and most relevant product deals to your customers depending on the data you've collected.
Implementing successful upsell and cross-sell campaigns not only increase the average order value but also improves the customer retention.
When developing your upsell and cross-sell suggestions, note that the aim isn't to make profit, but it is to add value to all of your customer purchases. Therefore, put your visitors' needs first, then your product bundle will market itself.
Note that product upsells and cross-sells suggestions are among the easiest ways you can use to increase conversion rates. Also, they can help you to improve the average order value while extending your online store platform capabilities, forging stronger relationships with your clients.
Businesses should make the most of every chance to upsell and cross-sell their products or services. Be sure to review your products and offer training to your team mates so they can suggest different items to help provide better customer service.
Suggestive selling have to be consistent in your business, to enhance your sales while keeping your customers happy. With all the mentioned tips from the above, you can easily increase your revenue.
FAQS – Cross-Selling And Upselling
What are cross-selling and upselling techniques?
On the one hand, the upselling strategy, you'll sell a more expensive and superior version of the products that customers want to buy or they already have.
On the other hand, the cross-selling strategy involves selling products linked to the items that your customer wants to buying or already has.
How do you Upsell?
The best way you can upsell is by suggesting the next higher version of the item. Other upsell suggestions include:
Promoting products that are reviewed or sold the most, offering more room for the upsell, sharing testimonials for upselling, and ensuring that the upsell don't cost more than 25% than the initial product.
Tags: cross sell, ecommerce, upsell