User-generated content is one of the most powerful weapons an eCommerce marketer can have in their arsenal. Out of all the types of user-generated content, reviews are the easiest to collect and use. 
Our previous posts have spoken at length about the first step, so now we'll focus on how to use reviews to get more sales.
Why Should You Use Reviews Across Platforms?
It's not enough to collect reviews on Google Shopping, Yelp, Facebook, or your website. It's essential that you use these reviews cross-platform.
Why?
Because reviews are extremely powerful: 91% of online shoppers read them and 84% of them trust them as much as recommendations from friends and family. Better yet, 31% of consumers will spend more with a retailer that has excellent reviews. 
However, not all these shoppers will browse all the platforms you use to research your reputation. Think about the following scenarios:
Someone gets to your website researching a product that you sell. But they see no reviews on your website or on the product page, so they assume you are not a very popular seller. They move on.

Another client wants to buy something from you, but they will research your brand first -- they want to see some reviews on third-party websites, not just the ones you publish yourself. They get to your Facebook page, but they see no user-generated content. They move on.

Someone else is looking for a specific product using Google's search engine. They see your ad but that ad is a pitch for the quality of the product. Your competitor's ad, however, features a review from a customer. They move on to your competitor because they found the social proof they were looking for.
As an eCommerce marketer, your number one job is to ensure that the potential customer doesn't move on to your competitor. Irrespective of how clever your ads are or how convincing your pitch is, they know it's advertising. They need to see an opinion from someone like them -- a customer. Ideally, a happy one.
Let's see how you can use reviews to turn potential shoppers into raving fans.
How to Showcase Reviews on Your Website
Remember the first scenario above? The one where a customer ends up looking at a product on your website but they see no reviews for it, so they move on? Right, that's what we're looking to fix in this section.
The number one place to use reviews to increase sales is your website. Social proof is exactly what most customer needs to get from "maybe" to: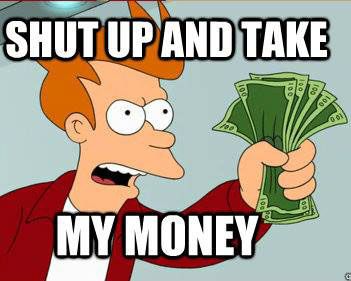 Image via Pinterest
The key places to fully leverage reviews on your website are:
Your homepage -- in a visible place, where visitors can see it as soon as they enter. Ideally, the reviews displayed here should be rotated regularly. You can add a carousel of your best reviews, for instance.

Product pages -- add reviews for every product you have reviews about to make buying decisions easier.

Your hero/header banner -- for the biggest impact.

Your 'About Us' section to show that you have an engaged tribe built around your brand.

In your blog posts -- they're super easy to embed and they will help you prove your point whenever you blog about the quality of your products or of your customer service.

In a gallery of their own -- showcase your all-time best reviews on a dedicated page for potential customers who are still on the fence.
Not enough reviews on your website to populate all these places? No problem!
You can use Wiremo to collect and display reviews or to arrange them better on your website. You don't need to be a tech guru to make that happen, either. Wiremo is super user-friendly and it was created specifically for eCommerce entrepreneurs who don't have a large tech department. 
See for yourself -- it's free to try Wiremo:


How to Use Reviews in PPC Ads
One of the biggest issues PPC marketers are trying to solve is the click-through rate. When you compete with both organic and paid results, the click-through rate is crucial to the success of your ad campaigns.
Research shows that ads based on user-generated content get four times higher click-through rates than those that have 'regular' copy.
If you rely on Google Ads for sales, then you should consider adding reviews or your merchant rating to your ads. Do keep in mind that Google doesn't rely solely on Google reviews for your rating. They also aggregate reviews from G2, Wiremo Seller Rating, Amazon, eBay, Yelp, and others. If your online reputation is solid, then using your reviews for more sales is the best thing that could happen to your bottom line.
You don't need a Google Merchant account or running Google Shopping ads to use the seller rating extension in Google. The service is automated, so all you have to do is meet a few criteria:
At least 100 reviews submitted in the past year on Google or on partner websites.

A rating of more than 3.5 if you want reviews to show up in your Google Ads text ad.

You also need to have your website verified by Google or a partner of theirs via Google Consumer Surveys.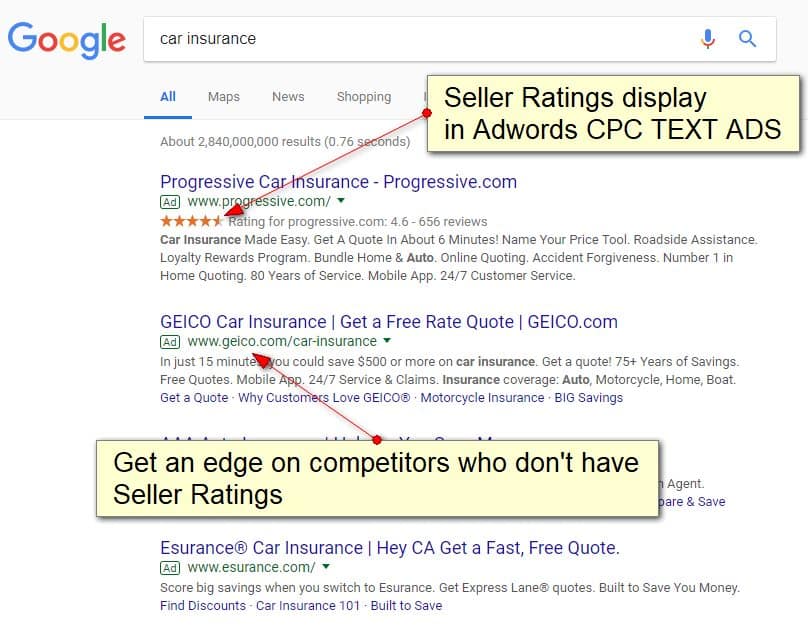 Image via Planet Marketing
Want to stop showing reviews? Simply remove the extension. 
This is the automated way to leverage reviews in Google Ads or Google Shopping. But you can also do it the old-fashioned way: by manually adding the text of your best review to the ad copy.
If you do so, make sure you also add a link to the full review or a screenshot of it on the landing page. Shoppers know that anyone can fabricate a few nice words about themselves, so make it obvious that the review you are quoting is from a real-life customer.
How to Use Reviews on Social Media
First things first: we highly recommend you use social media for two review-related things -- collecting them and showcasing them.
Social media can help you get more reviews in Shopify or any other eCommerce platform you use and, of course, it can help you get reviews "at the scene of the crime". Make sure your review tab is active on Facebook and on other platforms that allow reviews and you're all set to incentivize customers to leave them.
However, not all your reviews will be collected on the same platform. And, as we discussed earlier, that's a good thing. Because you can:
Add links to reviews left on other platforms on your social media profiles.

Screenshot reviews left on your website or other platforms and post them to all your social media profiles. Be sure to add a quick thank you caption for the author of the review. Even if they may not see it, your followers will and this will entice them to leave their own reviews.

Re-tweet or share every review left on social media. Never miss an opportunity to showcase the happiness of your customers!

Screenshot or share every favorable opinion, even if it's left in the comments section.
Not enough reviews to leverage? Wiremo has a tool called Manual Review Request, which allows you to collect reviews even on third-party platforms through a direct link to the business profile on that platform.
Finally, one important piece of advice about reviews on social media: always (ALWAYS!) reply to them. Even to the negative ones! [Check out our guide on how to reply to online reviews here and get the templates you need to make this super fast and easy!]
Remember the 'social' part in 'social media'? Of course you do; it's right there at the beginning. When you reply to every review or comment, you don't just show that you care about your customers. You also kick organic reach into gear. And this is extremely important since we know that organic reach on most networks (especially Facebook) has been on a steady decline for some years now. 
This is why user-generated content is one of the most coveted assets on social media. To leverage it even further, in your reply or comment, ask a question or leave it open-ended to prompt another reply from the initial poster. The more comments and engagements, the better your organic reach and your visibility.
Wrapping Things Up
If we were to sum up all of the above in a single sentence, it would be this one: take a holistic approach to all your marketing and sales channels. Remember that none of them exist in a void.
More importantly, today's customers demand the omnichannel experience. They want all your channels to look and feel consistent. In other words: if they move from your website to your Facebook profile, they need to see right away that they belong to the same brand. Of course, the primary asset for consistency is branding.
But reviews play a major part in it, too. By showcasing your reviews everywhere, on all your channels, you make it clear that one of your brand's fundamental values is the care for your customers. When you show that you are proud in every little bit of feedback you receive, no matter what obscure corner of the internet it may be in, you show that you care.
And when you care, you are rewarded with more sales and more loyal customers.
Ready to use reviews to fuel your sales machine? Start by logging into your Wiremo account to display them in all the key areas.
Tags: how to respond to online reviews, how to use reviews in PPC ads, how to use reviews on your website, how to use reviews to promote your website