The e-commerce industry is booming globally. Several e-commerce platforms are available, but choosing which works best for your store can be difficult. In this article, we will be comparing WooCommerce vs Shopify.
Woocommerce and Shopify are two of the most popular e-commerce platforms on the market. Each of these platforms provides your business with some of the best online business tools. However, some cons might not suit your business needs.
As an e-commerce business owner, choosing the best platform to grow your business is important. This guide will help you pick out the best e-commerce platform to enhance your workflow and help you gain new customers.
How to Evaluate your E-Commerce Platform
Before you start looking at the e-commerce platforms, you should create criteria to evaluate the platforms. There are several ways you can determine your platforms, but these are some of the components you should be looking for:
Budget 
Budgets are one of the buildings blocks of any company. It is important to consider your budget before using either Woocommerce or Shopify.
Ease of use
Your chosen e-commerce platform should be easy to use and should not require any additional technical skills.
Payment Methods
Having an e-commerce platform with multiple payments is important. This will allow your business to be flexible. Having multiple payment methods can also be an attractive quality for potential customers.
Integrations
An e-commerce platform should offer integrations with other third-party platforms. These tools can be essential in growing your business.
Growth
Your chosen platform should ultimately help you grow your business.
These are some very basic requirements that all e-commerce business owners must consider.
Comparison to Other Platforms
Apart from Shopify and WooCommerce, there are several other e-commerce building sites. Etsy is a popular product selling site. When it comes to Etsy vs. Shopify vs. WooCommerce, Etsy offers little flexibility in the building process.
Big Commerce is another website-building tool. In the BigCommerce vs WooCommerce vs Shopify debate, BigCommerce is better suited for larger enterprise businesses.
Overview
Before we break down the advantages and disadvantages of the two companies, it's important to get a detailed overview.
On the surface, WooCommerce and Shopify might look like they offer similar e-commerce tools; however, there are completely different platforms.
To put it briefly, Shopify is software that helps create an entire e-commerce site. The site-building program WordPress created WooCommerce. While WooCommerce is a program, you can 'plug' into an already up and running site.
At a glance, Google trends data shows that while both e-commerce websites are steadily growing, Shopify quickly gains momentum to become one of the best e-commerce platforms.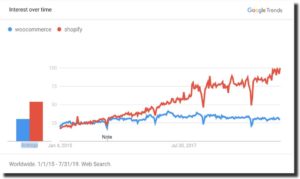 Shopify is a subscription-based eCommerce platform that helps businesses of any size sell physical and digital products. You can create a Shopify store or connect it to an existing website. You can integrate Shopify with other third-party applications like social media, blog posts, and email. Furthermore, you can also use your Shopify buttons with other websites or in-person shopping.
Shopify is a great e-commerce tool that offers customers the benefit of both a website and an online store builder. With Shopify, you can sell your products and build your unique online store.
Shopify popularity
Shopify is the second most popular eCommerce store builder globally, mainly because it is easy to use. Any user can easily create a Shopify website that is unique and eye-catching. If you're a small business just starting, you don't have the technical expertise to build a Shopify website. Many Shopify reviews highlight the platform's ability to help grow small businesses.
With Shopify, you can create contact pages and blog posts on your custom site. Shopify allows you to add FAQs and testimonials pages to enhance the look of your site. These are just a few examples of what you can do with Shopify, as the options are endless.
Customers should be able to easily purchase your products via a credit or debit card transaction. Shopify users also get access to over 100 payment methods. With this wide variety of choices, you can easily find a payment option that works best for your business.
WooCommerce is an open-source eCommerce plugin built for WordPress. It allows you to create a powerful content management system (CMS) and use it to run an online store. Since Woocommerce is an open-source plugin, you can customize it however you want. This does require some level of technical skill.
WordPress is one of the most popular website builders in the world. If you're familiar with WordPress, then this might be a good platform for you. The familiarity might attract many people to use Woocommerce.
WooCommerce popularity
WooCommerce was launched in 2011, and it quickly gained popularity within the e-commerce industry. Today, it is the most popular e-commerce solution around, with more than 3.8 million users. WooCommerce's successful because it allows you to use WordPress, the most popular CMS in the world, to run your online store.
According to research by BuiltWith, more than 3.8 million WordPress websites use WooCommerce, making it the most popular platform in the e-commerce industry. Woocommerce works well because it has powerful features and several customizable options.
If you're one of the many WordPress users, you can easily install and activate WooCommerce just like any other WordPress plugin. If you don't have a WordPress site, you'll first need to adopt WordPress as your CMS and create a website. Without a live website, you can not run and install a Woocommece plugin.
Unlike Shopify, you'll need to purchase a host website for your e-commerce site. While there are ways of running Woocommer on your personal server, many store owners prefer purchasing separate web hosting packages.
WooCommerce is able to cooperate with most themes on the market. However, it is important that they follow the standard recommendations and best practices. This means that, in most cases, you can select any WordPress theme that you like and still make it work together with WooCommerce.
However, you will also come across themes that have been built with WooCommerce in mind from the get-go and are tailor-made to make all your product/service listings look great. If the eCommerce store's design itself is particularly important to you, you should look for themes that are specifically made for WooCommerce.
Here is a general overview of the pros and cons of both platforms. This quick glance will give you an idea of the topics we are evaluating these two platforms on.
Shopify
| | |
| --- | --- |
| Pros | Cons |
| Shopify includes hosting services. You don't need external code to build a website. | Shopify has some transactions fees on Shopify payments that make it a slightly pricier option |
| Shopify can be integrated with multiple channels. You can use your Shopify site with platforms such as Amazon, eBay, and Pinterest. | You have little control over your site with Shopify |
| Shopify offers customer support 24/7 | Monthly Shopify add up can be costly if you're operating on a tight budget |
| Variety of beautiful themes and designs | |
| Only takes a few minutes to set up your store. | |
| Drop Shipping is easier to set up with Shopify | |
WooCommerce
| | |
| --- | --- |
| Pros | Cons |
| Since WooCommerce is an open-source program, there is no limit to customization | WooCommerce is not beginner-friendly. You will need coding knowledge to build a website with this platform; unlike Shopify, |
| WooCommerce allows flexibility for e-commerce business owners. | Even though WooCommerce has an initial free plugin, extra features may build up. |
| WooCommerce has a value of money as the initial plugin is free. | You will have to manage hosting, security, and backups. |
Now that we have an overview of the two platforms let's evaluate each aspect in detail.
1) WooCommerce vs Shopify: Which is Beginner-Friendly? 
Shopify easily comes on top in this department. WooCommerce is a far more technical platform that will require a certain level of knowledge to use or a willingness to spend some time learning. In contrast, Shopify is accessible to the everyday person, and you don't need to know extensive coding knowledge to get the most out of it.
Shopify is a hosted e-commerce platform. That means it handles a lot of the technical side of operating a store. With Shopify, you can set up your own domain name and hosting software. Shopify also offers security (SSL) certification so you don't have to worry about the safety of your site.
On top of that, with Shopify, you don't have to install, manage, or update any software. No need to worry about security or backups, either.  In contrast, with WooCommerce, you need to do a little more legwork, like sourcing your web hosting and security.
2) WooCommerce vs Shopify: How Long Does it Take Build Site?
If you want to start your e-commerce site as soon as possible, then Shopify is your platform. With Shopify, you can get your store live quicker than WooCommerce.
If you're starting from the ground up or have limited technical skills, Shopify is the best option for you. Getting your store live is far easier and quicker. You have your handheld as you set up your store and can give it a look and feel by choosing and editing themes. Shopify guides
Unlike setting up a store with WordPress, the process is not manual, while Shopify stores everything you need in one place.
WooCommerce is more suited to users that aren't looking to gain masses of sales immediately. Building stores on this platform is more of a creative project than it is on Shopify – you'll have lots of creative control, and you can make the site truly your own.
WooCommerce's setup wizard helps with the basics but doesn't answer more complicated questions. The setup process assumes that the user is familiar with technical skills and there is no further help available to build the site. This setup process can be tricky for first-time users, and it may take additional time to learn to code.
We recommend Shopify if you're just starting an online business and want to build your online presence quickly. Shopify works well in this instance because it combines powerful e-commerce features with a quick setup process.
3) WooCommer vs. Shopify: Design Features
For e-commerce sites, design is everything. You need to have a beautifully designed site to attract customers. Your perfect e-commerce site should be elegant yet simple to use. Customers don't trust a site that doesn't have the right aesthetic or doesn't function as well as it should. Therefore, having a professional site is crucial.
One of Shopify's greatest selling points is the visual quality of its themes. Shopify comes with more than 54 different store templates, of which 10 are free. Another great aspect of the Shopify design suite is that each of the themes has unique variations. Therefore, you're technically getting more than 100 separate designs.
The advantage
One advantage of Shopify's design is that they are all mobile responsive and have a variety of different coloring options. They have a fashionably sleek and clean aesthetic, which makes them perfect for any e-commerce business owner.
Shopify's designs aren't created in-house. Instead, they are outsourced to various web designers. While this might seem like a drawback, it actually ensures that you get a high-quality design template.
With this approach, you can guarantee that your site design will be elegant and professional. Shopify also offers a wide range of options, so there will always be a design available that will fit your aesthetic.
Premium themes start from $140. While this may seem expensive, it's a one-off payment that you should see as an investment in your store. It will pay for itself if it helps you generate more revenue (we've got more on pricing later). And if you're working to a tight budget, there are plenty of free themes to start with.
WooCommerce's entry theme called Storefront is fully responsive on mobile devices. It also comes with a clean and fresh layout. However, with WooCommerce, your website design depends upon your technical skills.
As mentioned above, WooCommerce offers a barebones style of website building. While this is a great option if you want to customize your site fully, it will be difficult to build something if you are not skilled in coding.
4) WooCommerce vs. Shopify: Sales Capability
Both platforms provide the features you need to develop an effective online store. If you're looking to sell products on the internet or get a small business online, both WooCommerce and Shopify won't let you down.
However, both platforms have different features when it comes to selling capabilities. We will be looking at their standard price package for these features.
Abandoned Cart Recovery
One feature that sets Shopify apart from WooCommerce is abandoned cart recovery. With this feature, customers can complete an abandoned order without filling out their details once more. This feature also sends buyers a gentle reminder about their cart.
Multichannel Selling
You can integrate your site with Amazon, eBay, and Instagram on both platforms. However, with WooCommerce, you will need to pay $75. You won't need to pay these fees on Shopify.
Shipping
Providing a seamless shipping experience to your customers can do wonders for your brand loyalty. Shopify and WooCommerce allow you to provide free shipping and sell internationally. But with Shopify, you get access to partnerships with USPS, DHL Express, UPS, and Canada Post. This saves you the time and effort of sourcing your courier.
In conclusion, Shopify comes with far more e-commerce tools inbuilt. Sign up with Basic Shopify, and you'll get impressive features to help you sell.
Shopify vs. WooCommerce: What is the Pricing Model?
Budget is an important part of any business plan. If you're looking for something affordable, then WoCommer is your platform. WooCommerce is free to use, and any additional extensions cost just $39 each on average. In contrast, Shopify has fixed-priced plans and relatively expensive extensions.
Shopify has set pricing, whereas WooCommerce is more flexible. Shopify's prices range from $29 to $299 per month. WooCommerce is free but comes with extra costs. These costs include hosting, a domain name, and security.
Shopify's set pricing plans make it easy to track your spending. On the other hand, WooCommerce is open-source software, making it free to install. However, you'll need to pay for hosting, domain, security, and extension fees. All these payments are included in Shopify plans.
| | |
| --- | --- |
| Shopify | WooCommerce |
| Shopify Basic - $29/month | Starter - $13.99/month |
| Shopify - $79/month | Plus - $17.99/month |
| Advanced Shopify - $299/month | Pro - $31.99/month |
Shopify vs WooCommerce: the Conclusion
Both Shopify and WooCommerce have several features that make them ideal for an e-commerce website however both these platforms serve different purposes.
WooCommerce is a great website if you want total customization and you want something that fits easily into your budget. However, WooCommerce requires a great deal of technical knowledge to create and set up a site.
Shopify edges WooCommerce out with its built-in sales tools, superior ease of use, and quick build time. There's no hassle with pricing, either everything you need is included in its clearly priced plans.
Tags: shopify, shopify vs woocommerce, woocommerce