Social media advertising is a powerful tool in today's marketing strategy. It's also known as social media targeting, since you're targeting social media audiences for your business.
Most importantly, social media advertising involves leveraging the use of social media networks to make conversions by reaching new target audiences fast.
When the target market matches with the demographics of social networks, social media advertising brings conversions with low acquisition costs.
It's also a better option in bringing faster results compared to organic reach. Social media advertising not only increase sales, but also drives website traffic and grows your brand.
Take time to go through the guide to understand how you can move from organic social media advertising to paid advertising for even better results. Learning social media dynamics can be a challenge but this guide will help in deciding what works best for your business.
An Overview of Social Media Advertising
Social media advertising started small when businesses would simply broadcast their products on social media.
Today, you can experience the power of social media in bringing conversions to businesses as it has evolved to be a resourceful platform today.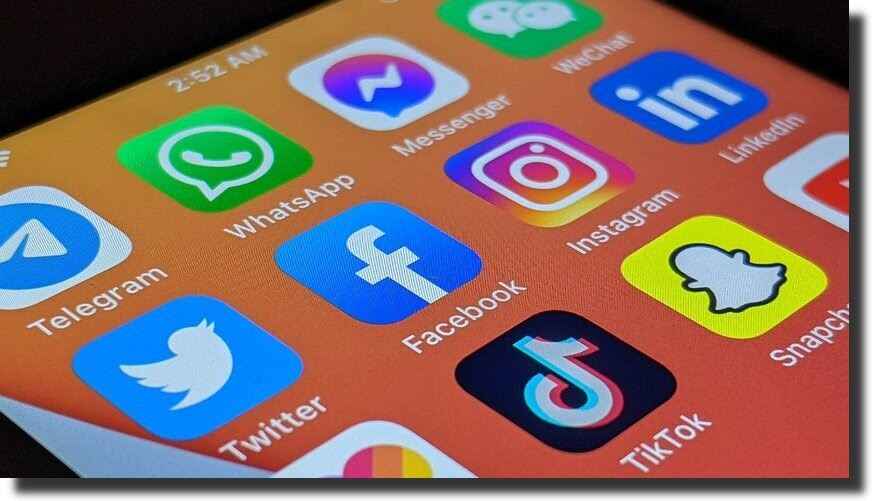 Social media advertising services have also grown in all dimensions including maintaining customer engagements.
Businesses are able to analyze their performance, customer reach, and overall sales through social media analytics tools.
Benefits of Social Media Advertising
Social media advertising is the fastest growing marketing strategy with most businesses running regular marketing campaigns on social media networks.
This marketing approach has many advantages, which include exposing your products to a wider audience. This in turn increases the number of prospects. Ultimately, social media advertising is a powerful marketing tool for every business.
Below are some of the benefits of using social media advertising services.
It Increases The Rate Of Conversions
The huge population of people on social media makes it easier to find potential clients. Through such networks as: Instagram, Facebook, TikTok, to name a few, you'll increase brand visibility.
As a result, the traffic to your website increases. This equals more conversions which bring increased sales and profits to your business.
Social Media Advertising Improves Search Engine Ranking
Through a social media listing for your business, you'll certainly receive wider visibility for your products.
Most potential customers use search engines such as: Google, Bing, Baidu, DuckDuckGo, to name a few, to search for products online.
By listing your business on social media, you can increase the chances of customers finding it when they perform a related search.
Furthermore, you can leverage search engine optimization tools to increase website traffic and search engine rankings.
It Leads To Lower Marketing Costs
Conventional marketing involves quite a lot of money considering you have to pay for lots of resources to make it work. Therefore, businesses are looking for ways to cut costs and social media advertising services that support this.
With only a limited budget, this powerful advertising mode can bring you even more leads and conversions.
You only need an internet connection and computers to market your products on social networks. Even if there are other miscellaneous costs you'll incur, social media advertising is quite low on operational costs, compared to conventional marketing.
Helps Increase Brand Recognition
Advertising your products on social media is a sure way to improve your brand's recognition.
Once your customers find your brand, they'll want to know more about the products you offer, therefore, creating a relationship with you. If they get the desired impact, they will refer their friends and families, thus improving your brand's reach.
You shouldn't just work on brand recognition, but check on your business impact on customers' lives. This way, you're assured that your brand receives recognition from newer audiences.
Increased Brand Loyalty
Through social media advertising, your business can receive brand loyalty from consumers. Since social media is an open platform, other customers can express their opinions and feedback regarding your products.
If you want to build loyalty for your brand, make sure you offer the best and work on your customer satisfaction strategies using social media networks. This way, you'll manage to build a positive image of your business and hence improve brand loyalty.
Which Are The Best Networks For Social Media Advertising
If you're thinking about marketing your business on social media, various networks help businesses with advertising. Before you choose the best for your products, learn how each of them works and what goals they will help you achieve.
Usually, every social media network has the demographic it targets, so you have to keep this in mind when making a choice.
Furthermore, you have to note the behaviors, trends, and purchasing decisions for your customers. This way, you'll be well informed on the social media network you choose.
Here's a detailed explanation of each of these social media advertising platforms.
Facebook
Facebook is the largest social media platform and leveraging its use on advertising your brand is an excellent idea.
Though Gen Z and millennials have opted for TikTok and Instagram, Facebook still holds its place, especially for older ages. As a result, this network still offers a great opportunity to promote your products.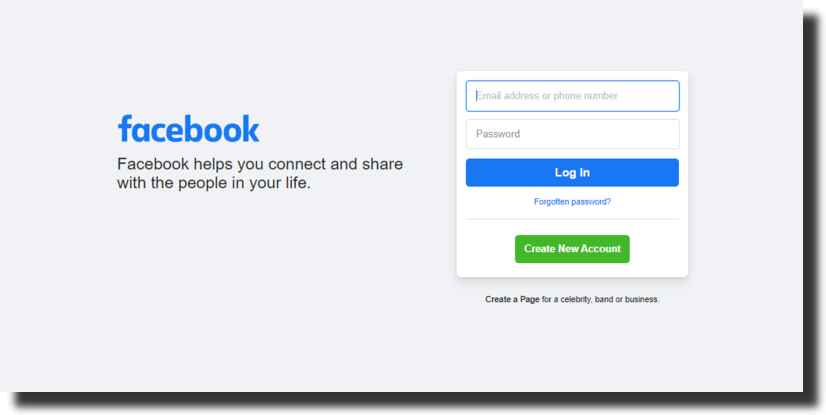 You may be wondering how to advertise on Facebook. Well, having a Facebook page for your business is the best way to engage customers, get reviews, and feedback on your brand. Ensure that you post regularly and keep the conversation as Facebook prioritizes content with more engagements.
Unlike other platforms, Facebook is straightforward when starting as it's compatible with all content formats. That means texts, images, live videos, videos, and stories work perfectly regardless of their format, making it easy to start promoting your business on Facebook.
If you choose Facebook as your social media advertising network, optimize your content for mobile phones. This is because 94% of Facebook users access the network through their smartphones.
Twitter
If you're looking for a social network that delivers real-time news updates for your business, look no further. Twitter allows only 280 characters in a tweet meaning that you're forced to be straight to the point when promoting your business on the platform.
On top of this, Twitter serves as an excellent customer service channel. This means that customer requests get real-time responses on Twitter, thus helping solve business problems swiftly.
With this in mind, you can take your business on Twitter for better performance on customer requests.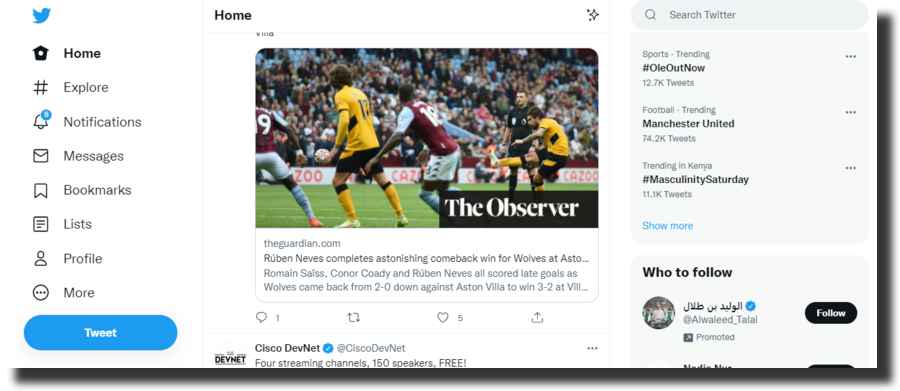 You can use Twitter to share your new pages and blog posts as this sends your readers directly to your content. Each tweet contains links to your product pages, thus exposing your products to customers right away.
Furthermore, by constantly sharing relevant and informative content from reputable sources, you prove yourself as an authority in your industry.
LinkedIn
LinkedIn turns out to be more than just a resume or a job-searching site. It's a professional site most useful to B2B companies, but it also plays a major role on B2C companies.
With LinkedIn, you can advertise your products, hire new talent, and reach new prospects for your business.
If you're constantly sharing updates about your business on LinkedIn, you might attract the right talent. You'll also give the candidates a heads up on what it is like to work in your business.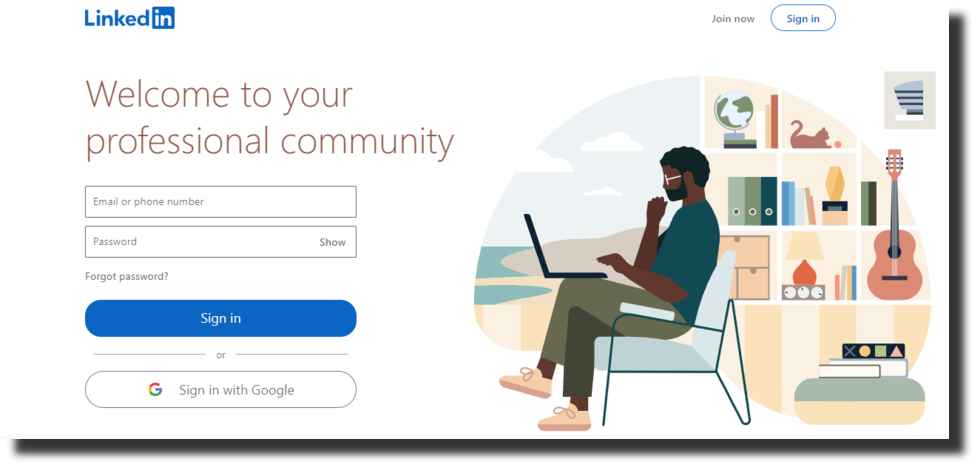 Through LinkedIn, businesses have the opportunity to network with professionals and also grow their brand. If your business LinkedIn account is actively sharing relevant content, you're sure to portray authority and leadership in your industry.
Some of the advertising opportunities LinkedIn offers include boosting content, sending inboxes to direct contacts, and displaying ads on the site. Additionally, it can be a resourceful place when you're looking for the right candidates to hire in your business.
YouTube
Though not popular as a social media platform, YouTube is a powerful platform when it comes to advertising your products.
Most audiences are easily attracted by visual content, so sharing your business videos on YouTube moves you a step ahead. Start by creating a YouTube account then optimize content that suits your audience then post it there.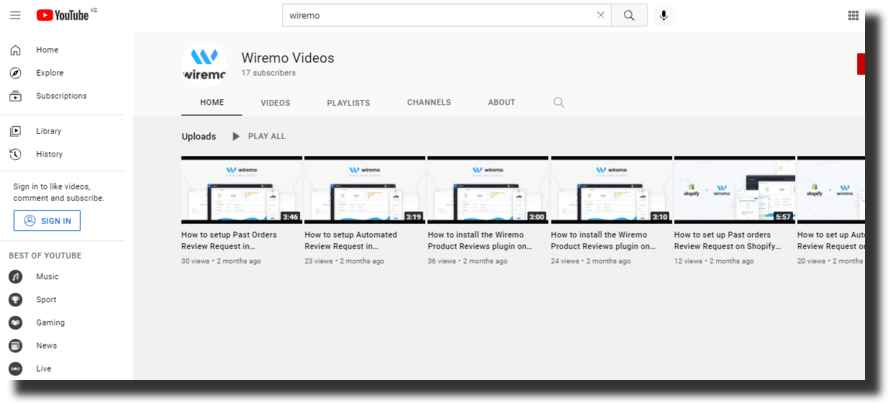 Once you do this, your potential prospects will like, comment, and share your content if at all they resonate with it.
You can also embed YouTube videos on your website to increase your brand reach. This way, you'll drive traffic to your website, hence gain more conversions in real-time.
Instagram
Instagram marketing should be part of your business if you want to reach a wider audience. This is a visual platform, so you need to focus on images, videos, and live videos for your content.
When it comes to learning how to advertise on Instagram, you need to learn all the tricks you need to keep your page engaging. You'd want to start using the right hashtags, share high-quality images, and ensure you have regular posts on your page.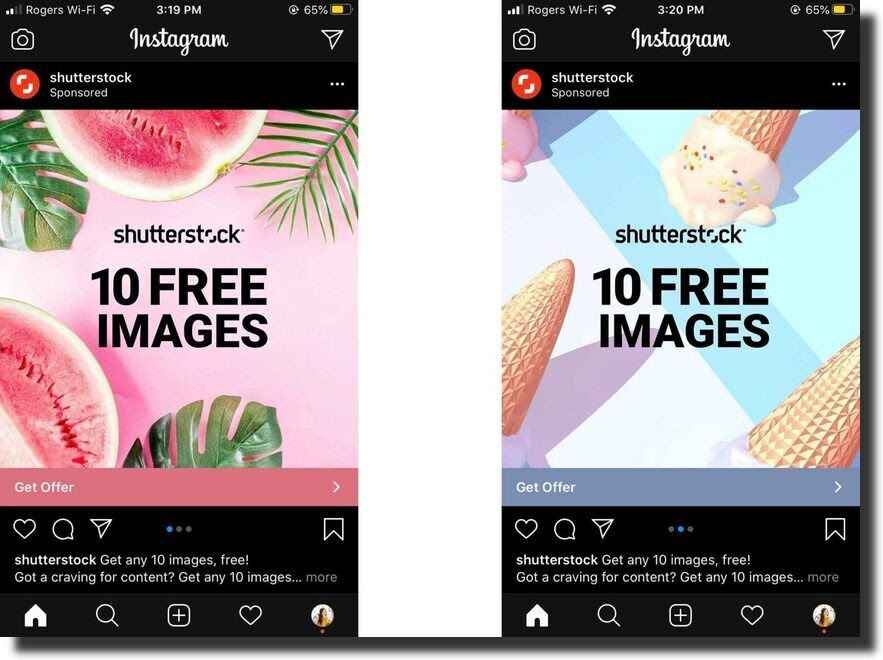 Additionally, Instagram recently introduced IGTV whereby you can post longer-form videos for your business. This works best if you have long-form tutorials for your business.
Furthermore, Instagram stories are a perfect feature to take advantage of. Here you'll post content that disappears after 24 hours but if it's relevant enough your audience should see it.
Once you have an Instagram profile for your business, the next thing is to learn the ways to optimize content for your target audience. Use the right hashtags, high-quality images, and informative videos for best results.
Pinterest
Pinterest is a powerful social media site that you can use to promote your business. This network focuses on new things that give inspiration to its users, unlike other social media platforms that focus on engagements.
Pinterest is mostly a site aimed at women stuff with 81% of its users as women. On top of this, this visual-most network gives you the opportunity to showcase stunning images for your business. With Pinterest you can link your product page within the post, making it visible to more users.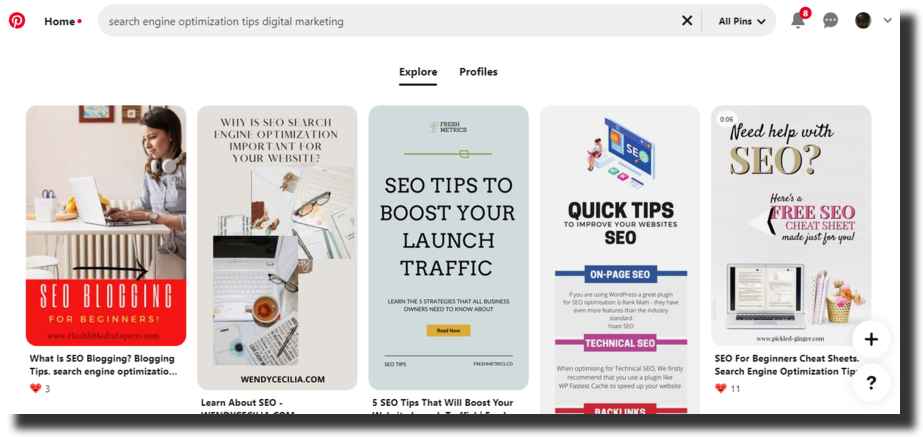 If you want to make your content able to convince your customers to make purchase decisions, consider Pinterest in your social media marketing strategy.
According to a Pinterest report, 78% of its users consider the content as relevant to them. This tells you that this is a powerful social media network.  As such, you can always choose Pinterest for your social marketing needs over other social media networks.
Using the inbuilt shopping feature, customers have the freedom to make their purchases right on the platform.
Furthermore, Pinterest gives you access to rich pins that give more information on a product and offer more advertising options to reach a wider audience.
As you can see, Pinterest has all the benefits you'd be looking to achieve with social media advertising.
Snapchat
With more than 300 million active users, Snapchat is another option for a social media advertising channel for your business. Its target audience is mostly 18-34 years, which is most probably college students and the young generation.
Ultimately, this platform allows you to share photos and short videos with friends and your target audience.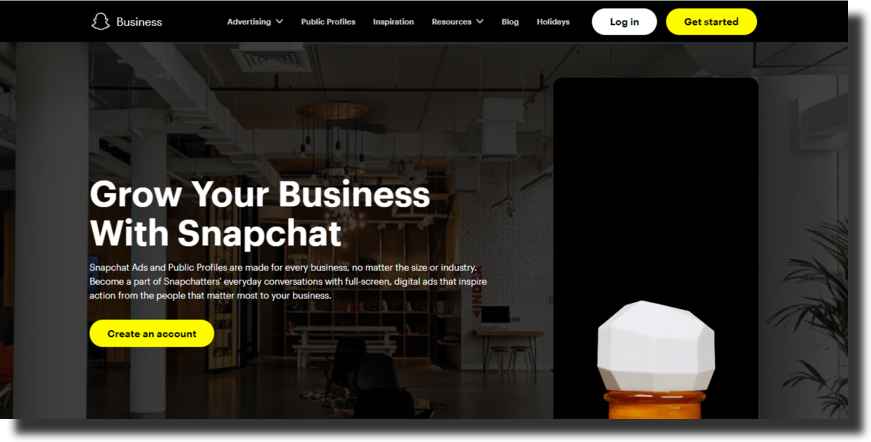 You can, therefore, use it to promote your brand by the use of Snap Ads, sponsored lenses, Snapchat discovers, or sponsored local geofilters.
If you want to advertise your product launches, conferences, live updates, and real-time news, Snapchat is the best option for you.
This is because posts disappear every 24 hours after you post them. So, you can use this network to promote live events for your brand.
Reddit
Reddit is a popular internet research network that can also serve as a powerful social media advertising platform for your business.
This site primarily has answers to any question you'd have and as such can be used to research customer trends, needs, and wants. This way, you can apply this knowledge when coming up with your product and solving your customers' problems.
This powerful social media platform is further divided into topic groups known as subreddits. You can find pretty much everything on these subgroups hence improve your business for the sake of your customers.
If you're seeking to grow your brand and position it in the right direction, Reddit is a great social network to think about. It's not only a resourceful place but also a powerful platform where people with shared interests interact, hence giving you great business ideas.
Tumblr
Using Tumblr to market your brand is the best idea to move your business to the next level. Most importantly, Tumblr is a powerful microblogging platform where users share photos, videos, and pretty much everything regarding their business.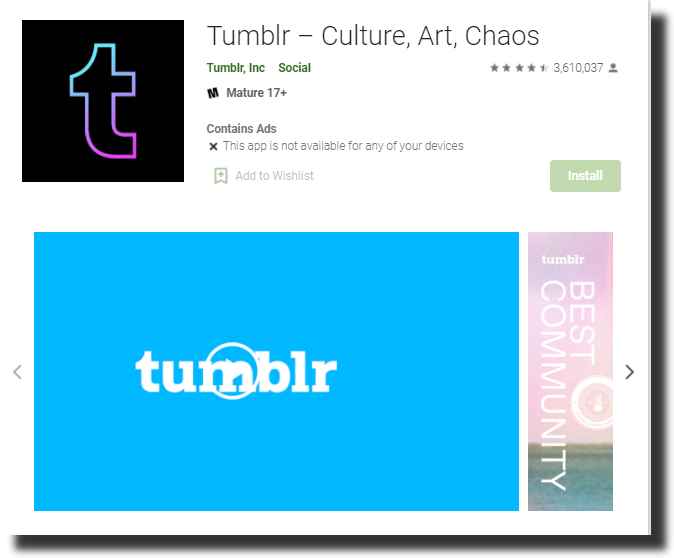 If you'd want to market effectively on the platform, you need to consider learning how the platform works first.
Additionally, Tumblr mostly targets a younger audience, so you'd want to share fun and captivating content for your business to spark their attention.
Viber
Just like any other messaging network, Viber presents a resourceful platform to market your business.
Through GIFs, stickers, photos, and multimedia sharing options, you can move your brand to the next level. Position your brand in the stickers, network with other businesses, and use ads to promote your business.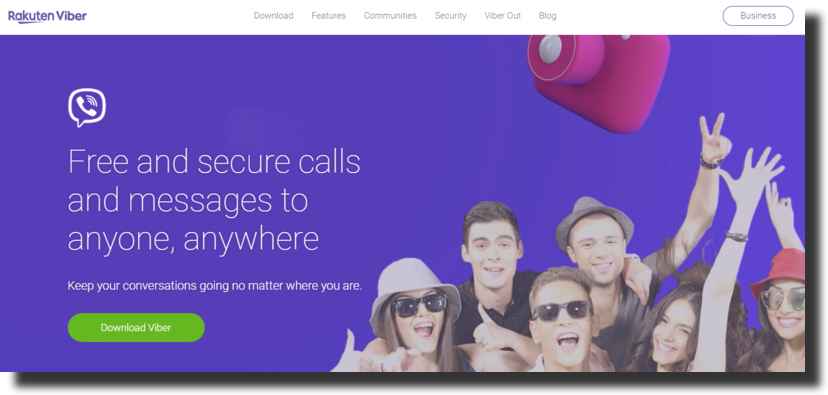 Furthermore, Viber allows you to maintain an active messaging platform, thus helping you promote customer support services for your brand.
If you haven't tried to boost your business through Viber, it's time you take advantage of its excellent features to scale your business.
TikTok
Apart from the fun and entertainment part of it, TikTok is also a powerful social media advertising platform. It is a short video-sharing platform that allows users to share content such as comics, business-related content, quick tutorials, viral dances, to name a few.
By using TikTok to share your brand's related videos and content, you'll be exposing your business to a wider audience.
Furthermore, TikTok has gained popularity over the last few years and has outdone most social media networks.
Before thinking about marketing on TikTok, ensure that you understand the platform pretty well. Apply special effects and music to your ads and you'll experience impressive results in your products.
Don't forget to optimize your content for TikTok users who are mostly the young generation. This way, you're assured of taking your business to a whole new level in terms of growth.
Messenger
In the beginning, Facebook and Messenger were one thing but in 2011 this changed, making Messenger a stand-alone messaging network.
Through Messenger, you can communicate directly with your customers using messages, chatbots, and the advertising options available.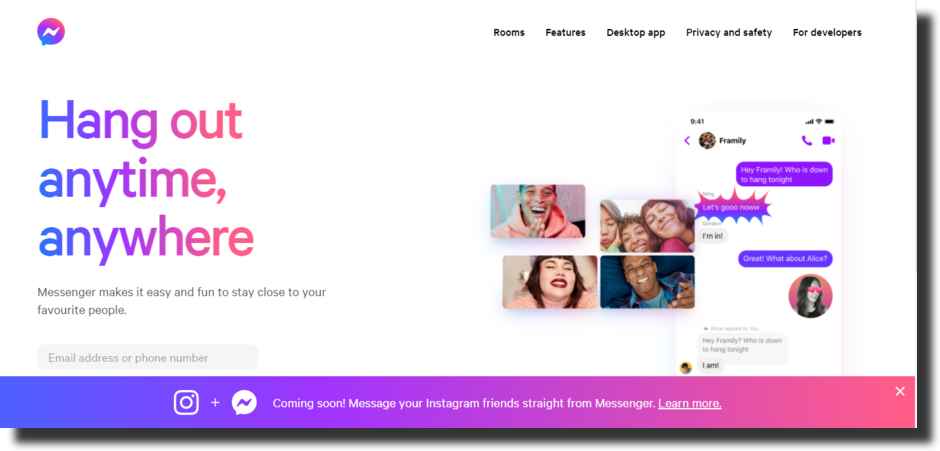 Messenger helps you to engage with your customers in real-time. Thus, you can confirm shipment and tracking information, book appointments, and answer everything regarding your customer orders.
Additionally, Messenger allows you to have a personalized touch on your customers, hence giving them the best.
By allowing you to chat and engage with your customers at a personal level, Messenger becomes a top choice for marketing your business on social media.
WhatsApp
This Facebook-owned social network offers a resourceful place to market your brand aggressively. WhatsApp allows you to maintain conversations with businesses and potential customers, hence improving your business operations.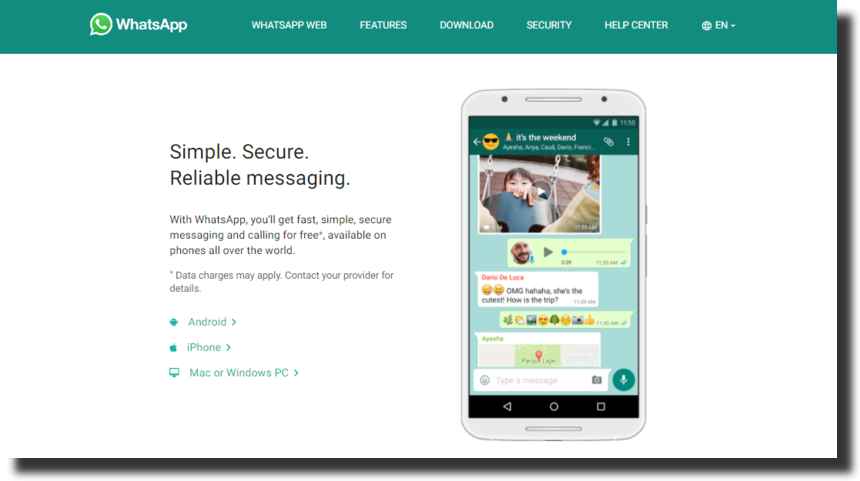 Once you create a WhatsApp profile for your business, ensure that you share the relevant information with your contacts.
Also, WhatsApp allows you to automate responses to the most common questions about your business. You can use it to create catalogs for your products too, hence managing to reach bigger audiences.
Best Ways To Manage Social Media Campaigns
Since you have an idea of the platforms you can use to market your business on social media, you need to know how best you can manage social media campaigns.
There are three ways to do so and each comes with strengths and weaknesses. So, it's up to you to choose the best for your business based on the cost and the goals you want to achieve.
Have a look at each of the ways.
Run your Ads Manually
The first step to starting social media advertising is choosing a platform where you'll promote your products. After this, you can then manually run your ads.
Doing so is quite a cheaper way to market since the operating costs are pretty low. You'll also have all the freedom to set up your campaigns in the way you feel best.
One advantage of manually running ads is that it offers you the opportunity to test out different ads and determine what works best.
Additionally, 100% of your budget will be used to advertise since you'll be managing the ad campaigns yourself.
If you choose to run ads manually for your business, you'll gain the expertise you can apply in the future. As a result, you can better optimize advertising on any platform, hence achieve the desired results.
Running ads manually is a great idea but it's with a few challenges too. For instance, if you take this route, be ready to spend most of your time mastering the art of advertising. This will force you to hire a social media advertising expert which will be an extra cost for you.
Use Automated Software to Run your Ad Campaigns
If you have a limited budget to run your ads manually or hire an expert to do it for you, there's a solution.
You can opt to use third-party tools to manage your advertising campaigns to achieve better results. This not only saves you time but also cuts costs and gives you a chance to see results without too much effort.
Developers have come up with powerful software that helps with managing ad campaigns. For instance, you can use tools like Adespresso to optimize Facebook campaigns.
Also, tools such as Adext apply artificial intelligence to automate the whole advertising process. As a result, you can keep tabs on the performance without investing too much of your time.
Although a good idea for your business' success, using automated software to run ads can be challenging. You might realize that you need to incur extra costs in getting the software for your business. Keep in mind that some of this software costs a fortune, which could be too expensive for your business.
Additionally, using automation to run ad campaigns doesn't guarantee positive results. Sometimes you might not achieve what you wanted for your business. So, you need to choose the best third-party tools wisely and test out different ones to see which works best.
Hiring a Managed Service to Run your Ad Campaigns
This is the most expensive but the surest way to run your advertising campaigns successfully. Usually, a managed service achieves better results by helping you clear the doubts and the blocks involved in doing the marketing yourself.
This approach means you're simply letting an expert do it for you and bring in impressive results. The good thing about hiring experts for your advertising needs is that you'll simply achieve results without investing your time in the process.
If you hired a team that's dedicated to bringing success, you can rest assured of making significant profits for your business.
The rule of thumb is to ensure that the overall cost for the ads and paying the ads is affordable and it gives you new customers and consistent sales.
However, hiring the wrong marketing agency can be a big threat to your business. Ensure that you do your due diligence before settling on an agency.
This way, you'll avoid any disappointments with any self-acclaimed agency that doesn't offer great results. In addition, you want to see ROI for your business, so hiring a bad agency shouldn't be anywhere in your strategy.
Ultimately, hiring an agency to run your ad campaigns is ideal if you want to drive sales to your business from day one. Also, it's a good idea if you're seeking to embark on an ad campaign that brings immediate results.
Social Media Advertising Costs
There's no one-size-fits-all budget for your social media ad campaigns. There's a solution for any budget at hand, ranging from a few dollars to million-dollar campaigns.
You'll find ads in most networks sold in auction formats, meaning that you set aside a maximum bid for a given target result. For instance, you set up the budget for a click or the maximum daily budget.
Although there's no exact amount to pay, the ads manager interface will set the amount you need to pay once you state your advertising goals.
You have different methods to pay at your disposal once you state your goals.
They include costs:
Per click (PPC);
For 1000 impressions (CPM);
Cost per conversion;
Per video view.
If you need to know approximately how much you need to pay for your social media advertising costs, consider the following factors:
Your ad's quality;
The objective of your campaign;
Your target audience;
The country you're targeting;
Time of the year and day;
Placement within the network.
Tips for Social Media Advertising
Social media advertising works if you're ready to implement some tips.
Here are some of them:
1. Understand your business objective
The first step to starting your social media advertising is to know what you want to achieve. Make sure that you analyze your desired goals so that you're able to choose the platform that suits your advertising needs best.
By coming up with your objectives, you have the power to choose the best solution for your business ads.
Furthermore, understanding your goals guides your creative strategy in the given platform you've opted to advertise on.
Various goals that align with social media advertising include brand awareness, driving website traffic, and sales. Social media could also help with creating a community for your business as well as serving as a customer support channel for your customers.
2. Keep in mind your target audience
Knowing your target audience during social media advertising is a good idea and goes a long way in achieving your objectives.
Ensure that you understand pretty well who it is that you want to reach through the ads. This way, you'll manage to get the most out of your advertising costs.
One way to choose the right audience is by developing audience personas so that you can understand better who to focus on.
Also, your audience determines the social media channel you decide to go for. You can decide to choose major social media platforms such as Facebook, Instagram, Twitter, LinkedIn, Snapchat, and Pinterest.
Alternatively, you can always use small and upcoming networks such as Tumblr, TikTok, and Anchor. Social media messaging networks such as Messenger, WhatsApp, and WeChat also determine the type of audience you target.
3. Choose your organic ads for social ads ideas
If you're seeking to use social media advertising to take your brand to the next level, you must be using organic posts. The good news is that you can turn these posts into inspiration for paid social ads.
You're most likely posting daily content on various social media channels such as: Facebook, Snapchat, Instagram, Tumblr, Twitter, to name a few.
Make sure that you track each post to check which has the most likes, shares, comments, and engagements. This way, you can easily use organic ads as an inspiration for paid social ads.
4. Plan your content well before publishing
Keeping your customers engaged on social media platforms goes a long way in keeping them for the long term.  You can simply attain this by posting great images, videos, and any relevant content on your social media pages.
But the trick lies in planning what you want to post. Ensure that you use scheduling tools such as Buffer to plan your content instead of posting it spontaneously.
5. Pay Wisely for What you Want -Impressions or engagements
While focusing on social media advertising, you need to pay for what matters to you and your business goals.
You may be willing to pay for impressions (maybe per click) or engagements (the number of people who see your content.
Making a firm decision of what you want to pay for determines whether you get impressive results or not.
Of course, you'd want to pay for what gives you results. There's no rule to pay for engagements or impressions, provided what you choose gives you results. Align your goals properly so that what you pay for offers you real business results.
6. Optimize your Ads for Mobile Devices
The use of mobile phones to access social media networks is on a constant high with approximately 3.25 billion active users. Therefore, you need to design your social media ads with mobile phone optimization in mind.
Make sure you optimize all your images, text, videos, and other content for mobile screens to suit the majority of the users. This way, you'll keep the customers on board as most of them use their Smartphones to access social media.
On top of this, you can turn on the "geofencing" functionality in your brick-and-mortar business. So, any time your potential customers are near your business, they can be notified about your services. It's easier for them to check in your store this way.
Mobile phone optimization is ultimately something you don't want to ignore in your social media advertising.
7. Test your Ads to Optimize Performance
Now that you're using social media ads to assess whether your business improves, you need to test their performance.
With social media advertising, you can easily check the performance of every sponsored ad using advanced analytics tools.
But for best results, you need to first test the ads performance with smaller audiences. This is because you'll have a chance to know what works best for your business.
Testing out social media ads before making the final decision is called A/B Testing. This is a must-have step for your business if you want to optimize the ads for better performance.
8. You need to measure your results and report them
At the beginning of your social media advertising campaigns, you had goals you wanted to achieve.
So, in this step, you need to assess whether you met these goals and how your social media is performing generally.
You can do this by measuring and analyzing the results so that you know where to improve. Alternatively, if you have positive results you can apply the tricks for even better results.
If you measure the results and find that the ads are working fine, you can go ahead and maximize the advertising budget.
You want to achieve more ROI for your business, so using analytics tools such as Buffer goes a long way.
How Social Media Can Help Your Business Grow
Using social media advertising for your business is a perfect idea aimed at helping you achieve great results.
Apart from increased exposure and engagements, social media advertising reduces advertising costs and increases conversions for your business.
The article above has listed some of the social media networks you should consider advertising on. Before deciding the platform you need to market your product on, ensure that you learn what it has to offer and how it works.
Keep in mind that every platform is different and each targets different audiences. So, you have to consider your customers' demographics, behaviors, and trends before making a decision.
To sum it all, social media advertising is all your business needs for improved sales and profits.