To keep up with the increasingly digitized world of business, you must embrace the new trends in the market. And with online platforms like Shopify, you can achieve solid online business operation and improved profit generation.
The truth is, customers have adopted online shopping, and in return, sellers have been forced to operate both online and offline for maximum sales.
Statistics show that the global number of digital buyers is growing steadily from 1.32 billion in 2014 to 2.14 billion in 2021.
Therefore, running your business online can be an additional way to increase profits while running your business offline.
One of the best ways to launch your business online is to sell your products using the best selling apps.
Top 10 Selling Apps To Sell Your Stuff - 2021
Here's a look at our ten best apps for selling your products online.
#1. Amazon
Whether you're new in business or already have a strong authority in the industry, Amazon Seller App can be a perfect choice to grow your audience and boost your online sales.
Amazon is the world's largest marketplace with more than 200 million monthly visits in the U. S alone and an estimate of 5.2 billion visitors globally. That said, let's take a look at what you can sell on Amazon and get a decent profit in return.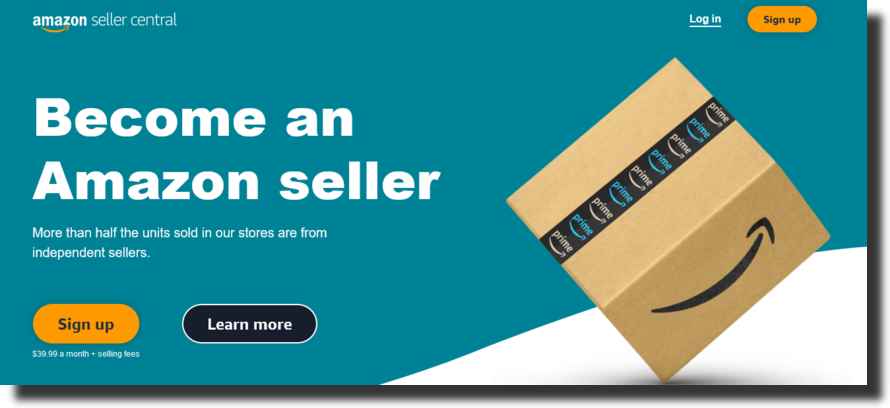 Top-Selling Categories And Items On Amazon In 2021
The products that sell best on Amazon include: books, electronic accessories, beauty and personal care, jewelry, clothes, video games, and toys. The list is very long.
However, there are some restrictions. What you can sell on Amazon depends on the product, brand, and category. For instance, if you are a third-party seller, you can't sell some products.
Also, several items require professional seller accounts, while others require approval to sell. Nonetheless, some product categories like books are open to all sellers. You should check their policy for more clarity.
More interestingly, the Amazon seller app is a doorway to value-added services that enhance a smooth selling process.
For example, you'll access a special service called Fulfilment By Amazon (FBA), where you pay a fee. Here, Amazon relieves you of the burden of storage, packaging, and shipping of products to buyers. FBA fees depend on:
        Product dimension;
        Product's shipping weight;
        The weight of your product's packaging.
If you don't prefer FBA and you've got enough resources, you can opt for Fulfilment By Merchant (FBM), where you fully handle your products, including shipping them to buyers. With FBM, you won't incur additional Amazon charges.
What Are The Selling Fees On Amazon?
That depends on the payment plan you'll choose. Individuals, Professional subscription, which one suits you best? There's no monthly fee for the first one, but you'll pay $0.99 per sold item.
For the professional plan, you'll be charged a $39.99 monthly fee regardless of the number of things you sell.
Note: Both plans are tied to a referral fee on each sale, which varies with the product's category.
So, is Amazon among the selling apps you're looking for? If yes, download it from the App Store for iOS devices (ratings: 4.8 out of 5) or Google Play for Android devices (ratings: 4.6 out of 5).
Pros
        Order reports are easy to access;
        Real-time tracking of orders, which enhances customer dealing;
        Streamlined repricing process;
        Better inventory management;
        Strict Amazon rules that enhance products and seller eligibility.
Cons
#2. eBay
eBay is the second-largest global marketplace after Amazon, with over 1.3 billion product listings and 182 million+ users globally.
This means it's one of the best selling apps you can use to expand your reach and boost sales. With that in mind, let's go straight to what you can sell on this app.
eBay Best Sellers (2021): Top items and Categories
The products that sell quickly on eBay include: mobile phones & accessories, beauty products, fashion, and home appliances.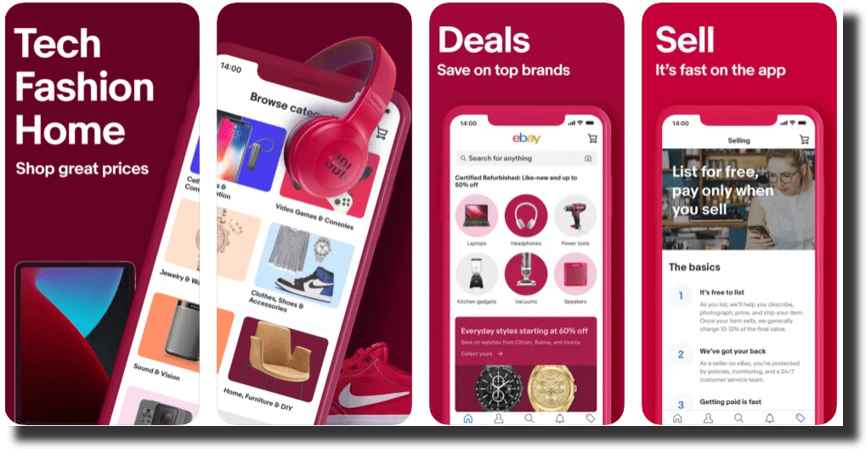 Also, the eBay app features an efficient product listing technique for sellers. Unlike other selling apps where the only option is manual addition of product details, you'll get a shortcut to scan an item's barcode or enter a product identifier (like ISBN) to add descriptions (including photos) automatically.
The secret behind this is that the eBay marketing platform has a catalog, which is a library of details and photos in a wide range of categories. As a result, the catalog can automatically fill in information like brand name, professional images, dimensions, color, and capacity.
However, it's only applicable if you are a reseller, which means you'll have to input details manually if you are introducing an entirely new product or brand in the market.
What's more, the eBay app comes with an amazing auction feature that can generate decent profit for your business.
Similar to the real-world auction, you set an initial product price in the app, interested customers will bid, and you'll sell to the highest bidder. This way, profits can flow in thick and fast.
How Much Does It Cost To Sell On eBay?
Sellers without eBay stores receive up to 200 free listings (zero insertion fees allowance) every month. And those with stores are eligible for 250 free listings per month.
After depleting the free listings, you're charged the insertion fees depending on the category of your products. Also, there are Final Value Fees on the selling price, depending on the listing category.
You can get the app on Google play store (4.6 out of 5 ratings) or apple store (ratings of 4.8 out of 5).
Pros
        Auctioning allows sellers to sell their products at higher prices and fuel sales;
        Free monthly product listings;
        Fast and easy addition of product details (Scanning barcodes and entering product identifiers);
        Quick and efficient tracking of sales.
Cons
        Sellers fees are high (final value fee can be as high as 10%);
        Limited free monthly listings.
#3. Etsy
Smaller than Amazon and eBay selling apps, Etsy is another giant marketplace for specific sellers. Also, it's among the top online selling sites in the U. S..
Statistics show that there were 60 million buyers on Etsy in the second quarter of 2020, making it a go-to platform to start selling online. It also means that Etsy can help you boost sales and improve profit generation.
Top Selling Items On Etsy 2021
Unlike Amazon and eBay selling apps, where you have dozens of categories to sell your items, Etsy only allows selling unique products in specific categories.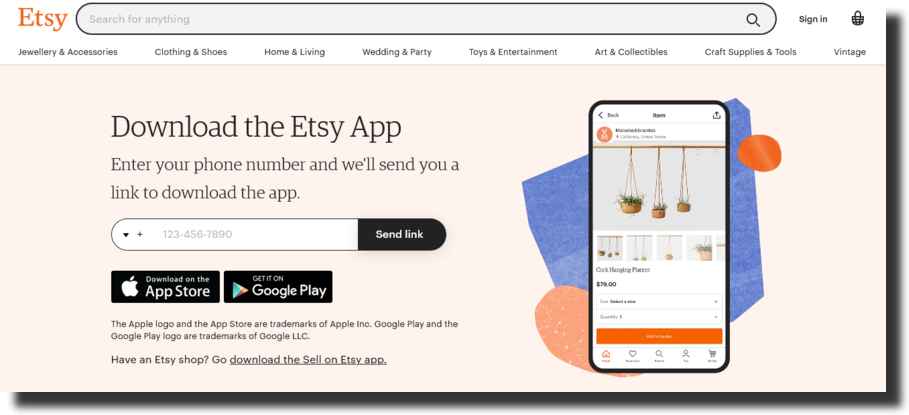 As a result, the best-selling categories include handmade items, vintage products, and craft & supplies, which are subject to strict Etsy policies. Here's an in-depth explanation.
In the handmade item category, you must be the original designer or creator of the products. Plus, you must mention all persons involved in the creation process. Plus, reselling handmade items is forbidden.
For the vintage category, you can only sell at least 20 years old items. Reselling is allowed in this category.
As such, products falling in the craft supplies include ingredients, tools, or materials to create another item. Etsy allows reselling products in this category.
That said, note that there are specific items that you cannot sell on Etsy. For instance, alcohol, tobacco, internationally regulated products, and pornographic content are entirely prohibited.
Charges For Selling On Etsy
Selling fees on Etsy are relatively lower. Here, you'll be charged $0.2 for each item you list for sale, whether it sells or not. Note that each listing is valid for four months, meaning that things not sold after that period must be relisted. Relisting attracts an additional $0.2.
Additionally, there's an overall transaction fee (5%) on the displayed price and the amount you charge for shipping & gift wrapping.
If the Etsy app sounds like the perfect fit for your products, get it on the App Store (4.4 out of 5 ratings) or Google play (ratings of 4.6 out of 5).
Pros
        Selling charges are relatively lower;
        Easy order management;
        Easy management of your selling statistics.
Cons
        Only a few item categories are allowed;
        Reselling is limited to a few specific categories.
#4. Bonanza
Bonanza is a fast-growing marketplace to sell your stuff. According to Similarweb, the number of people visiting the platform goes beyond 5 million and with over 25 000 sellers on it. So what can you sell on Bonanza? Keep reading to learn more.
Top Selling Items And Categories On Bonanza In 2021
The things that sell best on Bonanza include: fashion items, home décor, collectibles and art, health & beauty products, and jewelry.

Keep in mind that the general list of products and categories to sell in Bonanza is huge.
What are the Charges for Selling on Bonanza?
Listing your products in Bonanza attracts zero charges. The only fees you'll incur are the Final Offer Value (FOV), which is charged on the prices of items you'll sell, plus costs for shipping exceeding $10.
You can get the app on Google play store (2.5 out of 5 ratings) or app store (1.9 out of 5 ratings).
Pros
        No listing fees;
        Tons of item categories;
        Selling fees are low.
Cons
        You have limited options to customize layouts for specific listings.
#5. Shopify
When looking to upgrade your business from local to international level, think of Shopify. The number of Shopify's worldwide premium subscribers has increased dramatically.
That means more and more people are using Shopify as time goes by. For that reason, let's see what you can sell on Shopify.
Best-Selling Items And Categories On Shopify
You can sell lots of things, including: phone and laptop accessories, fitness wear and accessories, beauty and makeup tools, and home decor. Those are some of the best-selling products and categories.

If you want, you can sell other things like classes, lessons, consultations or rentals. With that at your fingertips, let's take a closer look at the selling fees.
How Much Does It Cost To Sell On Shopify?
Selling charges on Shopify rely solely on the payment plan you'll opt for. The plans range from Basic Shopify, Shopify to Advanced Shopify, with all having unlimited product listings. However, charges vary:
        Basic Shopify - $29 per month (and 2.9% + 30 cents fee per transaction);
        Shopify plan - $79 each month (and 2.6% + 30 cents fee per transaction);
        Advanced Shopify - $299 monthly (and 2.4% +30cents fee per transaction).
Note: expensive payment plan comes with additional benefits. Plus, using different payment gateways that Shopify does not feature attracts additional charges.
Get the app on Google play store (ratings: 4.1 out of 5) or App Store (ratings: 4.6 out of 5).
Pros
        Access to different plans allows you to select the best payment method for your business;
        Easy management of orders, customers and product listings.
Cons
        Transaction fees are unavoidable when using a third-party payment gateway.
#6. Poshmark
Poshmark is one of the best apps to sell stuff in and expose your products to many buyers. It features a marketplace with millions of sellers.
Poshmark claims that 25 million items link to over 5000 brands on the app daily. So, what can you sell on Poshmark?
Top Selling Items On Poshmark
Fashion items sell best on Poshmark, which is to say, the app is perfect for businesses dealing in clothes, handbags, jewelry, makeup, and home décor. If your products are in this category, here's why you should sell on Poshmark.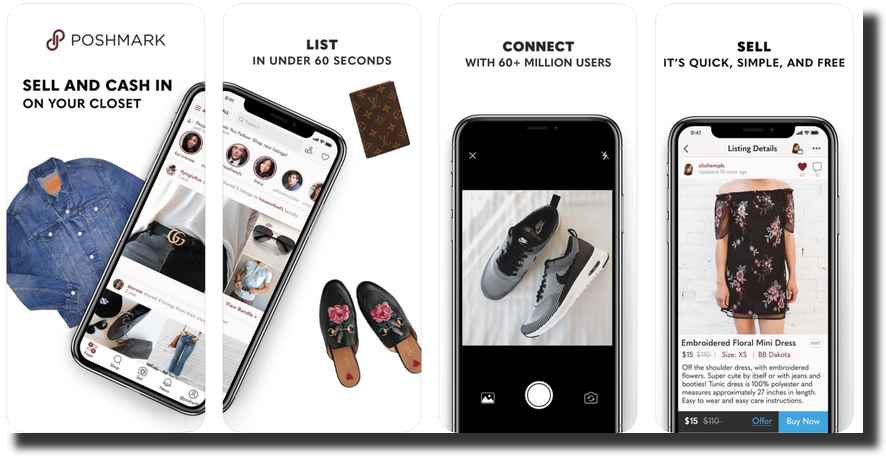 Selling on Poshmark is straightforward. You only need to upload the photos, fill in the descriptions, set the price, and you're done—no complicated procedures.
Also, Poshmark has value-packed features like the "Posh Stories" that allow you to sell your items through short videos with a lifespan of 48 hours. The app also features a "Posh Bundle" that enables the grouping of items for multiple listings.
What Are The Selling Fees On Poshmark?
You'll incur zero charges for listing products in Poshmark. Plus, the fee on the final order price is relatively low. For example, for sales under $15, selling costs are $ 2.95, while for those above $15, Poshmark charges a 20% fee on the order price.
Poshmark App is available for Android devices in the Google Play store (ratings: 4.1 out of 5) and iOS on the App Store (ratings: 4.7 out of 5).
Pros
        Becoming a Seller is easier because the procedures are straightforward;
        Free product listing;
        Has features like "Posh Stories" and "Posh Bundle" that smoothen the selling process.
Cons
        It's only famous for selling designer or fashion items, meaning it's unsuitable for other categories of products like electronics.
#7. Facebook Marketplace
If you're looking to boost your local sales, Facebook Marketplace is the best fit for you.
This platform features a large, built-in audience since Facebook, as a social media platform, has active users adding up to 2.7 billion. On that note, what can you sell on Facebook Marketplace?
Items that sell best on Facebook Marketplace
Top-selling items and categories include: electronics, furniture, handmade items, toys, and anything you can sell locally.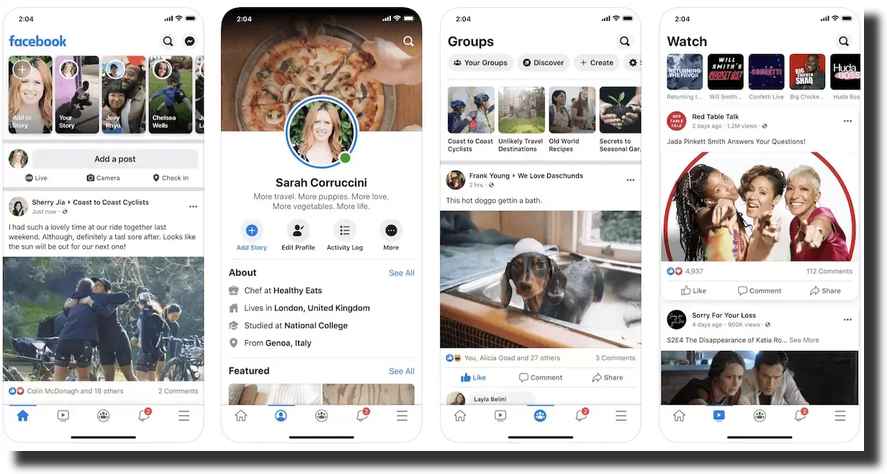 Interestingly, it is very easy to be a seller in Facebook Marketplace. All you need is a Facebook account. With that, you navigate to the Marketplace section in the app and set up a free listing using your smartphone.
Then, you can add photos, prices, and brief item descriptions. What's more, your listings will be public both on and off the platform, therefore, increasing visibility.
Once your Marketplace account is set up and your products are open to the public, Facebook will connect you to prospects either locally or internationally (or both, depending on your choice when setting up the Marketplace account).
What Are The Selling Charges?
Once you sell an item on Facebook Marketplace, you'll be charged a general 5% fee on all transactions (+ a minimum charge of $0.40).
Get the Facebook app on Google play store (3.1 out of 5 ratings) and App Store (2.6 out of 5 ratings).
Pros
        A wide market for your products;
        Listing fees are zero;
        Charges on selling transactions are relatively low;
        You can choose to sell locally or globally.
Cons
#8. OfferUp
If you're a seller in the U.S. looking to sell locally and nationwide, OfferUp is the go-to app. OfferUp merged with Letgo (previously a selling app) to create one of the largest mobile marketplaces in the U.S..
The app has over 90 million downloads, with millions of buyers looking for amazing deals daily. Let's jump to the products that sell like hotcakes on this app.
Top-Selling Products And Categories
You can sell plenty of things ranging from furniture, clothes, vehicles, kitchen stuff, sports equipment, and electronics.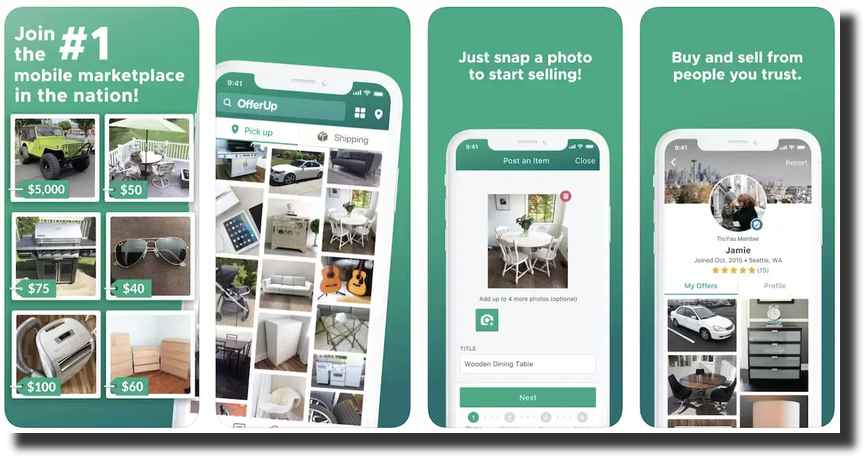 However, there are specific goods you can't sell on OfferUp like food and cultural items, alcohol and drugs, replica items, medical products among others.
Charges for Selling On OfferUp
The selling app features zero charges when listing your products for sale, which comes with conditions for specific item categories. Plus, listings will never expire and, therefore, no renewal charges like in many selling apps.
But that doesn't mean there are no selling charges. OfferUp will show you any applicable costs when listing your items, including service fees linking to shipping. Also, realize that cash transactions are free.
In addition to that, the app features a ready-to-use template for quick posting and promotional techniques for better product visibility among buyers.
Also, you'll be rated using the quality of your products and customer satisfaction, which can boost sales.
The app is available on the Google Play store (3.9 out of 5 ratings) and App Store (4.8 out of 5 ratings).
Pros
        Templates for quick posting;
        Detailed listings that do not expire;
        The app rates sellers.
Cons
#9. CPlusFor Craigslist
Craigslist is another go-to digital marketplace due to its wide audience and longer existence in the industry. Craigslist is a website, while CPlusFor Craigslist is a licensed third-party app from Yanflex.
Since 1995, Craigslist boasts of 20 billion page views per month and an annual usage by 50 million American people. Therefore, it can expose your products to many eyes.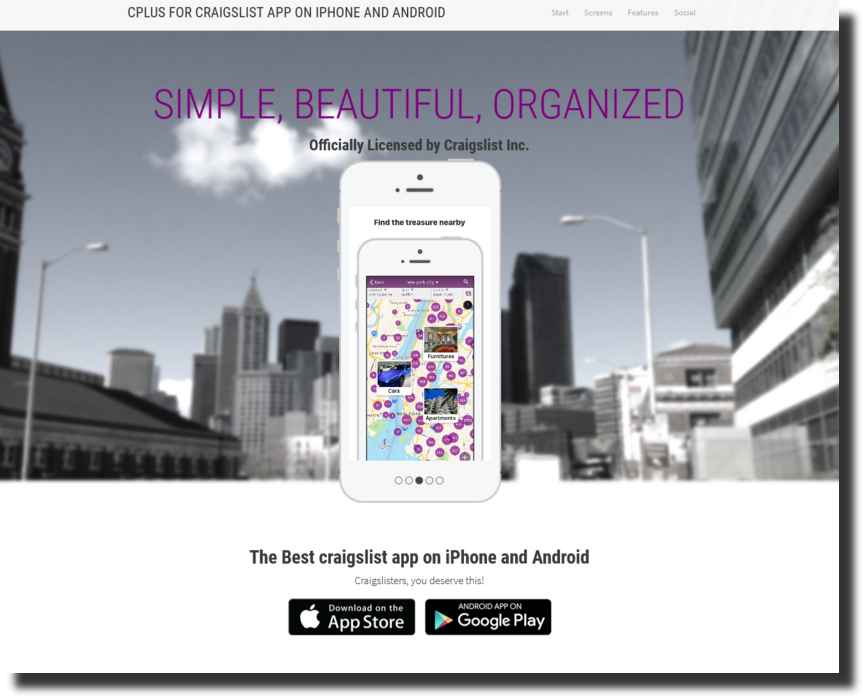 You can use CPlus to access all the selling services on Craigslist. With that in mind, here are some things that sell best on Craigslist.
Common Items And Categories Sold On Craigslist
The most common items include: cars, furniture, computers and accessories, real estate, baby stuff, and tickets. Here's a full list of item categories allowed on Craigslist.
Charges For selling On Craigslist
The fees for product listings vary with item category and the type of seller. For instance, independent sellers can list their products for free.
But for high-ticket items and services like dealer listings, heavy equipment, furniture, and most vehicles, Craigslist charges a listing fee ranging from $3 to $5.
Also, you can post your products anonymously so that you don't expose your identity. This is crucial, especially when dealing with expensive items like cars or trucks. As such, you get the option of selling either locally or internationally.
However, keep in mind that Craigslist discourages international transactions, and therefore, you're responsible for shipping and handling overseas payments.
Note: Be aware of scammers on Craigslist.
Get the app on Google Play store (4.2 out of 5 ratings) or App Store (4.7 out of 5 ratings).
Pros
        Wide fan-base and a loyal following;
        No listing fees for smaller items;
        Anonymous listing is allowed;
        User-friendly app interface.
Cons
        Listing fees for larger items.
#10. Chairish
Chairish is another selling app you can leverage to supercharge sales and improve the profit flow in your business. This is because it has a fair number of users.
Statistics show that for September 2020, there were 3.8 million monthly shoppers, 10 000 active sellers, and 500 000 items on their catalog. Relatively huge figures, right?
Best-Selling Products And Categories On Chairish
However, Chairish is not for every seller. It is a curated marketplace where you can only sell a few specific products that appeal most to customers.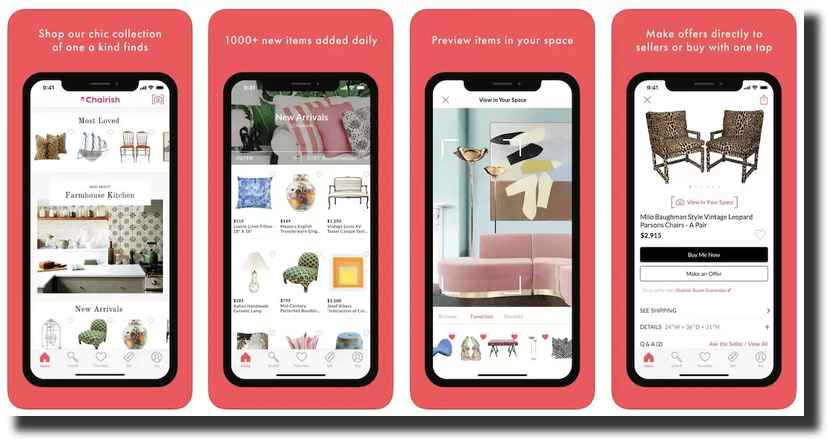 That is furniture and décor item categories. This means if you're dealing with vintage or antique furniture collections, decorative accessories, jewelry, and fashion accessories, Chairish is your perfect selling app.
Selling Charges on Chairish
Listing products on Chairish is free, and delisting is allowed at any time. Also, note that charges on items sold depend on the subscription plan you'll opt-in. It's worth mentioning that Chairish has three subscription plans:
Consignor Basic account – 30% fee for each sale;
Professional account –20% tiered rate (for vintage, antique & pre-owned items) and 30% flat rate (For Newly-made & Custom made);
Elite account –Charges are similar to those of a professional account.
Each subscription has benefits depending on how expensive it is.
In addition, you'll get solid support from Chairish when it comes to shipping. Here, you can opt for Chairish managed or seller-managed product shipping.
Get the app on the App Store (4.9 out of 5 ratings).
Pros
        Product listing is free in all account subscriptions;
        Shipping support;
        Offers different subscriptions.
Cons
        Limited to specific sellers.
Selling Your Stuff In 2021 – Why You Need A Selling App For Increased Sales
Different selling apps come with distinct features and advantages. As such, not all apps can fit whatever you're selling.
Therefore, start by confirming the categories allowed on different apps and only opt for the perfect match.
Also, consider the prices for selling on different apps and the advantages that each offers. This way, you'll identify the best place to sell your products for increased sales and profits.
Even then, be sure to gauge your options before settling on specific selling apps to market your products on.