The changing market trends have driven most entrepreneurs into E-commerce. Luckily, different online marketplaces are making it easier for these entrepreneurs to start and run online stores.
One of these many platforms is Shopify that makes it easier for you to set up a store and run it successfully. What's more about Selling on Shopify, is that it offers you a great variety of possibilities. On this platform, you'll not only sell products but also services.
Shopify in Brief
Shopify is one of the largest and popular online marketplaces in the world. It's a place for both professional and amateur store-owners who get expert help to establish their online and offline stores.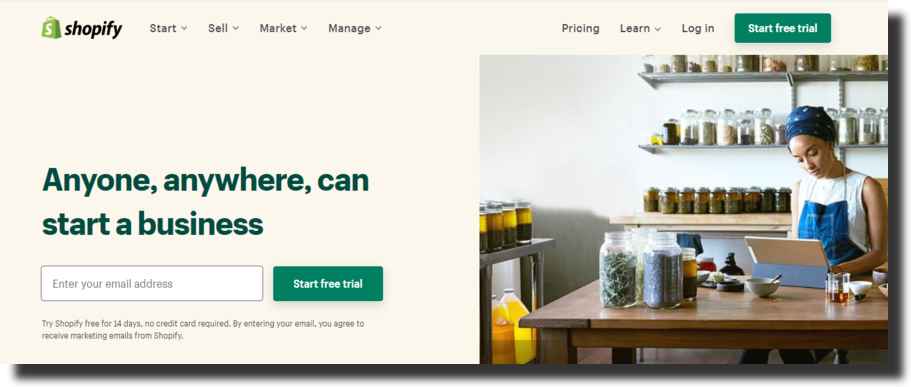 One of the reasons why Shopify has gained its popularity is because it's ease to use and low cost. Being cloud-based, users can access it from anywhere and anytime, if they have an internet connection.
What Can You Sell On Shopify?
With Shopify, the list of products and services you can sell is endless.
For instance, you can sell:
Bookends;
Doormats;
Bike saddles;
Kitchen towels;
Needlecraft patterns;
Handheld device accessories;
Motor vehicle carpet and upholstery among others.
From services and non-physical products, you can sell:
Consultations;
Experiences;
Donations;
Rentals;
Memberships;
Event support;
Workshops and lessons.
How Does Shopify Work?
Shopify is an easy to use platform, you simply need to:
#1.Create a Shopify account
Firstly, in order to use Shopify, you need to create an account. This should not be a challenge considering that the platform hosts an easy-to-use interface and simplified features. This makes it easy for you to create your account, add your products, and process orders.
Visit Shopify.com to register, then sign up, the process only takes a few minutes. You may want to start with the 14-days free trial as you get hung on things. During this period, test the platform and try out the different tools.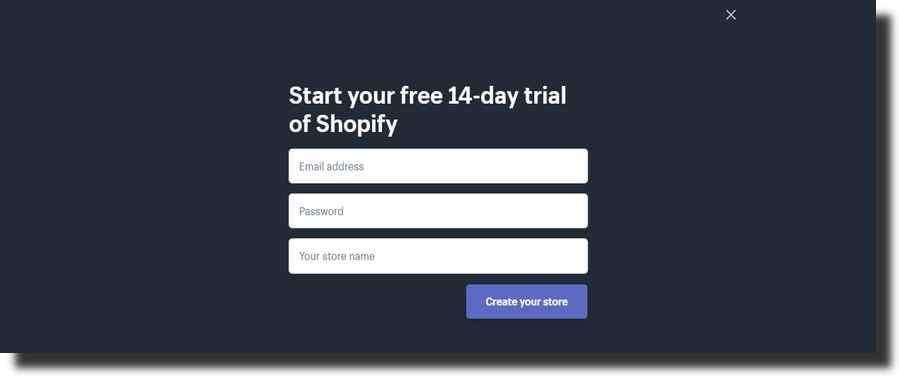 At this point, you also need to set your store name, luckily, Shopify will notify you through an error message if the name you have chosen is already being used by someone else.
This account will be canceled once the free trial period is over, to reactivate it, you'll have to choose a plan.
#2.Enter your domain address
Selling on Shopify requires you to have a domain. A domain is a URL that links to your site. Once you create an account, you'll have a default domain from Shopify, but you can purchase a different one.
Alternatively, if you already have a custom domain, you can use it. The rules are that you can only have one primary domain and any other you choose will be a subdomain.
As you think of your domain name, here are some takeaways:
        Keep it short and simple: the ideal domain name should be less than 10 characters long. This makes it easier for people to recall. Also, avoid using punctuation marks.
        Keyword-based: The domain name should have the main keyword that will lead people to your site. The keyword gives an insight into what your store is about and it adds some point to your SEO.
#3.Choose a theme
There are tons of Shopify themes to choose from. Go for an attractive and functional one. It should contain high quality, while conveying the professionalism of your store. Once done, you will need to customize it as you build your store.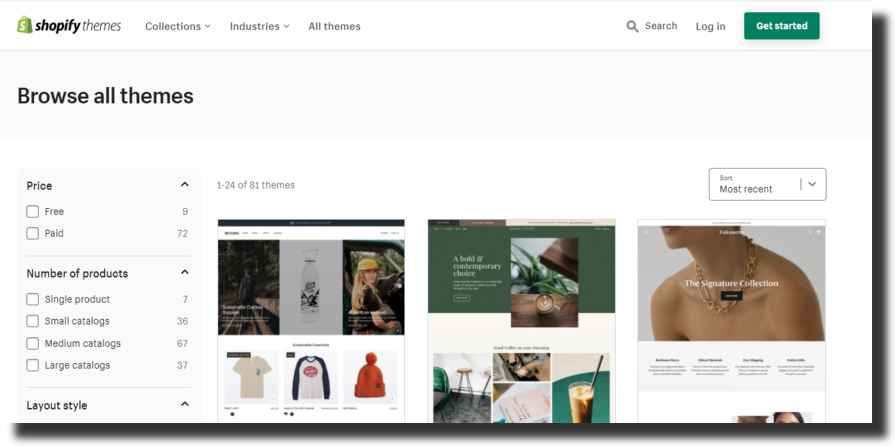 Alternatively, you can choose a pre-designed theme from Shopify. With pre-designs, there are free and paid themes, it'll be up for you to choose what you'll use.
A free theme will save you money while a paid theme will give you access to more features and functions.
#4.Add your products
The next and crucial part when selling on Shopify is to add your products. A good-looking store alone will not give your revenue. Luckily, you can add more than one product.
If your count is less than five products, you can easily add them, as you add, fill in the details of the products such as: name, type, and product description, and so on. Also, include the product's image.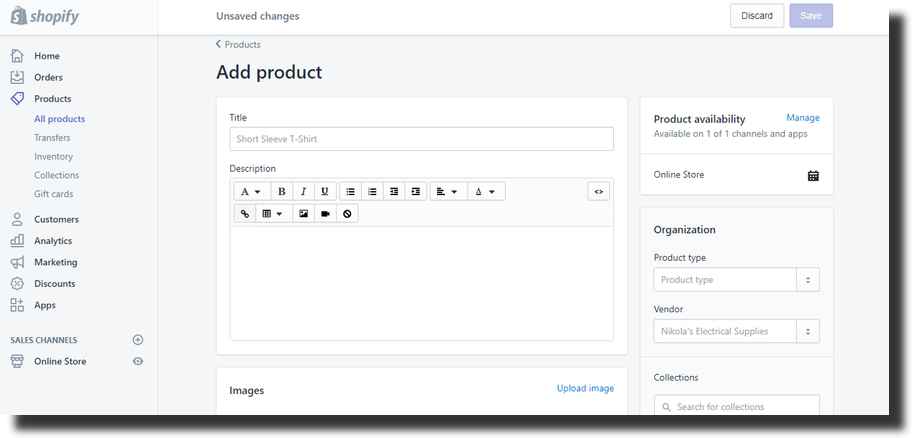 On the off chance, you have multiple products, you can bulk upload them through an imported CSV file rather than manually adding them.
#5.Utilize Different Apps
Shopify has over 2600 apps that you can customize with your store and access more features to help you make the most out of your store.
Different Shopify Apps let you do different things such as reporting, marketing, analytics, and others. This app also helps you to be up to date with the latest technology, making it easier for you to adapt to eCommerce market trends.
However, these apps come in free and paid versions.
#6.Market your Store
The last step in this category is to market your store and attract potential customers. Good and strategic marketing will help you drive more traffic to your site.
Below we'll be exploring some of the ways you can market your online store.
How To Sell On Shopify
There are various ways to sell on Shopify including:
1.    Facebook Ads
Facebook Ads offer a wide range of benefits such that you can advertise on Facebook and Instagram.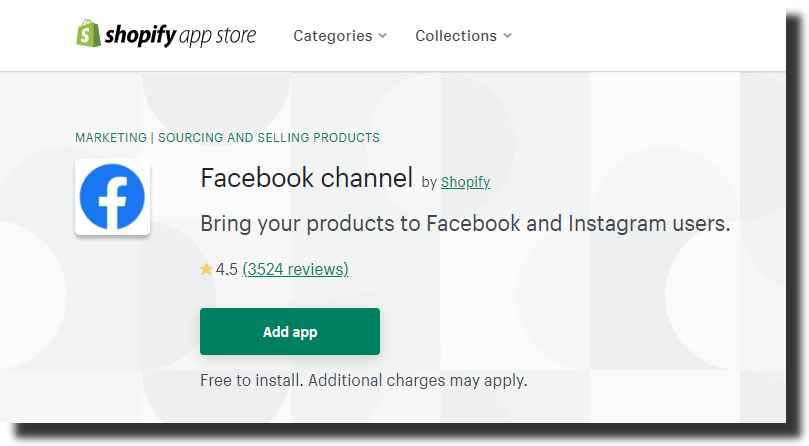 With over 2.85 Billion monthly active users, Facebook is the largest social network, this offers online entrepreneurs a chance to target a larger audience and get potential customers.
You can also target their largest competitors and big brands in the same niche and add them as an interest enabling one to target a more defined audience.
2.    Instagram Stories
For someone who's just building their Shopify store, follow through with an Instagram account. In this account, ensure you have at least 10,000 active followers as these numbers will go a long way in helping you make sales through Instagram stories.
Instagram stories are a gateway through which your followers can visit your page, drive traffic and maybe complete a purchase.
Also, include some sponsored Instagram stories on popular fan pages that are in line with what you're selling. Doing so will help you attract more followers to your account.
3.    Get Product Reviews
Online buyers rely on reviews for them to make a purchase or trust the credibility of a store. Reviews also offer better insight than product descriptions.
If a store has lack of reviews, potential customers may not want to risk transacting with the store. This also happens if a store only has negative reviews about its services and products.
If you've just started out selling on Shopify and don't have any reviews yet, then worry less as you can import reviews from your supplier store as the product is the same.
In these reviews, ensure you use clear photos of your products to give your potential clients an overview of what they're looking to buy and make informed decisions.
4.    Partner with affiliate marketers
Partnering with affiliate marketers increases your pool of new and potential customers. Affiliate marketing can be done in two ways:
Reach out to your current customers and request them to be your business affiliates. Working with customers is better as they have already transacted with you and if your product and services are good, they may be willing to promote you to their friends.
 Work with websites and bloggers that are in your niche in order to do some back linking outreach. This means you will pay some commissions to a site that includes a link to your store in their articles.
5.    Direct Referrals
Direct referrals are also an effective way to get traffic to your site and it is free. You can do this with the help of some SEO tools, find the backlinks that your competitors use and target those who link out to them.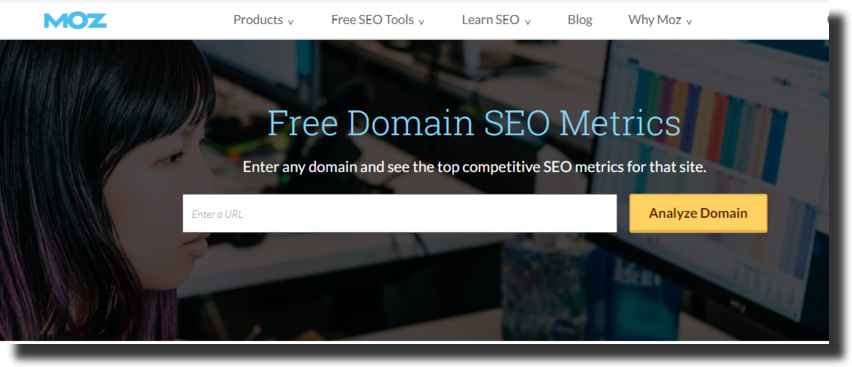 Keep in mind that your competitors may not necessarily sell on Shopify. You can reach out and ask them to link to your site as well. You can also reach out to brands that link to top stores in your niche and ask them to link to your store.
Some of the brands you reach out may want a commission for linking out to your site. This is not a necessity and you can just say no.
6.    Content Marketing
As you partner with bloggers, you may also create a blog of your own. In it, you can write blog posts about different topics in your chosen niche and include small, long-tail keywords.
You also need to ensure your blog is active, which means, you need to add new content regularly; it can be daily or 3 posts a week.
This does not mean you'll get traffic into your site immediately. Steady traffic will come by in a few months or so, nevertheless, ensure your blog is up and running.
With blog posts, you can monetize them through a retargeting ad and attract a more defined audience. This will drive more traffic to your site and increase your chances of converting them into leads.
Content marketing with SEO expert is not an easy venture, but in time, your customer list could grow immensely.
7.    Work With Influencers
Working with influencers is also a great opportunity to reach a new audience. However, with influencers, their followers may not necessarily be of the same niche as your products.
For this, you'll need to utilize some tools to map out who your influencer followers are to ensure you are targeting the right audience.
Since you are just building your store and learning how to use Shopify, you need to be smart with your finances. When you target a certain influencer, work with them on an affiliate basis where you'll be paying them a commission.
However, in a case where the said influencer is creating custom content with your product, you may want to compensate them as you use their content to create ads.
8.    Optimize your Shopify page
With optimization, you'll have to add a CTA to every page including the About Us Page, your website, and other pages.
On your About Us page, you may want to feature one of your products. This is helpful for visitors who want to know what your store is about.
Benefits of Selling on Shopify
 It's Easy To Use And Language-Friendly
Shopify is an easy-to-use tool, it has ample features that allow its users to work with it with little or no skills.
There's also a web design interface with drag and drop features that are simplified for beginners. For someone who's just starting, you'll have your store up and running in no time.
Another thing you'll love about selling on Shopify is its language-friendliness. It's a global platform that can be used in almost all countries.
This has been aided by its integration of several languages into themes and interfaces; these languages include: english, thai, japanese, malay, norwegian, swedish and turkish.
As such, a store owner can choose their preferred languages and use them on their customer-facing facets such as the checkout stages, web contents, and emails.
Shopify is cloud-hosted which means a store owner spends less on IT. There's also no need to run regular upgrades of the databases making it easy for you to manage it.
The Shopify team also takes care of the maintenance and you can rest assured your site is less likely to crash during traffic influx periods.
With cloud-based tools, you can run your store and make sales when on the go or at home, all you need is a steady internet connection.
Shopify makes it easy for you to integrate it with different social networks as it is multi-channel. If you have other products on different social platforms, you can connect them with your Shopify store and extend your customer reach.
With Shopify templates and themes, you can customize your store to fit your needs. If you are not familiar with customizing, the Shopify team is always ready to help you.
You only need to reach out to them through the Shopify Experts Marketplace and choose the help your need.
Start Selling on Shopify in 2021
Setting up your online store on Shopify is an incredible venture. With the different tools provided, products, and a professionally designed store, you are ready to Sell on Shopify.
By taking a business approach you can easily build and successfully run your online store.