As a merchant looking to sell your stuff and grow authority online, you need assurance that the eCommerce web builder you'll opt for guarantees a fully functional and optimized online store.
But choosing the best eCommerce builder is no easy task. You have to do a research, check out the features, pros, and cons of the web builder before deciding whether it's the perfect choice for your business.
Today, we'll look at the Wix eCommerce builder and consider all its aspects - features, pricing, customer satisfaction, and more. Let's dive in!
Wix Ecommerce Overview
Wix eCommerce builder features a drag-and-drop editor that spares you the need to hire a developer or become a coding wizard.
All you've got to do is pick your desired template, customize it by dragging and dropping elements like images and text boxes on your web pages, and you're ready to publish. No complicated procedures.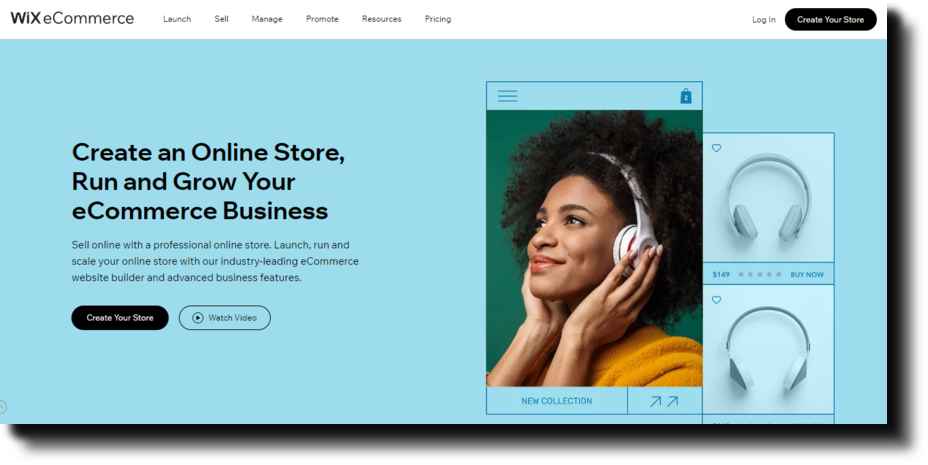 What's more, all Wix's payment plans come with in-built tools and access to third-party apps (in the Wix App market) that fill up the skeleton templates into a complete and fully functional online shop.
On the flip side, Wix eCommerce is unsuitable for huge online stores, unlike Shopify and WordPress that support extra-large eCommerce sites.
That's because a large inventory can result in back-end load lags, slowing the site's speed and performance. Meaning, Wix eCommerce suits solo entrepreneurs with small businesses.
User Experience: Ease of Use
When looking for an eCommerce builder, you must consider the one that offers a smooth user experience. As such, customizing your storefront theme, adding or removing products, and payments processes are all straightforward.
The good thing is, Wix is famous for its beginner-friendly design and straightforward website customization. Its drag-and-drop editor enhances the easy addition or removal of elements to develop a web design that meets your taste.
Additionally, the Wix eCommerce builder enables live editing. That means you can see the changes you've made there and then - no blind editing.
In general, Wix eCommerce is user-friendly and demands zero coding skills, meaning hassle-free eCommerce building.
Wix eCommerce Global Usage and Growth
Wix eCommerce builder may have a straightforward user interface and a drag-and-drop editor, but the question remains, are businesses satisfied? Is it delivering real value and generating great eCommerce designs that business owners love?
In 2020, Wix was the web builder behind 500 000+ eCommerce sites, while in 2021, Wix records 700 000+ active online stores - that's a 200 000+ increase of active users.
Meaning, Wix eCommerce serves companies and organizations pretty well - or why else would the number of active users shoot up year after year?
In their 2020 growth report, Wix compared their April & May growth progress for 2020 and 2019 (using the top 10 eCommerce categories). The results were intriguing.
All the top 10 eCommerce product categories reflected massive growth that surpassed the 100% mark, with the highest category recording a 776% year-over-year growth.
The growth is a good sign that Wix eCommerce develops solid online stores. The massive growth in the top 10 categories shows that businesses increasingly sold their products through Wix eCommerce stores.
Meaning, they found the Wix eCommerce builder fit for their online stores. It served their needs and expectations.
On top of that, the yearly historical trends in CMS (Content Management System) usage statistics by W3Techs show Wix's steady growth in the world of web building. Wix's usage rate (compared with other web builders) ranges between <0.1% in 2013 and 1.7% in 2021.
From the above facts, it means you're giving them what they want. Thus, you'll be satisfying your customers' needs.
Wix eCommerce Templates: Themes and Design Customization
The templates you choose and the customizations you make determine your online store's design and appearance. Wix eCommerce builder has got you covered when it comes to stunning templates.
It has over 500 ready-made eCommerce templates, giving you a wide range of choices to identify the best fit for your business.
Also, all Wix eCommerce templates are free. However, you'll need a payment plan (more about this later in this article) to access all the features that make an online store whole and fully operational.
What's more, the builder gives you much freedom in the web building process. For instance, if you don't like any ready-made templates, your alternative is creating your online shop from scratch. You just choose a blank template and start your editing from zero.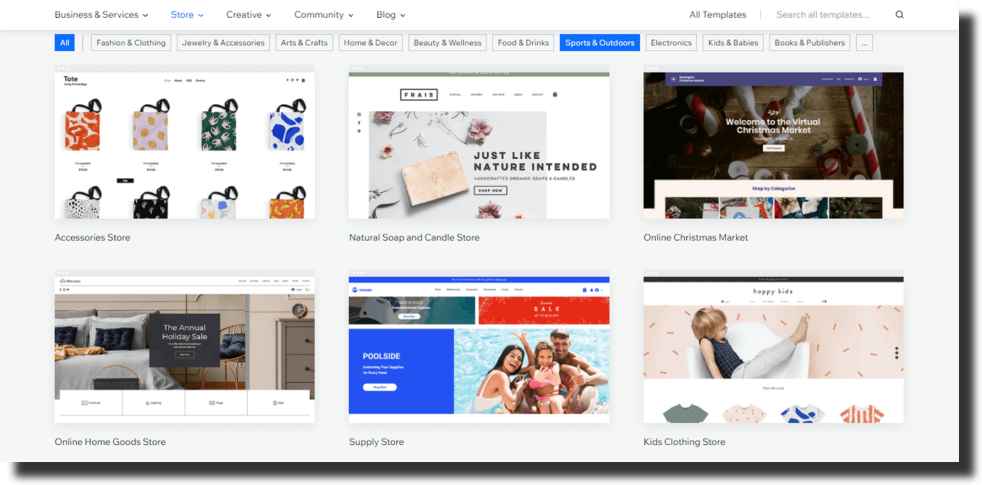 That said, remember to be thorough when selecting a template. Choose the best designs before you begin editing. Be sure with the template you opt for because you won't switch templates once you hit the publish button and launch your site live.
If you want to change your template after launching your site, you'll have to build a new site unfortunately. You'll have to start all over again and choose another template and re-enter your content, meaning you'll spend more dollars and time.
Therefore, spend enough time browsing the template collection. Check all the eCommerce designs to identify one that works for your business needs. This way you'll save time and money.
As such, all Wix eCommerce templates are device responsive. Therefore, your site will run efficiently in both desktop and mobile modes.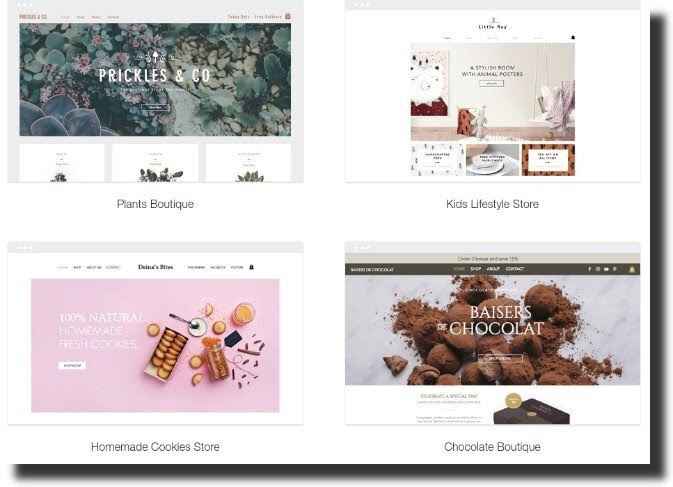 Note that site responsiveness affects the user experience in your online store, and Wix understands this. That's why the eCommerce builder allows customizing desktop and mobile elements on the templates.
By default, the elements you add to the desktop view will appear on your mobile view. On the other hand, you can add mobile-only features (e.g. images, texts, and buttons) that are optimized for mobile but don't appear on desktop view.
Customizing Wix eCommerce templates
While Wix's templates are stunning, you can add a personal touch to the design. If you want to put a stamp on the design and make it unique to your site, luckily, that's possible with Wix eCommerce.
You can add desired images, drag and drop text boxes to new positions, delete unwanted sections, create new pages, and include desired features on your online store.
For instance, the templates have the About section where you input content about your business - you can drag-and-drop the About section anywhere you like.
In addition to that, the templates have the Terms and Conditions where you can update your business policy.
They also have the FAQ section, allowing you to tackle customers' questions about your business. And since controllability is the core of Wix eCommerce designs, you can remove the FAQ title if you like.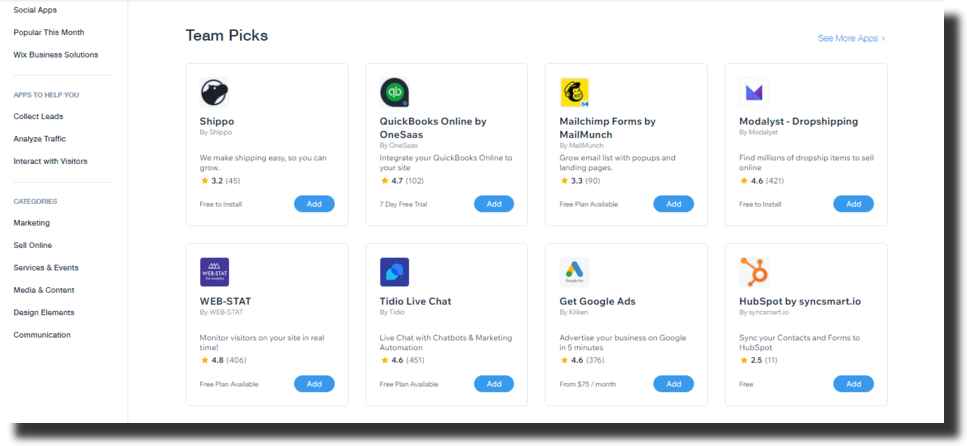 Again, you can customize the templates by adding your business name and logo to help customers identify your brand and differentiate your business from others. Thus, the templates are highly customizable such that you are mouse clicks away from creating a unique Wix online store.
But that's not all. Here are other ways of customizing your Wix eCommerce site.
Customization using Velo by Wix
Are you a coding nerd or a webmaster? If so, Velo by Wix allows deeper customization options on your online store. You can enable it by clicking the Dev Mode on your site's top bar - a dropdown menu will appear, and you'll get the option to turn it on.
Velo is a development platform that allows building web applications to promote uniqueness in your store.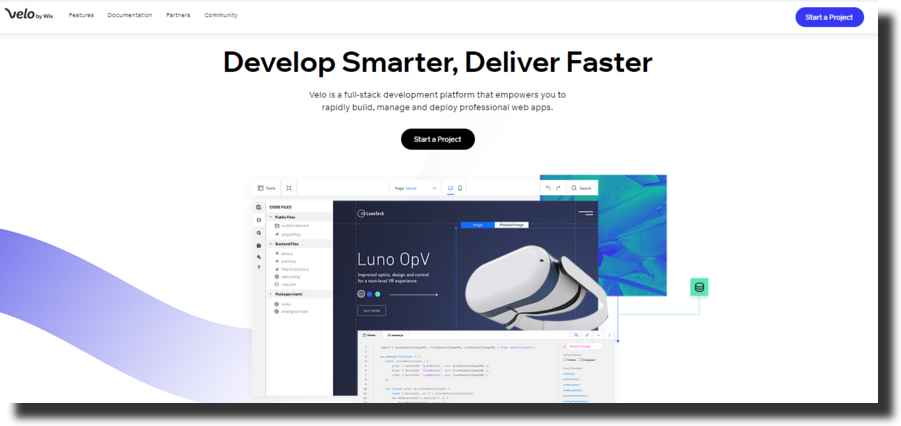 For instance, Velo by Wix allows adding JavaScript code on your site and provides an API (Application Programming Interface) that allows adding custom functionality and interactions to your site for more appeal and efficiency.
If you dread or have zero skills in coding, this isn't the path you want to follow (the next customization option may catch your eye).
Customization using Wix ADI (Artificial Design Intelligence)
While it can take hours to build a fully functional and well-customized Wix eCommerce store from the ready-made templates, Wix ADI can create and customize your site at a go. Meaning, instead of taking hours to build your site, it'll take minutes. Plus, there's no coding necessary.
The thing is, Wix ADI is a platform that uses artificial design intelligence to create a unique site super-fast. All you need to do is feed the technology-specific information about personal design preferences like font theme and color plus what you want as part of your online store.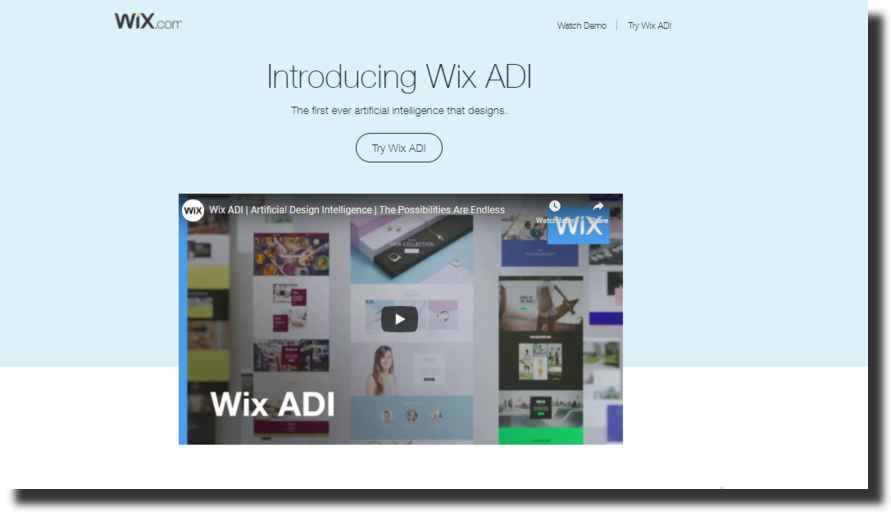 For example, Wix ADI will ask the name you prefer for your site and whether you have specific text or images you want to include.
Also, you'll provide personalized information, such as whether to connect your store to your social media accounts or add a business logo to your site. After that, Wix ADI creates a personalized or a tailor-made site based on the details you provide.
Once your site is ready-made, you'll have two options: hit the publish button and instantly launch your site. Or, access the ADI Editor and make a few tweaks or add any other critical information before publishing.
How Do You Access Wix ADI?
When getting started with Wix eCommerce, you'll have two alternatives: create your site with either Wix Editor or Wix ADI - select the latter to create your site automatically.
With that in mind, you're most likely curious to find out how an ADI-made eCommerce website looks like. Spoiler alert: It's not so fancy, but at least it's something generated fast, and you've got the option to modify in the ADI editor.
In general, Wix eCommerce considers everyone in website-building. If you've mastered the basics as a webmaster, or are familiar with coding, you can create a site from scratch (blank template), while if you want less work in site-building, ready-made Wix eCommerce templates are available.
On the other hand, Wix ADI is the perfect option to automate the site-building process. In short, there's something for everyone at any level.
Wix eCommerce Features and Tools
An eCommerce builder with an easy-to-use user interface and stunning eCommerce templates is not enough to make your online shop function efficiently and thrive. Extra tools and other eCommerce features are necessary for a fully functional store.
For that reason, Wix has a range of eCommerce features and tools to help build and grow your small business online. Although the features you'll get on your site depend on Wix's eCommerce plan you choose, let's discuss all of them here.
Product Types
Some online marketplaces like Etsy limit the type of products you are allowed to sell on their platform. That leaves you wondering: what can you sell on the Wix eCommerce store? Are there limitations of products you can sell?
You can sell dozens of products in unlimited product collections. Whether you're selling physical products like handmade goods or digital items like music, podcasts, and eBooks, Wix has your back.
Also, Wix has your options if you're selling bookings like tickets or services like yoga classes and appointments.
For the part of the booking, the Wix Bookings app helps you accept payment for all customer bookings and tracking all your time slots. However, you can't list or sell services as products.
Product Presentation
As an entrepreneur, realize that how you present your products to online customers determines whether they buy or ignore them. Customers want clarity and enough visual proof of what they're buying on the internet before committing to buy.
Luckily, excellent product presentation is one of the strengths of Wix's eCommerce designs. For example, Wix allows you to add up to 15 images for each product you upload.
As a result, you can present a product's images from all angles - front, back, and side views, ensuring you provide sufficient visual proof to online customers.
Better yet, all eCommerce templates come with a powerful in-built product zoom feature. The feature enables customers to have a better look at your product's quality, which boosts visual proof. This can speed up customer's purchase decisions on your online store.
Apart from the in-built zoom feature and addition of multiple product images, Wix streamlines product presentation by allowing video usage.
You can leverage this opportunity to offer in-depth video demonstrations of your product, show prospects your real value, and improve customer experience on your online shop.
However, video tools are not in-built in the templates, but you can easily add them using the drag-and-drop editor.
Shipping options
The most crucial stage of eCommerce is creating shipping strategies and order fulfillment that meets customers' needs and expectations. It requires critical thinking that helps in choosing an affordable shipping option that doesn't disappoint customers.
On that note, Wix eCommerce designs offer several shipping options for your online store.
1. Self-shipping
In this option, you self-fulfill orders, where you handle all the activities involved in shipping, including packaging, storing, and delivering orders to customers. This shipping method is money-saving when sales are still low.
Things get out of hand when the order volume steadily increases since it'll mean a thorough review of your shipping settings and additional time packaging customer orders.
In short, self-fulfilling orders may give you complete control of the shipping process. Still, the problem sets in when your business expands - managing inventory will be more daunting and challenging.
2. Shipping Integrations and Apps
If you can't self-fulfill orders, Wix offers integrations with third-party shipping apps to expand your shipping options and spend less time on orders and printing labels, making the fulfillment process easier for your business.
Examples of third-party shipping apps available for integration in your Wix store are ShipStation and Envia. Adding them to your site is quick and easy. Navigate to the Wix App market on your online shop and use the search bar to find the apps you'd like to integrate into your site.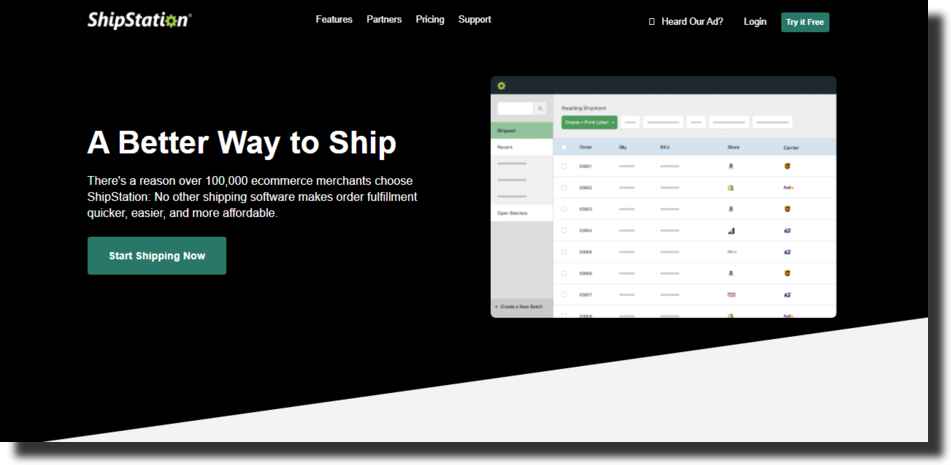 Even then, note that the use of third-party apps for shipment is your own risk. Any damages or overhead costs will be yours to bear. Meaning? Choose reliable third-party apps.
3. Dropshipping
Dropping shipping is another option to fulfill orders on your Wix eCommerce site. It's where you sell products without storing, managing, or shipping inventory. Also, you skip the time and costs of acquiring stocks or manufacturing products.
Once your Wix eCommerce site is up and running, you connect with a dropshipping supplier and source products externally to sell in your online store. When customers place orders, you forward the details to the supplier for fulfillment.
Wix integrates with many dropshipping suppliers and print-on-demand companies like Modalyst, Printify, and Printful. Keep in mind that when choosing dropshipping suppliers, you must connect or integrate their app to your eCommerce store.
Apart from the above options, you must define some custom rules when setting up a shipping strategy on Wix eCommerce.
Wix eCommerce stores come with two shipping regions - The domestic region (the country you're in) and the International region. Therefore, you'll have the option to select the nations (or areas within a country) to which you'll be shipping your orders.
What's more, you can't sell in a region or country without a shipping rule, which is to say, in areas you haven't set shipping rules, customers won't check out their orders.
For each region you're planning to ship to, you must set up at least one type of shipping rule (e.g. Flat rate). The rules can vary for different regions.
For instance, you may set up the shipping rule for U.S customers to be 'Free Shipping,' meaning zero charges to fulfill orders in the USA, while for Canada customers to be 'Rate by Weight' where the shipping charges vary with the weight of products ordered (other rules are available).
Tax Automation
As an online business, neglecting taxes is a violation of the law, meaning you must remain compliant with the global tax rule for a smooth operation in your store. Wix eCommerce enables tax automation, making it hassle-free to remain tax compliant.
The thing is, Wix integrates with a tax software known as Avalara that provides current tax rates for all transactions worldwide. All you've got to do is set up Avalara in your online shop and get automated sales tax calculations.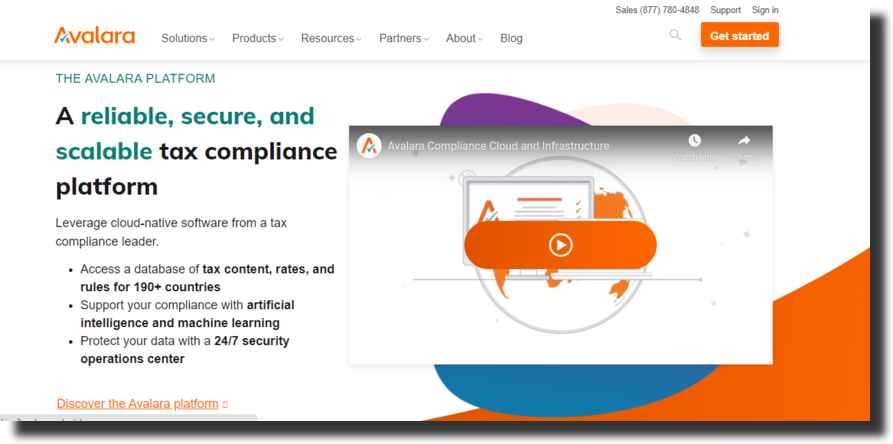 To do that, you log into your website account and navigate to the dashboard, and select settings then choose Store Tax. Next, click the Get Automated Tax button to turn on the sales tax calculator (Avalara).
Then, set up Avalara by providing your business address and filling in your details. Once done, select the tax regions related to your online store by adding countries or states. Lastly, choose whether to include the tax in product prices or at the checkout.
Abandoned Cart Recovery
When customers visit your online store and add items to the shopping cart, it's not a guarantee they'll check out and complete the purchase. Meaning, abandoned cart recovery tactics are essential to your business.
Wix can help you with that using its abandoned cart recovery feature. The feature allows automating follow-up emails to retarget customers who've abandoned carts in your online store.
To use this feature, you head over to the dashboard in your Wix eCommerce site and click on 'Customer Management,' then navigate to 'Automations'. There, you'll access various pre-made automation, including recovering abandoned carts.
Next, click 'Use this automation' and if it's perfect in its pre-made form, you can click 'Activate'. If you need to make changes on the email template, expand the 'Action' button and click 'Edit Template'.
Make all the changes, including the time between cart abandonment and when the customer will automatically receive the email. Once done, be sure to click 'Activate' to schedule the emails.
The abandoned cart recovery feature can help you gain revenues that you would otherwise lose. It helps you follow up quality leads with high potential to convert into customers and boost sales in your eCommerce store.
Multichannel Selling
Wix eCommerce helps in building your online store and expanding your reach through multiple sales channels.
In the end, you get the opportunity to boost your brand exposure and boost revenue generation in your business. For instance, you can sell on social media platforms like Facebook and Instagram and other marketplaces like Amazon and eBay.
But how do you go about it in your eCommerce store?
Get this right. Facebook Ads and selling on Facebook are entirely different. For the former, ads are promotional messages you use to target the right audience. In contrast, selling on Facebook allows customers to buy your Wix's store products directly from the social platform.
Connect your Facebook business page with your Wix online shop. To do that, you navigate to your site's dashboard and go to 'Marketing & SEO'. Click on the 'Sales Channels' and navigate to 'Facebook.' Next, click the 'Start Now' tab to link your Facebook business page with your online store.
When done, your Facebook Shop dashboard will allow product management - you can publish or unpublish products after a short review, after which the product inventory between your online store and Facebook shop will sync automatically. Customers on Facebook will be able to buy directly on your Wix store.
Connecting your Instagram business accounts with your Wix store follows the same path as that of Facebook. Go to your site's dashboards > Marketing & SEO > Sales Channel > Instagram > Start Now > then choose your Instagram business page.
When finished, selling on Instagram will be easy and customers will be able to buy (on your eCommerce store) all the products you showcase on Instagram.
Connecting your Wix store with eBay is a big deal. It's a big step for your online business because you'll reach an entire marketplace of online shoppers and be able to manage all the orders from your Wix dashboard. More importantly, you can customize your products' outlook and costs on eBay and sync your product inventory, details, and orders with your Wix store.
Here's how you connect eBay with the Wix eCommerce store.
Go to Wix dashboard > Marketing & SEO > Sales Channels > eBay > Start Now > then follow the installation steps.
Additionally, Wix allows selling on other marketplaces like Google Shopping and Amazon. Also, you can sell on third-party apps like InkFrog and AdScale.
Global eCommerce Business: Wix Multilingual
Wix eCommerce facilitates creating a website beyond the global language barrier and availing your web customers to worldwide customers in their native language. It enables translating your store into 90+ languages using Wix Multilingual.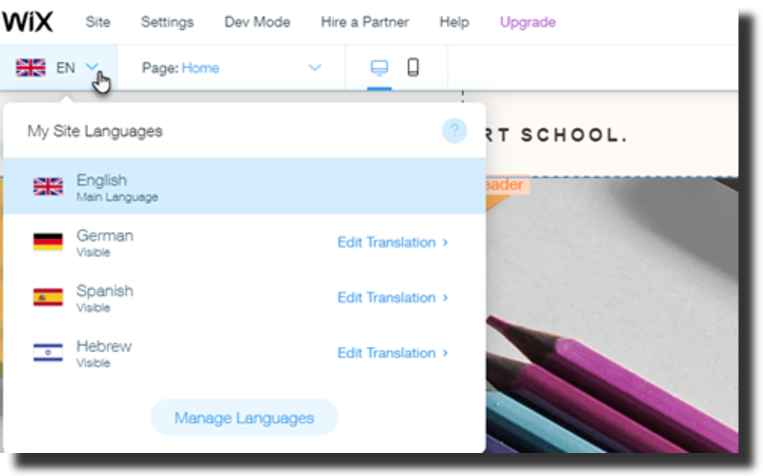 As a result, you're able to engage a global audience and open doors to international sales in your eCommerce store. However, you must add Wix Multilingual to your site. You can achieve that in two ways.
1. Adding Wix Multilingual to Your Site From Wix Editor
Go to the top bar of the Editor and click 'Settings' and navigate to the 'Multilingual' button. Then, click 'Get Started' and select the primary language you desire, plus the flag to display (for the selected primary language).
Click 'Next' to select a secondary language and the flag (for the selected secondary language). Lastly, click 'Start Now' to enable Wix Multilingual and initiate the translation process.
2. Adding Wix Multilingual to Your site From the App Market
In the Editor, you'll see the 'Apps' icon. Click on it to access the Wix App market. There, you'll see a Search Bar, in which you should type 'Wix Multilingual'. When you are in front of the dropdown, click 'Wix Multilingual' and navigate to 'Add to Site'.
Once done, click 'Get Started' then select the main language and its flag. Click 'Next', then select the secondary language and its flag. After clicking 'Next' you can choose whether to translate your site manually or automatically. Lastly, click 'Start Translating'.
Inventory and Order Management
When customers complete purchases in your Wix store, you want to make sure their orders are shipped, delivered, or prepared for pickup as fast as possible. Also, you want streamlined stock management. Wix eCommerce helps to build a store that allows easy control of orders and inventory.
To manage orders, you go to your store's dashboard, navigate the 'Store Orders' tab, and click an order to make changes or view details.
There, you can add tracking numbers to help customers follow the progress of their orders or mark orders as fulfilled the moment they've been processed and delivered to customers.
More than that, the Wix Stores app helps manage inventory, automatically mark products as out of stock, and track product numbers.
On top of that, Wix eCommerce stores integrate with other apps that allow managing orders, inventory, and shipping in one platform. For instance, you can add the Multi orders App in your Wix store to enable merging, bundling, and synchronizing inventory.
Multi orders App also simplifies printing documents like delivery notes, picking lists, Invoices, and return forms. Besides that, the app makes it easier to compare the pricing of different shipping carriers, setting automation rules, and listing your Wix's store products in a marketplace like Etsy.
In addition to that, Wix eCommerce stores facilitate hassle-free inventory management through product collections. With a product collection, you can create a library of several items, making it easier to organize and present your products to customers.
Also, adding, removing, or arranging an item in your product collection is a straightforward procedure.
Payment Options and Fees
Payment gateways are a critical consideration when setting up an eCommerce store. They determine the transaction efficiency in your online shop and play a part in the general customer experience. Wix provides over 50 payment gateways. You get to choose your best fit depending on the region of operation and the efficiency of the payment option.
Examples include Wix Payments (an in-house payment gateway), which allows transaction management from one place and eliminates the need for a third-party payment gateway. Also, Wix supports payment through PayPal, Stripe, Square, and many more. Note that Wix doesn't support Amazon Pay and Apple Pay.

Using Wix Payments in your store attracts processing charges of 2.9% of the transaction amount plus an additional fee of $0.30.
These are standard fees for everyone regardless of your business size or the type of credit card getting processed. More interestingly, Wix Payments attracts zero setup fees and zero charges on refunds and Chargebacks.
Note: PayPal and Stripe charge the same basic rates as those of Wix Payments.
While Wix Payments comes with great advantages, it has some limitations. For example, not all businesses can use it because the payment processor prohibits some products and services like Adult products or content and regulated products like Alcohol and Pharmaceuticals.
Also,  Wix Payments is available in 15 countries only, including the U.S. and UK.
Ascend by Wix
While managing dozens of small tasks like customer engagement tactics is usually a challenge, Wix eCommerce helps develop an online store with an in-built all-in-one marketing solution - Ascend by Wix.
Ascend by Wix reduces the struggle in marketing by streamlining your tactics to reach and engage customers - it has 20 features to boost your efforts. For instance, it helps you connect with customers through a powerful Customer Relationship Management feature that facilitates:
Collecting contact information from customers like testimonials and email addresses - through forms;
Provide instant and 24/7 feedback to customers - through automated live chats;
Central location management of customer communications like chats, form submissions, booking, order requests, and emails;
Easy organization of contacts - through a Contact Manager;
Automating 'Thank You' notes for every new purchase or welcoming new site members via email.
More than that, Ascend by Wix enables automatic generation of invoices, prioritizing projects and sales funnels for an optimized workflow, and tracking tasks to stay on top of deadlines.

What's more, Ascend comes with integrated marketing tools like Video Maker, Social Posts, and Email Marketing to boost brand promotion in different channels.
Beyond that, Ascend helps you monitor promotions performance in different channels by providing tracking tools that dig out data on your progress. Lastly, Ascend cares about SEO in your store such that it features Wix SEO Wiz to help with search engine rankings.
Wix eCommerce Store SEO and Cybersecurity
Two integral parts of an eCommerce store are Search Engine Optimization (SEO) and cyber security. With that, you're now wondering: Can Wix eCommerce web builder create an SEO-optimized store that is immune to cybercrimes?
#1. SEO
Wix dedicates to handing over your eCommerce site to search engine bots for ranking in the organic search results. Here's the proof.

In 2019, Wix released Wix Turbo - an app for supercharging the load-up speed of Wix sites. And considering site speed is a ranking factor in organic search results, this app can increase your store's visibility in the online world.
Wix Turbo boosts speed by:
Fast Image Loading - No frustrating your customers with web pages loading images a fraction at a time. Everything (images and media) loads almost immediately;
Global Data Centers - Wix has data centers across the globe and has increased them so that your web visitors will always be served with data centers near them for fast page load up.
Apart from Wix Turbo, Wix provides other SEO tools like Wix SEO Wiz to streamline on-page optimization in your site to meet the essential ranking factors. More SEO benefits Wix provides include:
Customizable page titles for all pages;
Customizable meta description for all pages;
Usage of personalized URLs  such that they are keyword rich;
Optimized heading structures - h1 to h6 for regular pages and h1 and h2 for blog posts;
301 redirects - to avoid broken link issues;
Using Wix Editor to set pages as 'index' or 'non-index' to give search bots instructions of the pages to crawl and the ones to ignore;
Automatic generation of Sitemaps for fast search engine indexation and keeping your pages up-to-date (unfortunately, you can't access the automatic sitemaps for customization);
Mobile-friendly eCommerce templates;
Integration with Google Search Console, which opens your eyes to crawling errors, and broken links.
#2. Cybersecurity
Do Wix eCommerce templates have security layers against hacking or cyber crimes? It's safe to say yes. Wix takes measures to secure your eCommerce store against compromise by third parties.
These measures include:
Automatic installation of Secure Sockets Layer (SSL) certificates ensures your online store operates on the secure protocol (HTTPS) and has a padlock sign when visitors view your web address on their browser;
Self-activating updates to seal any backdoor or loopholes hackers may use to compromise a site, steal customers' credentials or bank account information.
Pros and Cons of Wix eCommerce
Pros
No blind edits. Wix editor enables live editing such that you instantly see all the changes you make and how they'll impact your store;
Beginner-friendly. As long as you can click a mouse, you'll just be dragging and dropping as you build your online store;
Dozens of options when searching for a suitable payment gateway for your eCommerce store;
Dozens of add-on apps to integrate with your site to streamline operations;
Multi-channel selling. You can sell across different social media channels or sell in giant marketplaces like Amazon and eBay;
Multilingual sites. Create multiple websites in different languages to enable worldwide selling despite language barriers in some regions.
Cons
You can't sell anything on their free plan, and you'll have to bear with Wix ads;
Templates are not interchangeable. You'll re-do the whole web building process if you want to shift from one template to another.
Wix eCommerce Pricing
Wix eCommerce has a free plan, which is valueless when selling anything on your eCommerce site. Even so, a free plan allows you to test the waters before upgrading to premium plans.
It gives you a chance to prepare your store for launch while deciding whether the website builder is perfect for your business.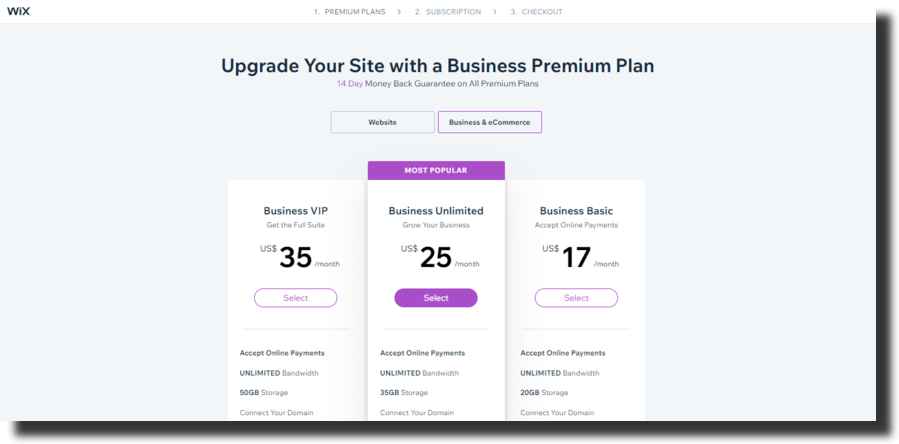 That said, here are three Wix eCommerce premium plans that uphold the rule "pay more, get more."
Basic: US$ 17/ month;
Unlimited: US$25 / month;
VIP: US$ 35/ month.
Wix eCommerce – How It Can Help You Turn Your Online Business Around
Easy customization, a range of eCommerce features, budget-friendly prices, and beginner-friendly processes are the strengths of Wix eCommerce.
Therefore, the Wix eCommerce builder is perfect for you if you have zero or limited coding skills. Plus it'll work for you if you're building your first online store or you want to grow your small business.
Tags: ecommerce, Wix, wix review