An increasing number of businesses are switching to online marketing. Online marketing is the go-to for many businesses because of quick results and interactivity. There are also low entry costs. This is best if you run a small business.
Web marketing is one example of online marketing. It is  is an umbrella term used to describe other smaller online marketing techniques. Site web marketing includes search engine marketing (SEM), search engine optimization (SEO), social media optimization (SMO), email marketing, banner advertising, and other forms of online marketing outreach.
Out of all these marketing strategies, search engine marketing and pay-per-click marketing are two of the fastest-growing advertising methods for businesses.
These web marketing strategies have become a popular marketing method for several businesses. More and more people are interacting with businesses online rather than in-person. Therefore businesses need to take advantage of this recent trend.
Web marketing is very cost-friendly as the entry-level costs are cheap. Companies only need the internet to conduct their web marketing campaigns. The amount of profit gained far exceeds the amount of money spent on web marketing.
This article will explore all topics related to web marketing and how it can help you boost your sales. By the end, you should be able to put together a solid web marketing strategy that will help you expand your business and attract a broad customer base.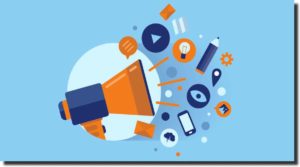 Source: Search Engine Journal
In web marketing, businesses use the internet for advertising their business. You can use social media, search engines, emails, photos, and videos to market your business with web marketing.
The main idea behind web marketing is to drive more awareness towards your brand. With web marketing, you can gain a high volume of awareness than can be used to push your product.
While traditional advertising methods can be used, they are ineffective at producing quick results as web marketing. If you run a small business, it might be too costly to advertise in newspapers or the radio. You can get maximum results at a very lost cost with web marketing.
The number is internet users are increasing day by day. This sheer volume of internet users makes web marketing an important tool for companies.
There are several methods of web marketing. This article will evaluate each method to help you choose the right marketing techniques for your business. You can also tailor these methods to fit the needs of your business.
Why is Web Marketing on the Rise?
If you are used to traditional advertising methods, you might be wondering why you need to switch to web marketing. Several statistics emphasize the importance of web marketing.
According to Statista, as of January 2021, there were 4.66 billion active internet users worldwide. This number counts for 59.5% of the global population. Out of this total, 92.6% access the internet through mobile phones. This is a sharp increase from the previous years.
Mobile phones were responsible for 56% of organic search engine visits. Mobile phone and social media usage are connected; therefore, you can also include social media if your advertising targets mobile phones.
Statista shows that the average person spends 147 minutes on social media. This number highlights the importance of web marketing. You can utilize this screen time to conduct a comprehensive web marketing campaign.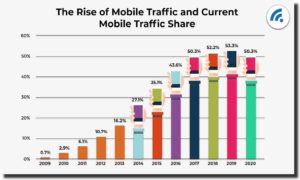 Source: Broadband Search
According to eMarketer, an estimated 80% of the global population uses the internet to search for information. This number shows how important it is for businesses to use SEOs for marketing their business.
Large numbers of the global population are spending more and more time online. These statistics help paint a picture of just how much potential there is in web marketing. You can use web marketing to find a wide range of customers that would be difficult to attain through traditional marketing methods.
Internet usage is going to increase as the years go by, which is why businesses must implement a solid web marketing strategy if they want to see organic growth.
What are the Benefits of Web Marketing?
With web marketing, businesses can yield unique benefits not available with traditional marketing methods. Some benefits of web marketing include:
Low Costs;
Hyperfocused Advertising;
High Engagement;
Easy to Use;
Easy to Measure.
Low Costs
Unlike other marketing methods, web marketing is relatively cheaper. With traditional marketing methods, you would have to spend a lot of money. However, that is not the case with web marketing.
Several web marketing tools are either free of cost or can be used according to your budget. Facebook ads are three times cheaper than a TV advertisement or a print ad. You can also set specific targets through web marketing.
Businesses only need to consider their internet usage when it comes to costs; however, several internet packages are available for businesses at a discounted price.
Hyperfocused Advertising
You can focus your advertisements on a specific customer demographic with web marketing. Several web marketing options allow you to run advertisements based on the customer profile you want to attract.
For example, if you're running an ad campaign on Instagram, you can create a customer profile that your ad will target. You can add a potential customer's age, gender, and geographical location. This type of hyperfocused advertisement will help you reach an audience that is more likely to purchase your product.
A hyperfocused advertisement is an important tool for e-commerce. You can use geolocation data to find information about potential customers. This location data can help you tailor your business according to your desired customer profile. Localization goes hand in hand with SEO. Having knowledge of these tools will help you maximize your web marketing capabilities.
High Engagement
With web marketing, you can easily interact and engage with your customers online. Online communication is fast as you interact with your customers in real-time. This makes it easy for businesses to respond to any questions quickly.
Providing efficient customer service is a key component of increasing your customer base. High engagement is a great tool for small businesses because of the relationships you create with your customers.
Virtually interacting with your customers builds trust, and they are more likely to repurchase a product. By building trust, customers are more likely to recommend your business to other people. This will boost your sales and help your business grow.
Easy to Use
Web marketing tools such as social media marketing, emails and banner advertising an easy to use and require almost no technical expertise. These tools can also be edited and revised easily. Such convenience is hard to find in traditional advertising methods.
Many social media platforms offer guides on how to create advertisements. If you need more help, you can always collaborate with a web marketing company. At a web marketing company, the web marketing manager will be able to assist you with any online marketing needs. Web marketing managers are highly skilled at providing online marketing help.
Easy to Measure
With web marketing, you can instantly analyze how well your adverts are doing. Many web marketing tools offer analytics that can be measured to show the success of your adverts.
If you market your business through TV adverts, it can be difficult to know if you've reached your target audience. With web marketing analytics, you can get specific information. Such analytics are not available with traditional advertising.
The analytics show how many people you have reached and how much they engaged with your content. You can also get demographic information about the people who saw your adverts.
Once you have your analytics, you can easily tweak your web marketing strategy or add more information.
Why is Web Marketing Important?
A consistent web marketing strategy can help bring growth to your business. There are several other ways you benefit from web marketing.
Better Connections with Your Customers
With solid web marketing, it is easy to build customer loyalty. Quick customer service can help you establish with your customer base.
You Can Reach a Wide Customer Base
With web marketing, you can go beyond the geographical bounds of your locations. You can get customers from around the globe and from various demographics with the help of the internet.
If you do radio advertisements, you can only reach customers that listen to radios. If you do a billboard, only a small group of drivers will be able to see your ads.
Sometimes they might even pass by your billboard by looking at your ad. With web marketing, you can get the customers you want anywhere.
Web marketing Compliments Other Marketing Techniques
Web marketing can work well with traditional marketing techniques. Your business does not have to choose one or the other.
If you prefer traditional techniques and want to try web marketing, it is easy to mesh the two together.
What are the Different Types of Web Marketing
As mentioned before, web marketing is a phrase that covers several different online marketing techniques. We will be discussing each of these techniques in detail to see which of these techniques work best for your business.
PPC Marketing
Also known as pay-per-click marketing, is one of the most popular forms of marketing. PPC looks at addressing customer needs while posting relevant ads at the correct time.
To maximize your PPC marketing abilities, you need to do extensive keyword research. Knowing the right high-value keyword will help you successfully market your product. You can also personalize keywords to match your company's needs.
Grouping and organizing your keywords makes strategic web marketing easier. Keyword groups help you with PPC and SEO ad campaigns.
With PPC marketing, it is important to keep updating your adverts continuously. Consistently updating and improving your campaign will help you attract a wider audience.
Social Media Marketing
Social media is one of the fastest-growing industries. Many companies, including small businesses, use social media as a marketing tool and even a starting point for their business. Therefore it is important to master social media as a marketing tool to grow your business.
Social media makes it easy to post content quickly. Based on your engagement rate, you can connect with your audience and understand what type of campaign works best for them.
Social media relies heavily on visuals, so your social media campaigns need to use visual aids. Your visuals should have a high resolution and should be eye-catching.
Instagram is one of the most popular social media platforms to run an online business. With Instagram, you can easily market your business through visual aids and drive more traffic towards your business.
Instagram also offers paid social media ad campaigns and analytical tools to give you more help your help with marketing. If you have an e-commerce business, you can use the shoppable content tool for marketing your products.
Customers can easily purchase their products on the Instagram app. With the shoppable content option, you can post pictures of your products with a digital price tag. When customers choose a product they like, they can click on the tag to take them to a checkout page.
Shoppable content is important marketing for e-commerce businesses as it removes friction from the buying process. Customers don't need to load into a new web page to buy their products. This streamlines the checkout process and makes it likely for the customer to return.
Email Marketing
Email marketing is easy to use and can be highly targeted. You can create an email containing information about your products in email marketing. The email is sent to your target customer base.
Email marketing is an ideal marketing tool for small businesses as the cost is very little. For every $1 you spend on email marketing, you make around $30 on return on investments. The high ROI rate with emails makes it an attractive marketing tool if you want to grow your profits.
However, there is a downside to email marketing. People often ignore emails, so it's important to create an email marketing campaign that instantly catches your customer's attention. Otherwise, your email is at the risk of ending up in the trash folder or being neglected.
One way of ensuring your email ad is not neglected is by following up on your customers. Once a customer has purchased your product and signed up for emails ads, you can create an email campaign that will recommend products similar to those they have purchased.
A follow-up email shows a customer that you care about them beyond a sale. This creates trust between your business and your customer. You can also ask for feedback and any other improvements. Also, you can use the input to edit your campaign to avoid friction with potential customers.
Furthermore, you can use email marketing to reach out to customers who have abandoned their online shopping carts. If a customer fails to make a transaction, you can send them a polite reminder or ask for any feedback that may have caused them to abandon their cart.
Content Marketing
The content marketing is steadily becoming one of the best ways to market your business. Content marketing is a great way of reaching your audience, and it is one of the best uses of web marketing techniques.
In content writing, businesses create content that is high quality and captivates their audience. Your content should be unique and free of any errors to attain high engagement from your customers. An online plagiarism checker can help you check the content's uniqueness. In this way, you can detect any copied text in your content and make sure that all of your marketing content is unique
Blog Posts
Many companies use blog posts to generate traffic towards their websites. Companies that consistently use blog posts are four times more likely to generate web traffic than companies that don't.
Company blog posts can be a great way of answering your customer's questions. You can write guides and how-to blog posts to drive traffic to your website. If a customer is on one of your blog posts, you can guide them to another one of your posts on a similar or related subject. This chain reaction will increase traffic to your website and boost your sales.
Efficient Product Pages
Your product pages should have short, keyword-driven text that includes the name of your product. Doing so will make it easier for customers to find your products on a search engine.
You should also ensure that your page titles, headings, and image text are optimized with the correct keywords for quick search engine results.
Guest Writing on Other Blogs
Writing guest posts on different websites can help you find the audience you need. Marketing your product on a complimentary website can increase traffic to your business.
For example, if you run a wedding catering business, you can advertise your products on a wedding planning page. This web marketing campaign will help you get more traffic from that particular audience.
If you market your product on a well-known website, your business will gain authenticity,, and it will be easy to create customer loyalty. You can, however, use professional guest post services to do that for your business. They have the expertise that can give your business the required boost.
Create Videos on Youtube
Youtube is one of the biggest social media platforms with over a billion users worldwide. Youtube is also the second-most used search engine behind Google. This makes it a highly important tool for web marketing.
When creating your YouTube video, it is important to title it using high search keywords. There are a lot of videos on the same topic; therefore, it is important to use high-value keywords to title your video to stand out.
Now that people have clicked the title of your video, it is important to present your audience with a captivating video to encourage them to purchase your product.
You can create tutorial videos on how to use your products. By doing so, you will increase customer satisfaction and build an audience on your channel.
Search Engine Marketing
Search engine marketing is one of the most important aspects of web marketing. It would be difficult to reach any customers without proper SEM, and your business will suffer. Therefore any company with an online presence must use search engine marketing.
Search engine marketing includes search engine optimization and paid to advertise. SEM can also include PPC campaigns or other product-specific ad campaigns that allow you to get a top spot on a search engine results page.
Unlike other web marketing options, search engine marketing can have costs. However, the success of SEM brings more profit that far exceeds the cost of advertising.
Since Google is one of the most widely used search engines, you can look at its ranking algorithm to find high-value keywords. A good SEO makes it more likely for customers to want to purchase your product.
Many e-commerce businesses use Google Adwords to promote their pages. This type of advertising puts potential customers right in front of the business's product. When customers click on a paid result, they are far more likely to leave the site after purchasing the product.
Putting Together a Web Marketing Strategy
Now that you have all the information on web marketing, here are a few quick steps on how you can put together a solid web marketing strategy.
Step 1 - Set Goals
Setting goals helps you measure the success rate of your web marketing campaign. Having specific goals will make it easy for you to hit your targets. Goals also help you stay organized and can help you plan your marketing campaigns.
Step 2 - Understand Your Customers
Understanding your customer profile will make it easy for you to tailor your marketing campaigns to their needs. Create a buyer persona for your business and build up a marketing strategy around this persona.
Step 3 - Select the Correct Marketing Tool
As we mentioned above, there are several different ways to use web marketing. Choose the marketing tool that best fits your business's needs. Choosing the best marketing method can bring out the best in your company.
Key Takeaways
Web Marketing is such a broad topic, and it is important to use the information mentioned in this article to find out which type of marketing works best for your business.
Once used correctly, web marketing can provide instant benefits for your business. A consistent web marketing strategy will help your business grow and attract a wide customer base.
Tags: sales, web, web marketing