Social media presence is every serious business's goal. However, it's hard to understand how to use it the best.
With many social media networks available for your business today, you might be wondering how you can stay on top of things while saving your time.
Also, having to post your business's social media content manually might not work whether you're an agency or a small business.
The solution to this is the use of the best social media scheduler tools. Even then, there are numerous tools available, and each depends on what you're looking for.
To help you easily choose the right one, here's a list of the 15 best social media scheduler tools to save your time.
Be sure to go through the features and pricing plans to understand which suits you best.
Top 15 Social Media Scheduler Tools For 2021
#1. SocialBee
SocialBee is a versatile social media scheduler tool that does more than scheduling. It features competitor research functionality allowing you to study your competitor's behavior.
This early-stage tool aims at adding new features as its product roadmap is relatively extensive. In addition, it schedules posts to various social media channels.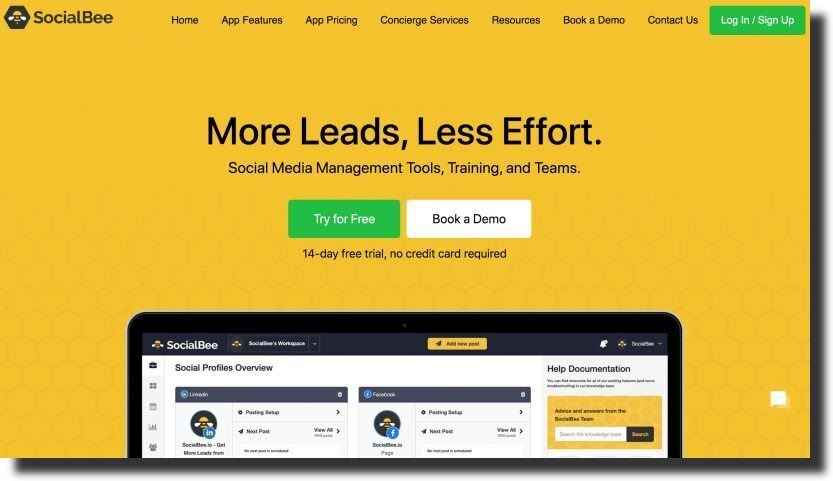 SocialBee features a mobile app to allow scheduling social media posts while on the go.
SocialBee's Features:
It has a category-based posting feature: This functionality allows you to categorize posts so that you can assign different types of posts.
Scheduling your posts in categories gives a balanced combination of various types of content. So, you could have categories of curated content, industry news, and self-promotional topics.
SocialBee features the evergreen feature: Once you put your content into categories, you can easily check the evergreen content.
The evergreen functionality lets you repost the evergreen content such that you don't waste time posting again and again. So, you only need to select your evergreen posts then SocialBee handles the rest.
The evergreen functionality also allows you to set your posts' specific expiry date. For example, end New Year posts on 3rd January.
You can even set your posts to expire after a particular number of posting times. For instance, stop posting after four times.
SocialBee lets you assign individual posts if you wish so. This helps saving your time, that you could use to set up a social media posting schedule. This tool also notifies you when your scheduled posts run out or if there's an issue somewhere.
The competitor research feature: With it, you can monitor your competitors' followers on Twitter and this tool suggests potential customers for your business. Thus, making it easier to create an active audience on Twitter.
This tool has affordable plans that lie well within the budget of small businesses and large digital agencies. The reasonable pricing lets you scale your business as you're not afraid of high software costs.
SocialBee collaborates with link shorteners such as Rocketlink, Replug, Switchy, and Rebrandly.
SocialBee's Outstanding Scheduling Features:
The evergreen posting feature saves time;
You can see all the scheduled posts in a visual calendar;
SocialBee previews each scheduled post before publishing;
The category-based feature lets you generate a balanced mix of content;
It allows you to book concierge services for social media management tasks.
SocialBee Pricing Plans
SocialBee social media scheduler tool features three pricing plans for its customers. Your choice is based on the number of social profiles you have, and the content categories you need.
The pricing starts at $19/month and the package has all the scheduling features. Ultimately, this plan, popularly known as Bootstrap, is ideal for authors, coaches, and solopreneurs.
The other plan is known as the Accelerate ($39/month) and is suitable for startups and small businesses.
On the other hand, the Pro plan ($79) works best for freelancers and agencies.
#2. Agorapulse
Agorapulse is a powerful social media scheduler with flexible scheduling options. With it, you can preselect a date and time to schedule your posts.
This unique social media posting schedule tool is ideal for teams and agencies who want to ace their social media management tasks.
Agorapulse features a queue function that allows you to post your evergreen content over and over again.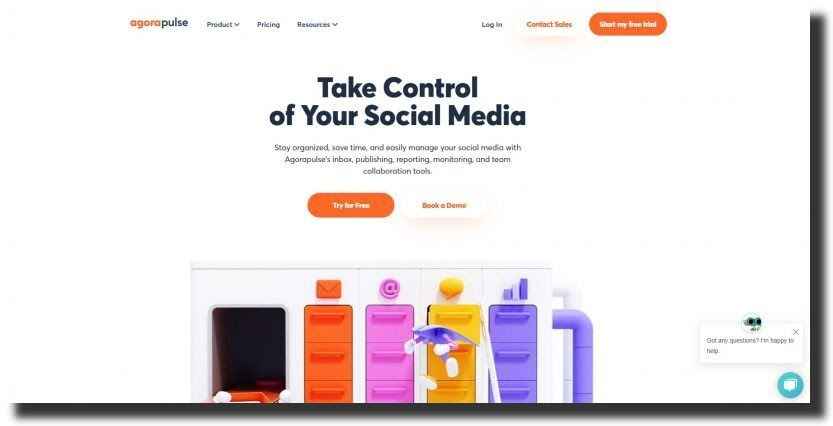 As a result, you can maintain a steady stream of content on social media platforms such as Facebook, Twitter, LinkedIn, YouTube, and Instagram.
Agorapulse also features a "Queue Categories" such that your queued content is organized according to time and topic. This way, you can always let your audience know what topic to expect at what time.
Furthermore, this plan offers you four pricing plans based on your social profiles and the number of users aimed at.
The most basic plan costs you $39 a month and it's targeted to Solos, while the most advanced plan, the Enterprise plan, costs $239 per month.
Outstanding Features in Agorapulse:
It has the Social Inbox to let you send personalized messages to your clients;
Agorapulse has an inbuilt CRM feature to help you understand your clients better;
Allows you to schedule and queue your content on your Android and iOS devices;
You can view everything on the unified color-coded content calendar;
Lets you upload bulk content with the CSV file.
#3. Sendible
Agencies and solopreneurs can leverage the use of Sendible to schedule their social media posts. This one-in-all scheduler has a wide range of scheduling features.
For instance, you can schedule your posts individually, in bulk, or queues. In addition, you can use the 'smart feature' to customize your social posts with relevant emojis, hashtags, and captions.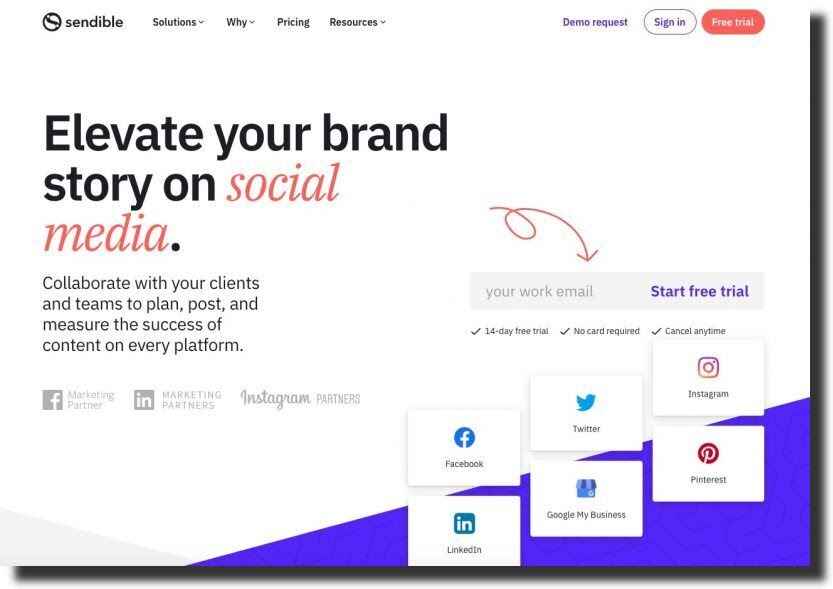 Sendible supports various social media platforms such as Facebook, Instagram, LinkedIn, Google My Business, YouTube, and Pinterest. It's also compatible with blogging platforms such as WordPress, Tumblr, and Medium.
Some of the scheduling features in Sendible include:
You can organize a whole campaign offline then import it in bulk to the scheduler;
It allows you to customize content to each network so that you can improve organic reach;
The evergreen feature allows recycling the best performing posts;
The RSS Auto Posting feature lets you organize and share high-quality content.
Sendible Pricing Plans
Sendible's pricing is quite flexible with the most popular plan as the $199 per month Medium Plan. This is ideal for 'Growing agencies".
Furthermore, the scheduler also caters to other organizations with a $29 per month Micro plan for solopreneurs. The $99/month Small plan is best for small businesses while the $299/month Large plan is for large teams.
#4. Loomly
Loomly is one of the most reliable social media posts scheduler tools. It features an intuitive and user-friendly interface that suits every user.
Before subscribing to one of its pricing plans, you have a free 15-day trial. The Base plan stands at $20 and is ideal for users with 10m or fewer social accounts.
The pricing plan goes up to the Premium plan costing $228 per month. The latter allows up to 26 users and 60 social accounts.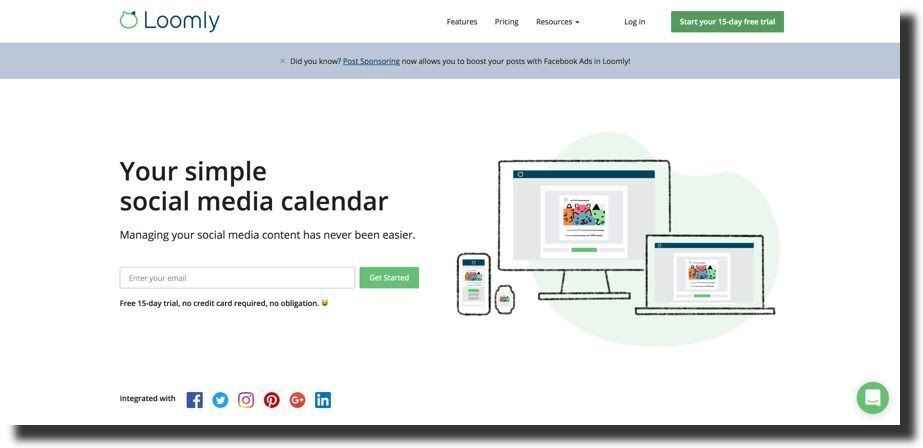 Loomly features an interaction screen to help you keep tabs on social engagements. Through this screen, you can manage comments, messages, social media mentions, and likes.
This way, you'll stay updated on how your social media posts are performing, and thus understand where to improve.
Then, posting on Loomly is quite straightforward with several options available. For instance, you can create your post from scratch then customize it to your liking before posting it.
Alternatively, you can get post ideas from RSS feeds whereby you get draft posts to modify.
#5. MeetEdgar
MeetEdgar is a unique solution and a social media scheduler tool thanks to the features it offers. With this powerful tool, you can always reuse your content as it saves posts in the library.
As a result, you can use the evergreen feature to repost the best-performing posts.
With MeetEdgar, you can schedule as much content as you wish without too much participation. As a result, you can craft multiple categories for various types of content.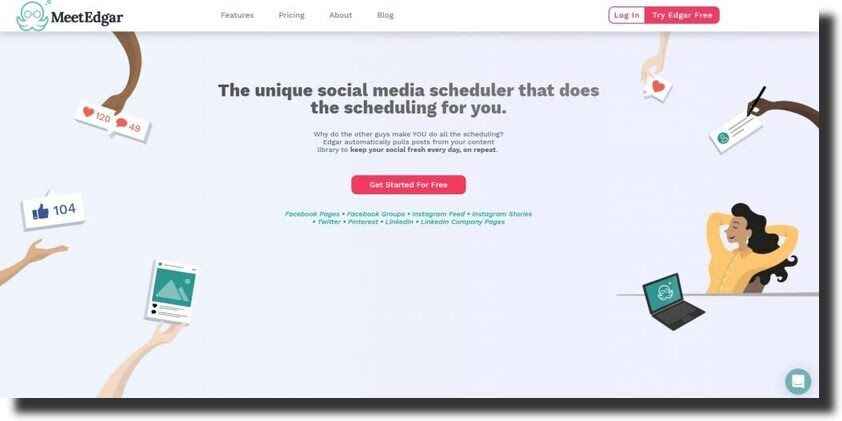 This includes blog posts, promotional materials, quotes, and questions. Moreover, the social media calendar lets you set the posts in the estimated times they need to publish.
You can count on this scheduler for various social media networks as it supports Instagram, Facebook, Pinterest, Twitter, and LinkedIn.
Top Features in MeetEdgar:
It has posting queues that reposts your evergreen content forever;
Uses the category-based feature to group your content accordingly;
Bulk import allows you to upload content in bulk;
Color-coded categories let you organize content accordingly;
The RSS Feed allows you to generate content automatically.
MeetEdgar's Pricing Plans
MeetEdgar offers you two pricing options namely Edgar Lite and Edgar. The former is charged $19 per month while the latter costs $49 per month.
#6. SmarterQueue
SmarterQueue is a dedicated tool for scheduling all your social media posts. It supports different social media networks including Facebook, Twitter, LinkedIn, Instagram, and Pinterest.
If you want to categorize your content to make it easy for your users to find, SmarterQueue helps with that.
The color-coded categories allow you to look at a glance at what's in your calendar. As a result, you can quickly make adjustments where needed.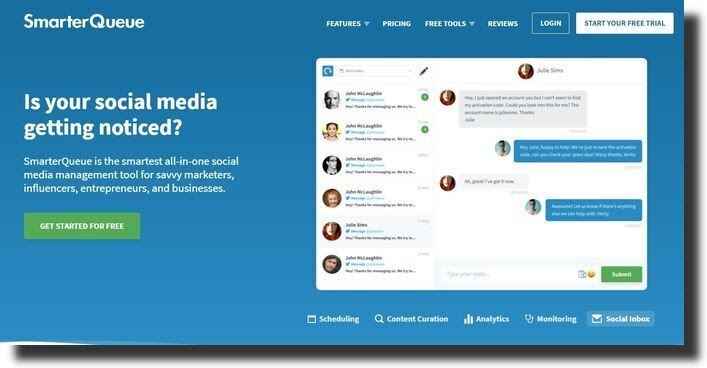 Furthermore, SmarterQueue ensures that your initial posts don't go to waste. The evergreen feature lets you recycle your content many times. When you post your evergreen content, your audience will easily trace the best-performing posts.
Also, through the evergreen function, you can separate the recycling times for different types of posts. For instance, your 'quotes' may get recycled every 30 days while your 'promotional messages' after 45 days.
SmarterQueue Pricing
SmarterQueue offers you flexible pricing options so that you pay for what you use. The base price is $19.99 per month or $16.99 when paid annually.
#7. Buffer Publish
Buffer Publish is a social media scheduler designed to support your web and mobile applications.
You can use it to schedule your content on Twitter, Facebook, Instagram, and Pinterest within one platform.
Buffer's WordPress and Chrome integrations make it stand out as a scheduling tool. You can conveniently select the posts you want to publish then set the best time for them to go out.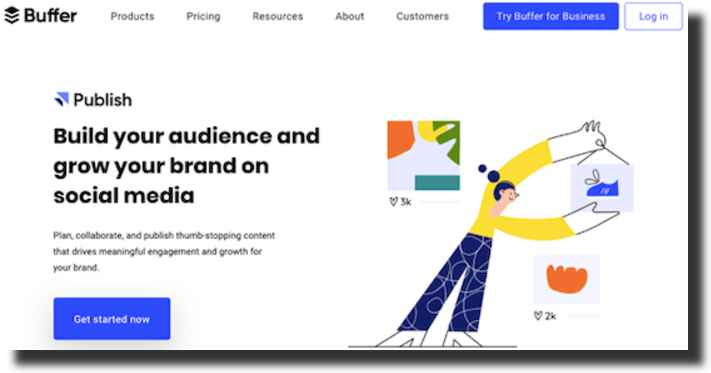 Buffer lets you tailor posts for each platform so that you can add webpage links, titles, and images to your schedule.
Unlike other tools, Buffer suggests the best posting times and also gives you analytics to help you know how your work is performing.
Buffer Pricing
You can either choose the free plan that allows you to do 10 free social media scheduler posts. Otherwise, you can upgrade to a paid version for unlimited social updates.
The premium version costs you $$15 per month or $144 per year. This package offers 8 social accounts, 100 scheduled posts, and one user.
#8. TweetDeck
TweetDeck is a scheduling tool designed for Twitter posts only. It's a free social media scheduler launched in 2011 to help you schedule tweets across multiple Twitter accounts.
TweetDeck comes with a clean interface you can navigate without a fuss. The user-friendly dashboard allows you to access the tweets in the Home feed, Notifications, Messages, Activity, and Mentions.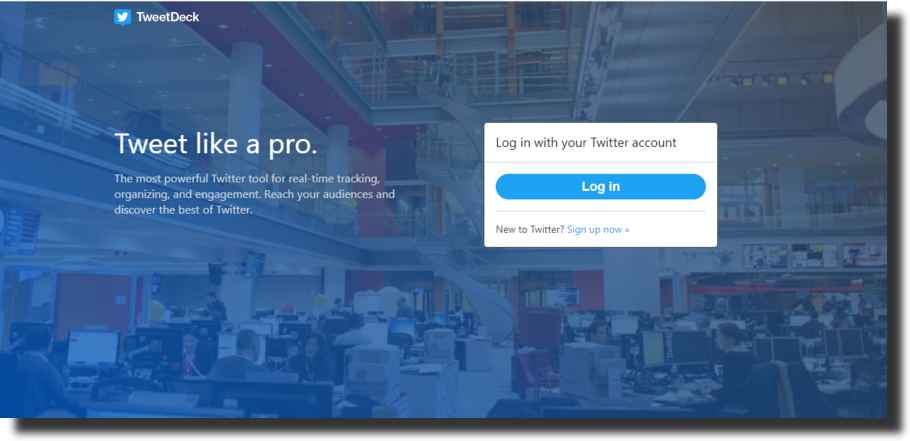 If you wish so, you can also add columns with other items. This could include Lists, Collections, Likes, Followers, and Scheduled Posts.
In addition, you can easily add changes to your scheduled tweets before they go out. TweetDeck also lets you add GIFs and images to your messages.
#9. SocialPilot
SocialPilot is a popular social media scheduler tool every marketer should choose. It's an affordable and reliable tool when it comes to your straightforward marketing needs.
Through SocialPilot, you can post on multiple social accounts such as Instagram, LinkedIn, Facebook, TikTok, Google My Business, Tumblr, and VK.
Furthermore, the deep set of features it offers optimizes your social media scheduling efforts.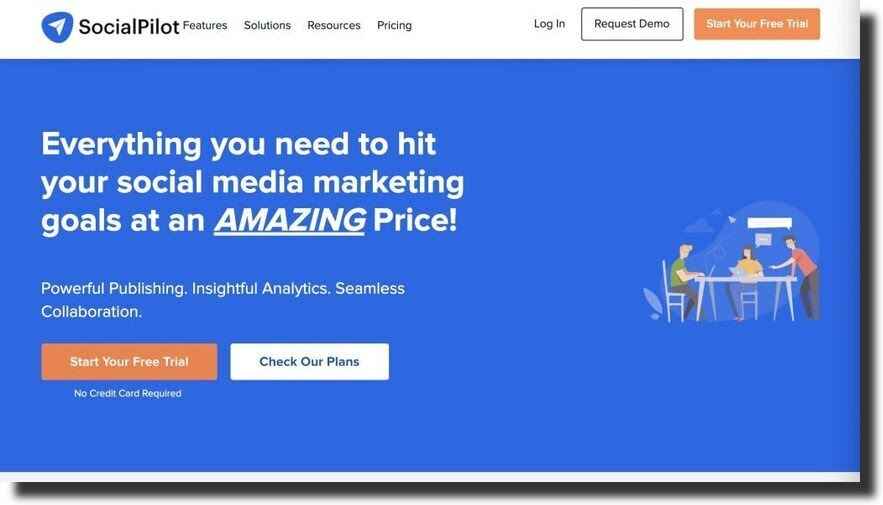 Should you experience any challenges, SocialPilot's dedicated customer support team is on standby to offer help. You can reach out to them via phone, chat, social media, and email platforms.
SocialPilot Pricing Plans
The SocialPilot pricing plans suit agencies and businesses with the pricing plans starting at $30 per month.
This is the Professional plan in which you can save up to 15% if you choose the annual plan. The second option is the Agency plan with a monthly cost of $150.
#10. Hootsuite
Hootsuite is a complex social media scheduling tool suitable for large businesses. It has been in the market for quite some time now and serves over 16 million users globally.
Hootsuite comes in handy when scheduling your Facebook, Twitter, LinkedIn, Instagram, and YouTube posts. While it's quite a pricey option for small businesses, Hootsuite offers excellent features for large businesses.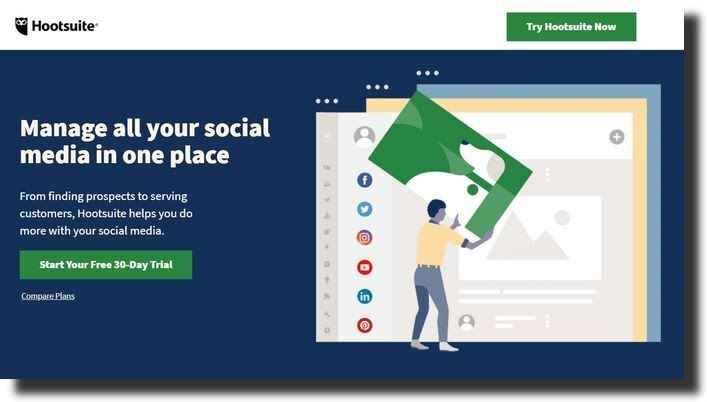 Features of Hootsuite:
Has a social streams feature that lets you engage with your audience and monitor the social networks from its dashboard;
Offers account-focused metrics to help you track results by time frame. You can also create tailored reports according to your needs;
You can connect with more than 150 apps from the Hootsuite app directory. To do this, you need to browse and select your apps for good collaboration.
Hootsuite Pricing plans
Hootsuite offers a free plan whereby you're allowed to schedule 3 posts across three social media profiles.
For the Professional plan, you need to pay $30 per month to access unlimited scheduling across 10 social media profiles.
This plan also allows for bulk scheduling. For additional features and serious scheduling news, you can choose the $129/month package or the $599 Business plan.
#11. SproutSocial
SproutSocial is more of a corporate social media scheduler tool that so much resembles Hootsuite. The tool gives access to features such as smart inbox, in-depth social media analytics, and customized reporting.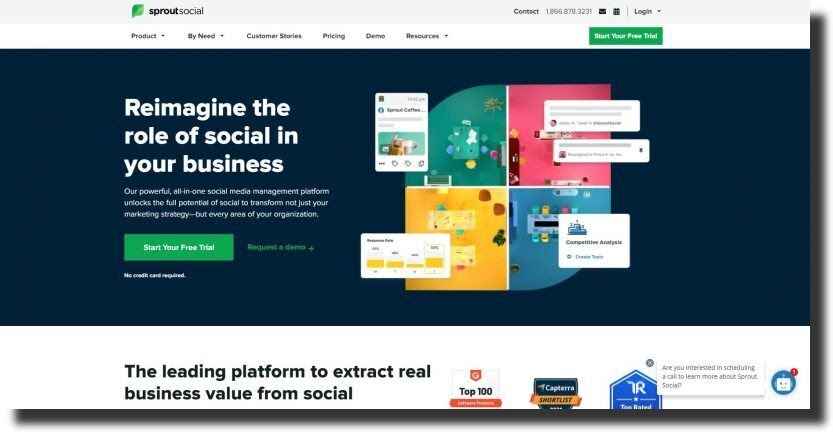 You can schedule your Facebook, Twitter, Instagram, LinkedIn, and Pinterest posts through Sprout Social.
SproutSocial Features:
Enables you to create, operate, and manage chatbots in Facebook Messenger;
Ability to group team members for efficient collaboration;
Integrates tools like Zendesk, Hubspot, and Uservoice so that teams can manage tasks from the dashboard;
Contains social media analytics that helps you track how your content performs;
The calendar feature gives a glimpse of what's scheduled and published on a daily basis.
Sprout Social Pricing Plans
Sprout Social offers you a 30-day free trial after which you can upgrade from $99 to $249 per month.
#12. Zoho Social
Zoho Social is a social media scheduling tool designed with the goal of a growing business in mind.
This powerful tool supports Google My Business, Instagram, LinkedIn, Twitter, and Facebook. You can count on Zoho Social for several advantages to your business.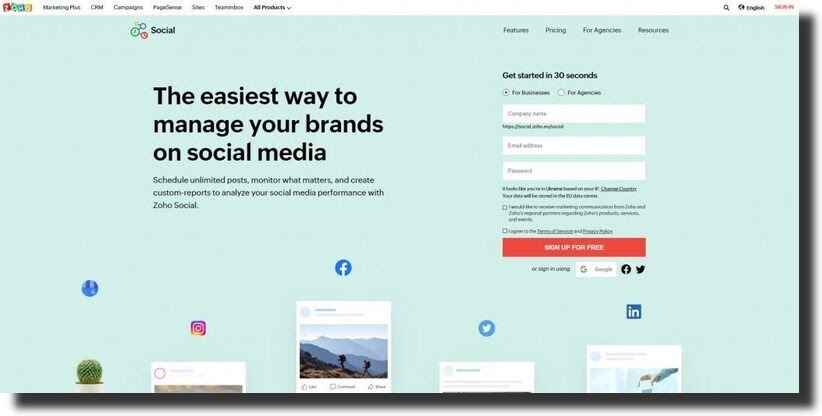 For instance, you'll be able to work with team members, monitor brand mentions, and manage social conversations.
Zoho Social has these features to offer:
SmartQ predictions and social listening means that this tool uses your profile analytics to share your posts when your audience is more active;
Through CRM integrations, you can engage with potential prospects and generate leads on social media;
Allows you to create automated reports for your team members and clients.
#13. eClincher
This feature-filled scheduling tool is what you need for your business's online presence. eClincher comes with around-the-clock customer support to solve all your problems.
Through it, you can easily manage your Facebook, Instagram, LinkedIn, Pinterest, Google My Business, and TikTok.
Furthermore, the scheduler integrates with cloud storage options such as Google Drive and Dropbox and artsy apps like Canva.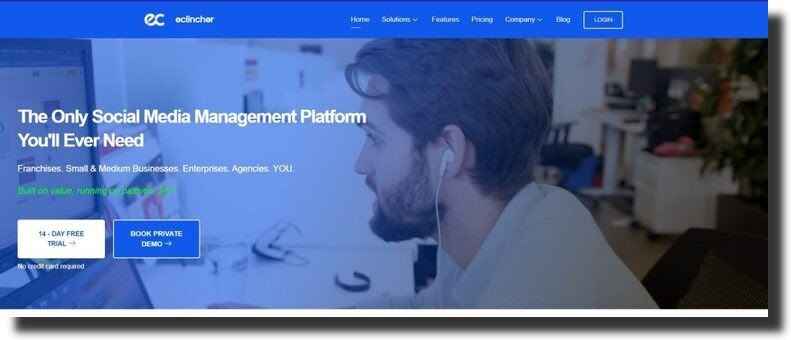 If you want a scheduling tool with an Instagram Direct Publishing feature, then look no further. eClincher allows you to post directly on Instagram, a bonus that makes it stand out from the crowd.
Furthermore, the Visual Calendar lets you choose dates and time for your posts to go out appropriately. This way, you can drag and drop any changes you need to make without doing any manual and tedious editing on your content.
Features of eClincher:
Has a reporting and analysis functionality;
It has a reliable unified social inbox;
Lets you find top influencers via keyword search and their popular content suggestions;
Its inbuilt media library allows you to publish images and videos to your preferred cloud storage;
Through the centralized inbox, you can track competitors' behaviors.
#14. Later
Later is a social media scheduling tool with a difference thanks to its variety of features. This scheduler lets you manage your Facebook, Twitter, and Instagram, but it has more emphasis on Instagram scheduling.
Once you want to use Later for your Instagram, you need to understand that you start by posting an image followed by text.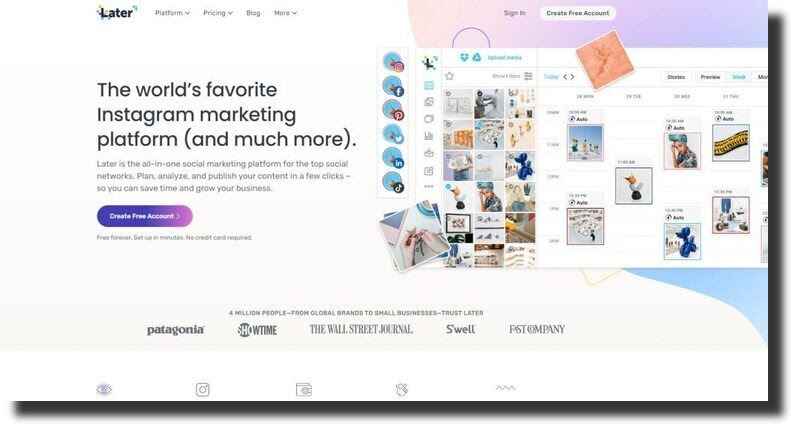 Unlike most of the other tools, Later offers a media library that keeps your images intact for future use. Furthermore, you can add stars, labels, or notes to your images for easier filtering.
If you want to get access to more features, you can opt for Later's paid plans. This means you'll get the chance to upload and share videos and also create stories for your audience.
Top features in Later:
The Quick Schedule feature lets you drag and drop posts according to your stipulated time frames;
The Business plan gives you access to Conversations which allows you to monitor your Instagram comments on Later;
Through the Linkin bio feature, you can direct website traffic from Instagram;
Allows you to generate hashtags and tags.
#15. NapoleonCat
NapoleonCat is one of the best social media scheduling tools available. With this tool, you can manage multiple social accounts conversations within a single dashboard.
In addition, you're able to customize each of the plans according to your liking. Choose NapoleonCat for your Facebook, Instagram, LinkedIn, Google My Business, Twitter, and YouTube.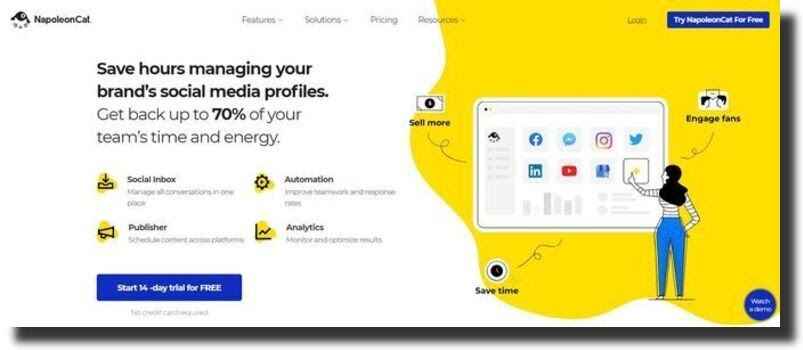 NapoleonCat Features:
Access to customized add-ons such as social tracking, customized optimization, analytics, and reporting;
Allows you to manage multiple social media profiles from a single dashboard;
Allows team collaboration and automated reports;
Lets you assess marketing results and study competitors activities.
Why Social Media Scheduler Tools Matter
If you're wondering what social media scheduling tools to choose for your business, the list above will be of help.
Making a good decision for your social media scheduler ensures your business has an online presence that translates to more leads. It's up to you to choose the plan that suits you best.
Keep in mind that most pricing plans are determined by the number of social accounts you have and the engagement reach you're looking for.
Regardless of the social media scheduler tool you choose, take time to learn how it works for even better results.