If strategically used, lead generation can provide to your businesses more clients that are ready to buy your products. That's why companies are frequently investing in lead generation marketing campaigns to obtain great results.
However, you must understand what are your target leads, and ensure that what you're selling suits your clients the best. If you keep all this in mind, your lead generation process will give you positive results.
Before you embark on lead generation strategies, you should know that not all of them will work for your business. Sometimes you might invest time and resources in generating leads, but you might also fail to get results. That's normal, which means that you can try again.
Like most business processes, lead generation need patience before you take your prospects through the sales pipeline. But remember, you have to acquire, score, and nurture the leads while at it.
Well, the process is not easy, but with patience and the right strategy, lead generation will surely benefit your business.
Below is a lead generation beginners guide for 2021 and lead generation best practices.
Who is a Lead?
Before we look at the meaning of lead generation, we'll start by defining a lead. A lead is a person who has expressed interest in your products in some way, shape, or forms, and has gone further to give their contact details for the further conversation.
Once you convince a lead about your offers, you can easily move them to the next step, which is the sales pipeline.
Businesses use personal details that these leads submit for communication about their products.
Compared to random cold calls, that can be quite intrusive, but using leads for your business is a better option, as customers have already shown interest in your business.
If you want to turn these leads into real customers, you have to apply the right lead generation tactics.
Now that you know who a lead is, you might be wondering what lead generation is. And this brings us to the next point.
Defining Lead Generation
So, what is lead generation?
The meaning of lead generation is the process of sparking the interest of strangers and potential prospects to buy from your business.
This process primarily starts with creating high-quality content that attracts potential customers to your brand. You then use strategies to nurture the attraction in your leads to a point of converting them into actual buyers.
Businesses are constantly generating new leads through such strategies as blogging, virtual events, email marketing, social media marketing, to name a few.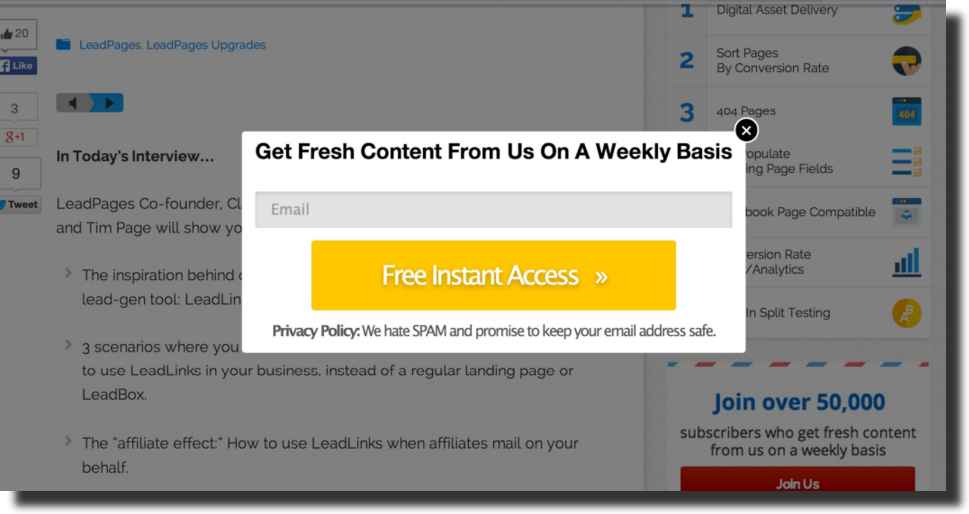 Email marketing lead generation example
Regardless of the size of your business, lead generation is a clever marketing strategy. It's also suitable for both business-to-business (B2B) and business-to-consumer (B2C) types of businesses.
What's the Importance of Lead Generation?
Convincing a customer who has shown interest in your brand products to buy your products is easier since the purchasing decision comes naturally.
Generating leads for your business means that you don't appear too pushy, and customers won't feel pressured to use their money.
Most importantly, lead generation is a journey that a customer has to walk until they want to purchase your product.
Apart from matching you with the right customers, lead generation offers several other benefits as listed below:
It's cost-effective
Since you're targeting specific markets with lead generation, you can save lots of money and increase the ROI. By concentrating your resources on interested customers, you can be sure of cutting down marketing costs.
Makes it easy to segment leads
Through the various lead generation techniques, you can effectively segment leads into categories and interests. As a result, working out your sales funnel becomes easy.
You can track results and improve where necessary
With lead generation, you can automate measures, and track the results you achieve. In doing this, you can always tweak your strategies so that you maximize the results you get.
Promotes customer loyalty
Through lead generation, businesses come up with larger communities of like-minded customers. This not only grows the business, but also improves customer loyalty.
Fosters brand awareness and reputation
When people gain interest in your brand, they are going to find out your product features and benefits. As they continue discovering more about your offerings, they will make your brand well known and reputable.
It gives a chance to collect important customer information
Lead generation is an effective way to collect customers' important information such as needs, wants, and preferences.
Once you have this marketing bit of information, it's easier to tailor the services to each customer. Ultimately, this information helps you to match your products with your leads' needs.
Components of Lead Generation
As much as lead generation involves nurturing your customers interests, that's not all it entails. If lead generation strategy has to be complete, these components must be considered:
A lead generation database
Once your leads start coming in, you have to have a method of storing and tracking them, before you begin the nurturing.
Usually, a lead generation database makes it easier to score and segment your leads. If you want to scale your business, you can choose an automated system over a manual one.
Supporting content and lead ready channels
If your lead generation marketing will work, you must plan your content pretty well. Consider content as the backbone of any marketing tactic in your business.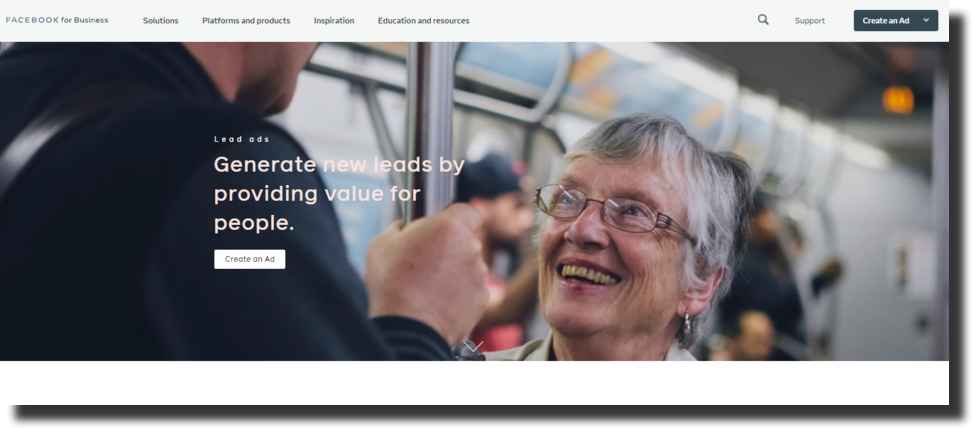 Lead generation content will include website landing pages, events, and giveaways, email marketing, social media marketing, and paid programs.
An analytics engine
Lead generation is a significant investment in your business and tracking the results is common wisdom.
Put in place an analytics system so that you'd know at what point the customers convert, though it generally takes 7 touches for a lead to make a sale.
A martech stack
Ensuring that you have the right technologies for your lead generation strategy goes a long way in growing your business. You'll save money, achieve more with less, and increase your overall lead generation results.
Lead Generation Process
Understanding how to generate leads for your business involves following certain steps.
The process starts with a potential customer finding out about your business through one of your marketing channels. It can either be by liking a social media post, following a website link, or even filling a registration form;
Then the visitor clicks on the CTA you've set, which can either be a button, image, or message that encourages them to take action;
After your visitor clicks on the CTA, you need to nurture their interest by getting their contact details. The CTA simply directs them to the landing page where they can exchange their contact details for an offer.
Note: An offer is something of an equally perceived value that's designed to get the visitor to provide their contact details. This could be an ebook, a course, a template, or a piece of information that's important in solving the problem the visitor might be experiencing.
At this point, you have to convince your customers to become real buyers by nurturing their interests. You can do this by reaching out to them through phone calls, emails, and messages;
Figure out if you have any one-time deals you can get them, or if there's any extra information you can offer about your product. In doing this, you can easily tailor the products to their needs;
Once they are convinced, direct your customers to the product page or the sales team. In those easy steps, you've acquired a new lead to your business and you should aim at making them happy and retaining them for the long term.
How to Kickstart Lead Generation
Kickstarting your lead generation efforts requires planning to make it easy to implement the strategies you want to use.
As earlier stated, lead generation is not a direct customer acquisition method. You have to go through some steps to make it a success.
Here's how to generate leads and kickstart the process:
#1. Identify And Define Your Leads
Before you think about building a sales funnel or getting those lead magnets, you need to understand who your leads are.
By understanding who your target audience is, you're able to come up with the right strategy for your lead generation efforts.
Keep in mind that the demographics and behaviors of your past customers can help you understand the pain points your customers have.
This way, you can come up with solutions for any problems your target leads might be experiencing.
#2. Align Your Leads With Sales
Once you've defined your leads and you have an idea of who, what, and where they are, you need to align them to the sales funnel.
The sales and marketing sections of your business have to agree on the point at which leads are directed to sales.
If this is done exceptionally, it should result in a transition and instant follow-up on qualified leads.
#3. Come up with your road map
Once you have your qualified leads, you need to pick a strategy on how to close deals with them. Your preferred road map should include being unique based on your audience and what you want to achieve at the end.
Remember, two different businesses don't use the same strategies and achieve the same results. It's up to you to choose what works best for your lead generation campaigns.
#4. Nurture your leads effectively
Don't think that getting leads means you've already closed deals and succeeded in getting them to your sales pipeline. Instead, acquiring these leads is the first step to having a successful lead generation process.
You need to build relationships with your leads by providing them with more information about your brand. Maybe you could give occasional calls, send product messages, or even have direct communication with the leads.
In doing this, you're giving them confidence in your product and they will slowly get convinced. These leads will eventually part with their money and go ahead and purchase your brand's offerings.
#5. Measure and optimize the results
If you test lead generation results, you'll understand where to redirect your efforts. You should undertake A/B testing, calls-to-action, imagery, copy choices, multivariate testing, and other elements of your pages. In doing so, you'll understand where you need to make improvements for your lead generation to work effectively.
Furthermore, you don't need to test all the elements together. You have to test each of them at a different time, so that you understand their results better.
Types of Lead Generation
Leads are part of the broader product life cycle process, and they are categorized differently according to the stage they are in. Additionally, leads are grouped based on how they are qualified.
Since all leads are not the same, we will look at some of the types of lead generation below:
Marketing Qualified Lead (MQL)
A marketing qualified lead is a lead that has already interacted with your marketing channels - social media, email marketing, content, but has not yet closed a deal. Most importantly, this type of lead is ready for additional marketing to allow for conversion.
Businesses deem MQLs promising as they already portrayed interest in your brand. They either download tip sheets, e-books, infographics, or other content in exchange for their contact details. Furthermore, they could have added products to the cart but haven't yet finalized the payment process.
Ultimately, you will easily notice MQL hanging around your brand products and service pages, hence you need to entice them to go to the next step. Compared to regular leads, MQLs are most likely to buy your products in the end.
MQL would just need a little nurturing to actually become a real customer. You'll find them in the early stages of the sales life cycle.
Sales Qualified Lead (SQL)
A sales qualified lead is a prospective lead who is actively interested in your products and the marketing and sales teams have vetted and confirmed them as potential buyers. This type of lead has a higher chance of closing a sale, as he have enough information about your product.
An SQL may have requested more information about the product through contact forms. So, they are most likely to buy from you.
Furthermore, SQLs have the capability to buy from you in terms of budget, teams, and industry. As such, they qualify for b2b lead generation.
You can easily qualify a sales qualified lead if they are key stakeholders in their business, hence they can make major buying decisions for their company. On top of this, SQL is ready to sacrifice time for a meeting about your product and services.
Product Qualified Lead (PQL)
PQLs are prospects who have previously used your products and are portraying signs of becoming potential buyers of your products.
Mostly, a PQL would have used your free or limited version of a product with an option to upgrade. They might ask about features of the upgraded versions thus showing the intent of a paid service.
Since these prospects already have an idea of what your product is like, their sale would probably look like an upsell. In this case, your customers only want a better and paid version of a product they have already experienced.
A PQL mostly falls into the category of SaaS products whereby you need to upgrade to a better version of the product.
A service qualified lead is a lead who mentions to your service department that they are intending to upgrade their product subscription.
For instance, these prospects will let your customer service team know they want to proceed to be a paid customer.
To help them fulfill this, your customer service should direct the leads to your sales team for the closure of sales deals.
Lead Generation Strategies
For your lead generation efforts to pay off, you need to employ some strategies. Nonetheless, you need to remember that there's no one-fit-all strategy to generate leads. You need to incorporate several of them until you get the desired results.
Here are some of the strategies you can consider for your lead generation process:
#1. Craft Gated Content
As the name suggests, gated content is the one that requires you to offer prospects some form of benefit in exchange for their contact information. Most importantly, it guards the content until the leads are ready to part with their personal details.
Also referred to as: lead magnets, opt-in incentives, or content upgrades, gated content generates a significant amount of leads for your business.
Usually, gated content includes businesses offering white papers, cheat sheets, checklists, or chapters of their ebooks for visitors' contact information.
You're simply trying to attract visitors to your brand, then once they become leads, you can slowly nurture them to become actual buyers.
Unlike cold outreaches where the prospects did not show any form of interest, gated content seems to bring results as website visitors have shown interest in your products.
Furthermore, the willingness of the prospects to take your content pieces means they can easily become paid customers.
You only need to use creativity to nurture their interests until they are comfortable with parting with their money for your product.
#2. Create Landing Pages Optimized for Conversions
Landing pages are the backbone of a successful lead generation process. If you craft amazing pages, you're sure of converting your leads into new business.
As you build landing pages for your lead generation, make sure that you have one goal in mind. You need to understand that the sole purpose of the landing pages is to convert high-quality leads into new customers.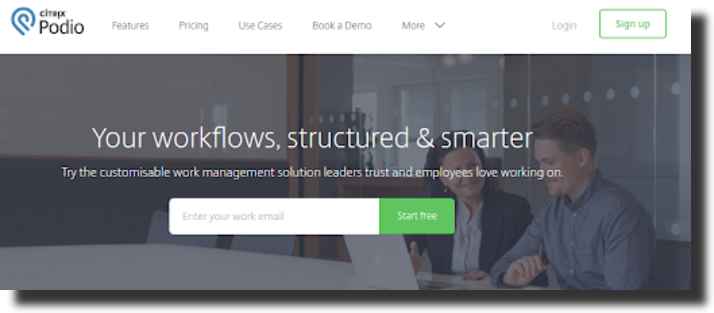 Podio landing page
Therefore, your landing pages should have a laser focus on the results regardless of where the leads are coming from.
Whether your leads come from organic search results, PPC ads, email, social media platforms, or contact forms, they need to land on the right page.
That's the essence of a landing page and how it works in your lead generation efforts. Ultimately, a good landing page should offer leads some incentives in exchange for their contact information.
In some instances, landing pages require leads to key in their contact details and answer a few questions before they are granted access to some offers.
A landing should offer the following:
Free downloadable template or resource;
The free product trial or offer;
A free calculator or an interactive inbound lead generation calculator.
Keep in mind that your landing pages should contain gated content. In other words, you should include lead magnets on the landing pages with the main aim of converting leads into new customers.
However, if you place your high-quality content on the home page, you won't get effective results. This is because a home page has more than one goal to achieve. But for a landing page, you're looking for just conversions for your business products.
#3. Host Online Events/ Webinars
Whether you're a content creator or not, hosting online events might generate leads you never expected for your business. Ensure that you host some type of content on your website or social media pages. This could be video ads, live streaming events, or even video content.
In most cases, webinars require attendants to fill in their contact details to gain access. As a result, they generate a significant amount of leads you can always convert into real buyers of your business products.
So, you could hold an online event addressing some of the pain points your prospects are experiencing. This way, you'll easily generate leads who are ready to commit to your brand's offerings.
#4. Refine your Calls to Action
Refining your calls to action is a sure way to ensure that your lead generation yields positive results. In its most basic form, the CTA is a button, an image, or a text that compels your leads to take action.
Before deciding the type of CTA you want for your business, you need to test the design, color, and text that give the best results. You can do so by A/B testing, so that you're sure of the wording that gives more leads.
For instance, you'd want to use a compelling CTA when you purpose to sell your ebook to your leads. In that case, you can make your CTA a combination of the ebook title and a message like "Download now".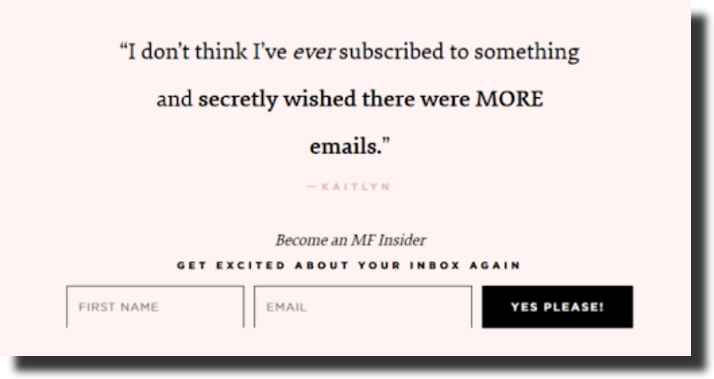 Marie Forleo lead generation example
For your CTAs to work best, you'd want to limit them to one per page but always ensure that they appear more than once. For instance, you can make it appear on the thank you page whereby your leads find the "Download now" button.
On top of that, you can make your leads click on a CTA button that tells them that you want to take the relationship further after attending a webinar.
Don't confuse your leads with too many CTAs as that may cause what we call "action paralysis".
Furthermore, you want to make sure your visitors have proper guidance from the start to the end. Therefore, you must get rid of any unnecessary CTA and navigation links that might confuse them while trying to land on the page that has the offer.
The rule of thumb is to always optimize your CTAs as they point to the direction and action you need your leads to take. You might be surprised that a simple CTA button would transform your lead generation process into success.
#5. Blogging
If you run an online business, blogging should be part of your strategy for generating leads.
Your website's blog should not only entertain readers but also direct them to relevant pages. Work hard in creating an informative blog so that you attract more leads to your business.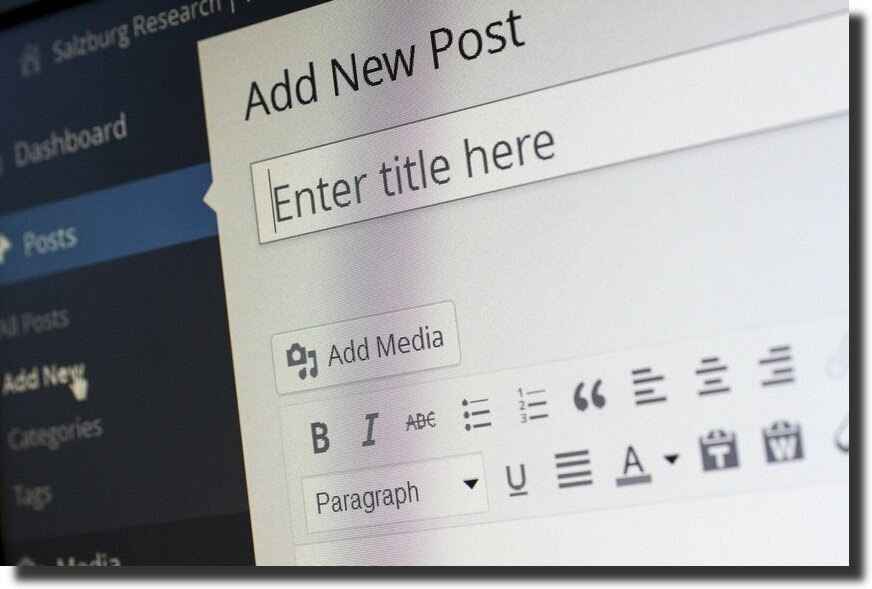 By setting aside a blog section on your website, you are assured of new business leads who are the readers. You should make sure that your blogs are as helpful as possible so that readers keep returning.
On top of this, inserting relevant links that direct your leads to product landing pages go a long way in generating leads for you.
#6. Cold Outreach
Cold outreach is also a suitable strategy for generating business leads. However, you should apply this tactic very carefully, for you not to look spammy.
Keep in mind that you're reaching out to a business that has not shown interest in your products, thus focusing on b2b lead generation.
Therefore, you want to make sure you convince them to become your future customers. But before you do this, you'd want to gather as much information as you want about the prospects.
Once you have enough information, you can go ahead and create personalized messages for your potential customers. For instance, if you're selling commercial laundry machines, you'd want to target laundromats for your products.
The rule of thumb is to gather several businesses that might be interested in your product, then send them customized emails.
Though you might not convert as many leads, you're sure to get a handful of customers to buy from you.
#7. Contests and Giveaways
Hosting contests and giveaways is a clever lead generation marketing tactic used to draw prospects to your business, either through emails or social media engagements.
Prospects including B2B companies love free stuff, and you can use this opportunity to get business leads. For instance, you can offer a certain SaaS product as a free giveaway, once a business subscribes to your mailing list.
During the giveaways, contestants willingly give their contact details to gain access to the prizes. And since contests take a short period, you should be ready to gain more leads within fewer timelines.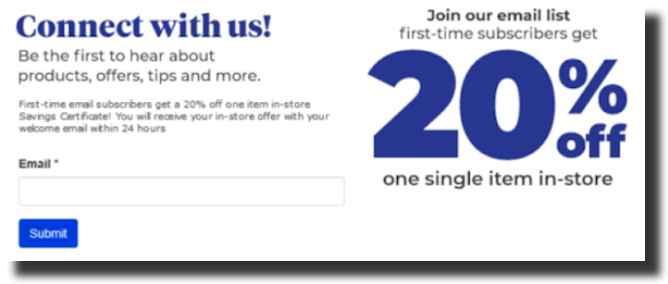 Bed bath and beyond offers example
Additionally, leads generated from contests and giveaways could turn out to be loyal customers for your brand.
However, gaining the leads during contests is not all you need as you should aim at keeping them for the long term.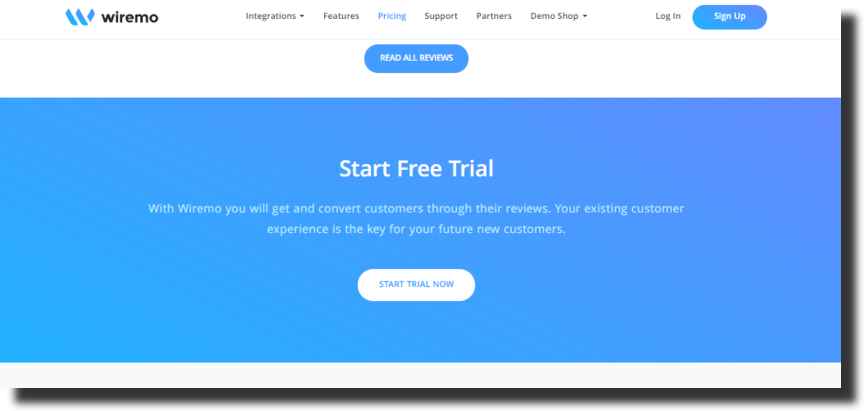 You can do so by keeping the conversation about your products going in their mailing lists and subscriptions. As a result, you'll not suffer from junk and inactive leads who only wanted to enjoy the prizes.
How to Qualify a Lead
Lead generation is not a straight customer acquisition process. Businesses have to score and nurture visitors who might eventually turn into paid customers.
While you do this, it's good to remember that there are leads who never convert, regardless of the amount of nurturing you offer them.
That's why it's important to offer leads scores according to their behaviors and characteristics. In doing this, you can easily identify the prospects who are promising, thus focusing your effort on them.
Here are some ways to qualify your leads:
Test Your Customer's Level of Interest
A prospect with a higher interest in your product will clearly show signs. For you to understand if they are interested, you can start by asking them some questions.
Also, you should customize these questions in such a way that they solve their problems. For instance, if you're an architect who designs higher-end homes, you might ask them about their budget and when they intend to own a home.
In doing so, you'll gauge whether these prospects are interested in your product or not.
Alternatively, you can offer your visitors leads where they can fill the features they are looking for in a box. Ensure that you set aside a checklist so that your leads can tick appropriately.
For instance, if they indicate they are looking for price, they might not be interested in your high-quality products.
Additionally, if they want to consider quality and customer service from your brand, you could qualify them if your brand offers the two.
Set Up a Quiz on Your Website
Setting up a quiz on your website is an excellent way to qualify your leads. You can do this by offering visitors some assignments, after which you offer them a resource such as an ebook or PDF.
This not only attaches value to your quiz, but also helps you to identify the right leads for your business.
Talk Directly To Prospects
Reaching out to B2B companies is a tedious process, but it's worth the effort. In this case, you have to talk directly to key decision-makers and executives who make buying decisions in the company.
Since finding these people isn't easy, you might consider getting in touch with them on LinkedIn. Your chances are higher here as this is a professional platform where businesses can easily interact with each other.
Before you decide to pitch these executives, you want to gather as much information about them as possible. This way, you'll manage to present your pitch in the best way, thus increasing your chances of success.
Check Out Your Website Engagements
Checking website engagements goes a long way in finding out what a lead score is. If you note that a lead is constantly on your website, you might want to nurture them to be paid customers.
Some of these leads may click on certain lead magnets, download resources on offer, or even spend quality time on your website.
The best thing is that you can track website engagements such as: time spent, pages visited, and actions that are taken.
This way, you can conveniently tell a visitor who will eventually get into your sales pipeline.
Track Email Marketing Engagement
As much as you've managed to get leads to give their email address during a campaign, that's not the end.
This is because some could only be interested in the offer, but they don't want to proceed any further with your brand. In such a case, you want to disqualify them as soon as you can.
With email marketing, you can easily track subscribers who open your emails and even proceed to your website through them.
If you notice leads who never open your emails or ones who unsubscribe immediately, it's time to disqualify them from your brand.
Most importantly, quality lead will be interested in your emails, respond to them, and take the action needed.
Keep An Eye On A Lead Social Media Engagement With Your Brand
A quality lead will most likely hang around all your social media platforms liking, commenting, and sharing your brand.
You need to note an active customer who exhibits this behavior as this means they are already sold out to your brand.
Also, a prospect who is actively on all your online marketing channels has higher chances of converting to be a paid customer.
Request For Referrals Through Testimonials And Feedback
Convincing your leads without proof might not bear as many results. You want to make sure that you request your past customers to share their experiences with their friends and family.
Also, the information should be shared with customers who will be interested in your product and as well have the capability to buy from you.
You can set aside a testimonials page on your website whereby past customers can share their feedback.
This way, you're convincing leads who are in the same situation as your customers were. As a result, you'll receive a good number of leads who want a similar outcome from your product.
Why Your Business Needs Serious Lead Generation Strategies
Now that we have answered what lead generation is and what lead generation means and contains, it's time to give it a shot.
Every business, big or small, must leverage the use of lead generation in its marketing tactics.
With this interesting process, you can get new customers and consequently increase your return on investment (ROI).
Unlike cold outreaches, lead generation focuses on visitors who have already shown interest in your brand.
Therefore, getting conversion results is highly possible. If you haven't yet started using lead generation to acquire new businesses, it's time to do so.
Tags: lead, lead generation, target leads