The pandemic has made it essential for every business to keep engaging its customers. One of the best ways to achieve this is by having CRM software for your business.
Choosing the best CRM software for your business will require you to consider several factors. You will need to know how much the software costs and the features and tools your company may need.
Today, you'll come across many CRM software in the market, so to get the best one for your business you'll need to read customer reviews and also do some research.
But to simplify the process for you, we've chosen the best picks you can use to grow your business. Read on to learn more about our recommendations.
What is CRM software?
CRM stands for Customer Relationship Management. It is an approach that businesses use to manage communication with potential and current customers.
The process involves analysis of the customer data to enhance relations with your customers and help personalize future communication.
Customer data is any information that helps characterize the clients interaction with a company. For example, let's consider a situation where your client is not able to get an issue resolved via phone.
When the client manager is aware of such information, they can build an effective mode of communication with the client and help understand customer needs much better.
This, in turn, increases customer loyalty and helps to contribute to sales growth.
CRM software is a tool that helps businesses automate a business process, operations, and procedures that implement the company CRM strategy. The tools help minimize errors when it comes to capturing and retaining customers.
It also drives transparency in sales, customer services, and marketing endeavors. CRM software automation is one of the essential features of the tool. Automation is paramount when building a customer-oriented business.
It is a very convenient tool meant to help maintain your business's already existing processes and regulations.
What are the benefits of CRM software?
When choosing CRM software, it should be able to provide the following benefits:
It tracks quota metrics and attainments such as calls made, emails sent, meetings booked, and the deals closed. This way, you can understand what your team has been up to and help you know what you can improve on.
Contact data organization
CRM software helps businesses organize information on all their contacts. This allows your team to keep track of the customers they have spoken to and what they have discussed.
The information is for your business since it helps your business processes run smoothly.
A great CRM system will help you create your sales forecast, making it easy to predict your revenue and maintain your team workflow.
Provides great customer satisfaction
The best CRM software helps streamline the sales process and keep your sales rep from being overwhelmed. It is made easy by logging tasks, notes, playbooks, and reminders which keeps them organized.
This ensures that your sales rep spend their time generating more revenue rather than performing manual organizational tasks.
Allows customer segmentation
You can easily segment your customers according to deal size, location, close date, and more.
This helps you know how best to engage your clients and breeds customer satisfaction since communication is personalized.
A CRM helps you know which client has been contacted and what they talked about. This will keep your teams from reaching the same clients about the same issues.
This is especially great for the customer service and marketing departments.
Increase revenue and profitability
This is the overall benefit of using CRM software. All the above perks lead to your business performing better and making more money.
You will get a great ROI on your CRM and scale your business than you have been doing before.
What are the features to look out for when choosing the best CRM software?
The CRM system you decide to go with should create a new contact from your email list with the click of a button. It should update your company's database in seconds.
Always keep company contacts and deal records up to date
Some CRM software will require you to update your database manually. Choose a database that automatically syncs your database with other businesses to keep it updated.
Can send optimized emails in less time
Choose CRM software with email templates that ease your email marketing process. Choose one where you can easily schedule emails to be delivered at the right time and one that shows you if your email has been opened.
Easily logs sales automatically
A great CRM system lets you log your activities, such as making calls, sending emails, publishing notes, and creating tasks. No more manual data entry.
Top 9 Best CRM Software In 2021
#1. Zendesk Sell
Zendesk Sell is ideal for small businesses that provide a lot of customer support for services. It is a great collaborative tool since the best sales are made when people work together.
If your business requires customer support beyond the sales team, then this is the system for you. The system centralizes data collected from different customers' touchpoints to prevent the repetition of efforts and miscommunications.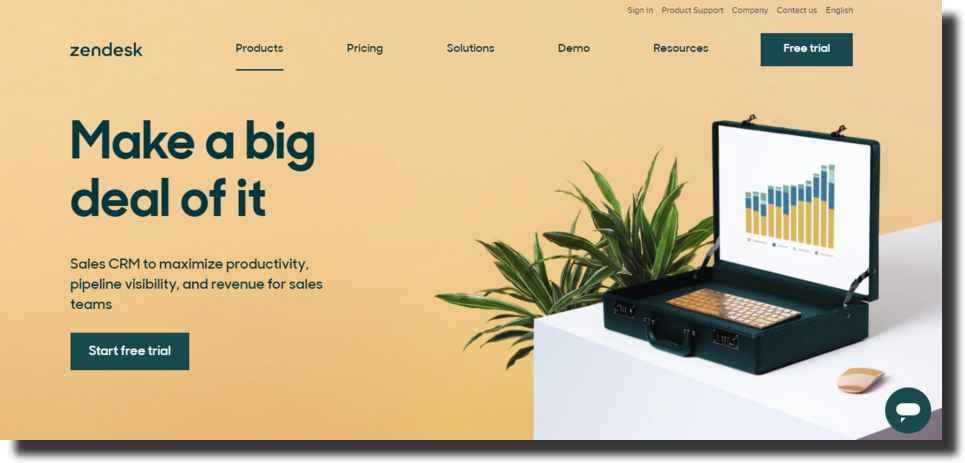 Zendesk Sell first plan is an excellent option for solo entrepreneurs and small businesses. It features a customizable sales pipeline, team document repository, and basic reports.
With admin rights, assign individual team members to the pipeline deals that notify the employees outside the sales team in case of any action items and any changes.
The plan also features smart lists that help the sales team segment and filter leads and email tracking tools that help your marketing team monitor its customer engagement.
The system integrates with Zendesk Support that helps keep your support team in the loop through your customer journey.
Zendesk Sell's upper-level plan offers upgraded documents storage space, advanced call analytics, and sales forecasting.
It also features unlimited email templates and bulks emailing that help generate effective marketing emails.
Pros
The idea for businesses that provide a high level of customer support with their product or service;
Offer exceptional collaboration tools.
Cons
Its interface is relatively complex.
#2. PipeDrive
PipeDrive is best known for keeping busy sales professionals on track with information on their sales pipeline at a glance. It is a visual platform that is quite different from other CRM systems on this list.
It gives you a complete overview of every deal at the same stages, and you can easily use the drag and drop interface with mission-critical steps such as adding contacts and updating deals.
The CRM system also collects information from web interactions and chatbots while feeding them directly to the pipeline to avoid being overlooked.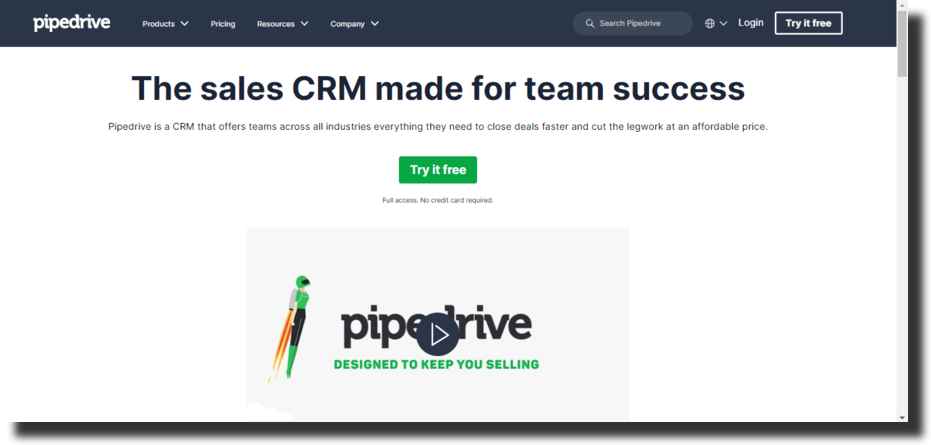 It offers customizable fields and pipelines to tap into existing workflows systems and easily create new ones. Furthermore, it is also designed to improve sales with reporting tools, communication tracking, and reporting tools.
In addition, it has AI integration that analyzes past business performance, recommends ways to improve sales, and suggests tasks to enhance your business.
It also has an inbuilt automation feature that you can set activity notifications and a full-featured mobile app that helps you deal with jobs from anywhere.
Pipedrive is an easy-to-use platform and offers 24/7 customer support via email or chat if you run into a problem.
Pros
Keep sales professionals on track with at a glance pipeline information;
Easy to set up.
Cons
Goal setting and team management plans only available for upper-tier plans.
#3. Monday.com
Monday.com is an affordable solution for businesses that help you easily manage follow-up projects even after the sale is closed. It is an excellent option for small business owners who want to reach their business goals.
Furthermore, it is designed with a spreadsheet interface but has more functionality. With Moday.com, you get to keep the essential information you need at the custom dashboard for easy access.
It also offers eight data visualization options, including the Kanban and Gantt charts boards. This system easily adapts to different project methodologies, including sprints, agile, and waterfall planning, accommodating your workflows.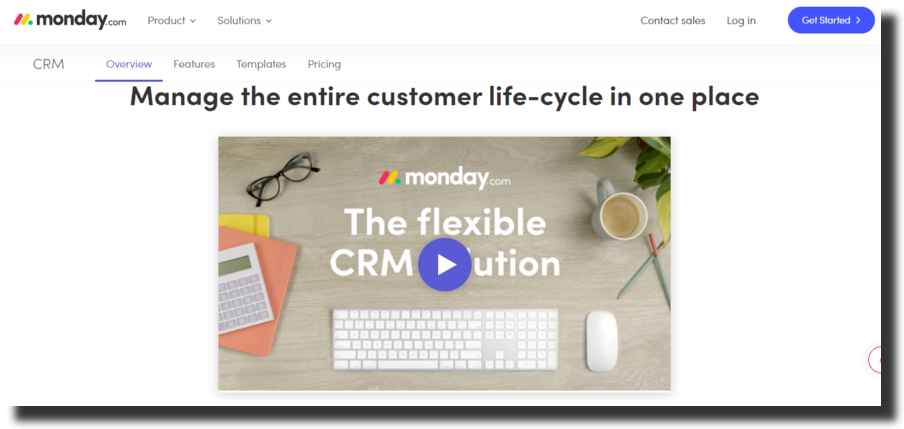 Monday.com recently launched a word doc, allowing its users to collaborate on documents through dashboards, chat tools, boards, and charts. The work docs are updated in real-time and help your team keep updated with each other's documents.
The CRM software also has lead capture and tracking, sales pipeline management, and marketing outreach management tools. You can also quickly build your processes and workflows from scratch with Monday.com.
Moday.com is an easy-to-use platform ideal for small businesses for customer management and managing team workflows.
Pros
An affordable solution for businesses that have follow-up projects;
Ideal for agile and waterfall project environment.
Cons
The entry-level plan is limited to only one dashboard and one Kanban view.
#4. Keap CRM
Keap CRM is an excellent solution for solo entrepreneurs and also small businesses that don't need much for their CRM. It is pretty easy to set up and maintain.
The platform has a migration team that will help you move your existing database from other CRM platforms for free.
It offers onboarding services that include one-on-one coaching and other training materials that will get you running as soon as possible. They also provide customer support on weekdays via phone and email.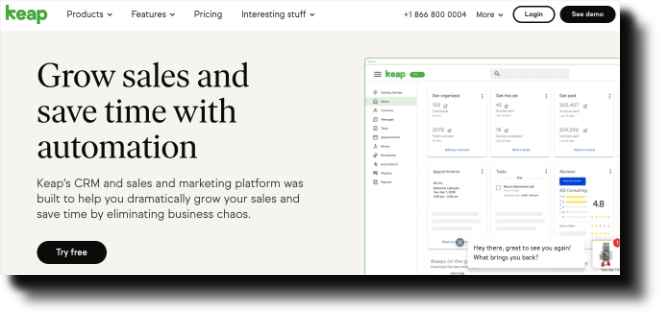 Its entry-level plan is designed for new emerging businesses. In addition, it has tools that support sales, such as lead capture, contact management tool, and client invoicing.
It also has scheduling told that eases the process of setting up meetings. Keaps is also easily integrated with Gmail and Outlook, which helps centralize communication through your company.
The platform sales and marketing tools combination keeps your customers data and outreach efforts in a single location.
Its features help users streamline communication processes. Keap's plan upgrades offer additional features that improve customer relations, such as customizable dashboards, sales pipelines, and reporting tools that help visualize the teams' performance.
Keap CRM also has list segmentation and email templates that help you get your message to the right audience and at the right time. It also has built-in reporting tools that help track email effectiveness and customer engagement.
The platform eases the sales processes with CheckOut Forms that help collect customer payments without sending invoices. It also has enhanced e-commerce features that help add to the software's usability.
Pros
Great for small businesses and solopreneurs;
Keeps all the marketing data in a single location.
Cons
All plans require a $500 onboarding fee.
#5. Salesforce
Salesforce is one of the most popular CRM spaces on the internet; it is an ideal platform for small businesses and has the most comprehensive CRM features in the market.
It is designed as easy to use even with its technical aptitude. Furthermore, it is great for small teams and solo businesses due to its exceptional management tools that track sales from lead to completions.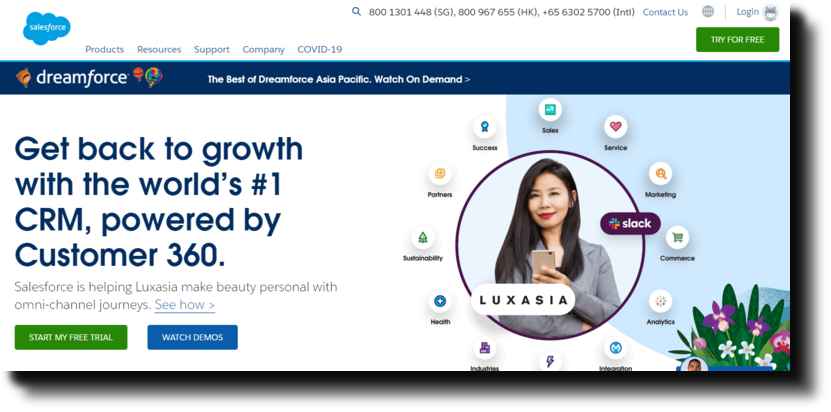 Besides this, it also has inbuilt email integration with Outlook and Gmail.
This software has customizable reports and real-time dashboard update to ensure sales professional have access to the current data.
You can easily upgrade your plan as your business grows to improve its functionality. These features include collaborative forecasting and automatic lead scoring.
Salesforce also has tools to create product catalogs, contracts, quotes, and sales orders to help accommodate an expanding product line and customer base.
Salesforce recently launched Einstein Relationship insights, an AI-powered research agent that helps identify and build new business connections.
It learns interests and behaviors and automatically finds relevant relationships for you to form. It is designed to increase and streamline your business.
Salesforce plan includes an extensive collection of training resources and a customer support community for crowdsourcing troubleshooting.
Pros
Offers the most comprehensive features;
Best for heavily regulated businesses with particular limitations and needs.
Cons
The system becomes harder to use as you upgrade your plans.
#6. Zoho CRM
Zoho is a budget-friendly CRM that has core features that all small businesses need. It is an excellent choice for teams and sales professionals who spend most of their time in the field.
Furthermore, it has both android and iPhone apps that have the same functions as the desktop version, which also updates in real-time. So you will have customer data at your fingertips.
Zoho mobile app also lets you edit customer data offline. This means that your teams do not have to rely on wifi to update their work.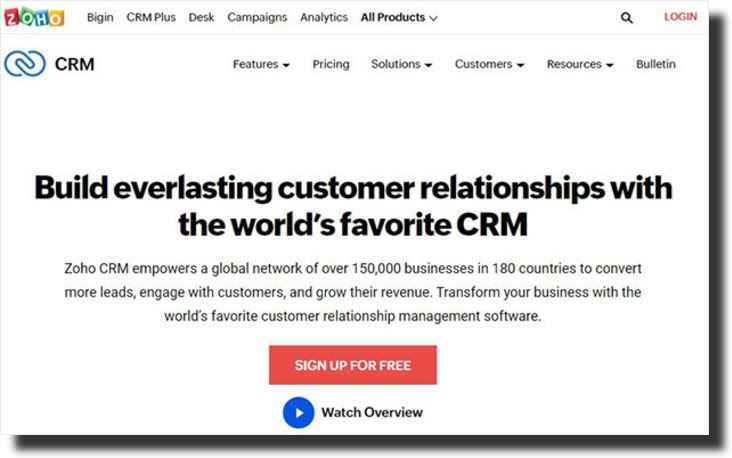 You can easily log your customer visits, calls, and other sales-related activities. You can even attach voice notes and files, which you can use later for reference.
It also features a global search tool that helps you get information quickly. In addition, it is integrated with a phone caller ID and voice-activated assistance that enables you to tap into your phone's features for more functionality.
The mobile app also has reminders, scheduling activities, sending emails, and nearby leads and prospects.
It also makes collaboration easy to feed apps that support mentions and comments, so you are never out of touch.
Zoho CRM is integrated with Zia, an AI tool that you can use to create new client records and add notes to existing records or initiate phone calls.
Pros
Budget-friendly plans that are packed with core features are great for a small business;
Ideal for business with remote work.
Cons
Its free plan is quite limited and does not provide an excellent example of what Zoho is capable of.
#7. HubSpot CRM
HubSpot is one of the best free CRM software available. It is an excellent system for teams new to CRM and looking for simple sales, marketing, and service tools.
The main work of a CRM tool is to capture sales data, but the real value of this data comes when companies use it to increase their sales.
Most small businesses want to have the best reporting tools and performance insights, and that is why they should consider HubSpot.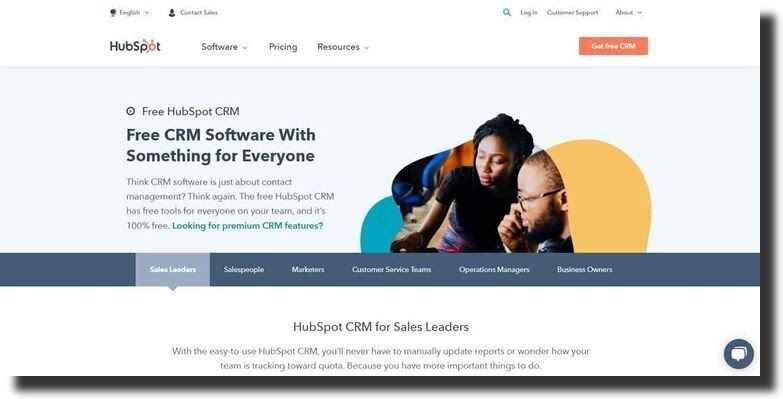 It has a forever-free plan with more than 90 report templates that you can select and arrange in customizable dashboards.
The report templates include sales-funnel metrics, deal forecasts, and sales-activity insights on the team productivity without forgetting the individual performance of each agent.
Furthermore, the platform also generates reports on email conversations and chats to help provide data on the agent's response time.
Also, the reports show how long it takes the sales agents to respond to messages and how well they respond.
With the paid plans, HubSpot adds a custom report builder so that it can access the exact information you need.
The custom filter help fine-tune the reports further for detailed insights from individual deals to web traffic.
Most small businesses use HubSpot's free plan, but you should consider the basic paid plan as you grow.
The basic program offers CRM tools such as simple automation and a meeting scheduler. However, the plan limits full access to two users and allows unlimited free users to perform specific administrative tasks and view reports.
Recently, HubSpot added an Operations Hub that gives businesses the ability to connect with third-party tools and sync and clean customer data while automating business processes.
It helps companies to improve their reporting and metric processes.
Pros
Has the best CRM software plan;
The system is beginner-friendly;
Its resource library offers an expansive list of business tools and a free template.
Cons
Plans above the basic plans are pretty expensive for small business.
#8. Quickbase
Quickbase is a downloadable customer relation template that users can easily design a seamlessly integrated CRM.
The platform is a 'Low code' solution which means that most of the work has already been done for you, but it will require some coding to work.
It will not work for everyone, but it can roll out in weeks rather than months with other CRM systems with the right developer.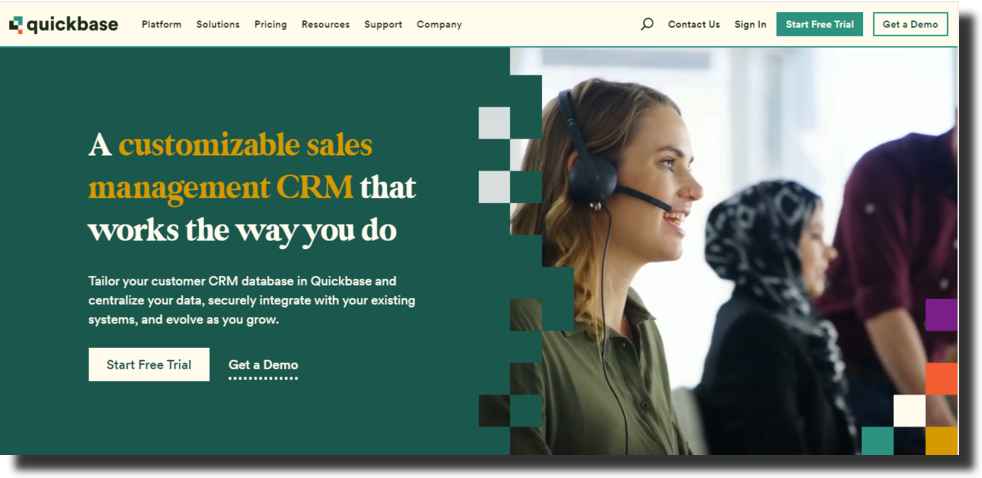 Some of its components can be changed without any downtime, while others will need you to take the system offline so that it can work.
Once you get it online, Quickbase behaves just like any other traditional CRM with drag and drop automation workflows, business app integrations, file attachment, and other standard CRM tools.
Each service plan offers you access to sample apps worth browsing. Quickbase does not have as many features as its pre-built competitors, but businesses consider that an advantage.
The platform allows you to include the features you want without paying extra for the features that your company does not need.
Quickbase easily adapts to a changing environment and is excellent for all businesses, no matter the size.
Pros
Allows you to build the exact CRM to your specifications;
Easily adapts to your business needs even with a big business.
Cons
Require more technical knowledge than other rebuilt CRM solutions.
#9. SugarCRM
SugarCRM is a highly customizable system for small businesses that require unique needs than the services offered by traditional CRM. Some aspects of SugarCRM can be changed and modified to meet user specifications.
The features include page layouts and modules, and it requires no coding experience. You can also configure the core functions of SugarCRM, such as job schedulers, opportunity trackers, and forecast builder, but that may require more technical expertise.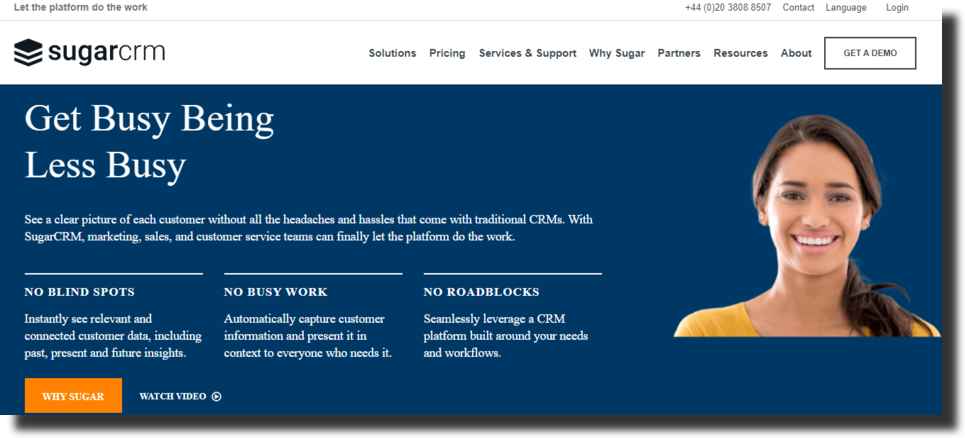 Its customization options work hand in hand with its fixed core features to help organizations reach maximum productivity.
This tool provides reports and dashboards that give insights on the sales pipeline to help monitor your team performance and asses some business decisions.
The system is user-friendly with a custom PDF template and supports multiple currencies; hence great if you have international clients.
Pros
Works well despite the many customization options;
It has a wide selection of add-on modules to enhance its basic package.
Cons
Entry-level plan only allows ten users.
How To Use CRM Software To Grow Your Company
There are hundreds of CRM software to choose from for your business. Be sure to choose one that matches your company's needs and budget to get the best out of your purchase.
CRM software has become more integrated and sophisticated with a wide range of IT consulting company.
A good example is email and social media integrations which have been the hallmark of CRM evolution. AI and machine learning also continue to grow CRM functionality.
While shopping for the CRM of choice, look for more automation and integration to streamline your work processes while boosting productivity to widen the scope of your business operations
Tags: best crm, crm, crm software