While Google's reach extends across the globe, some local searches need a fast reliable solution in your area.
As such, nearly half of all searches on Google are from people looking for local information, and among these, 30% are mobile searches on location.
Additionally, in the first six months of 2020, the searches for Google local services improved by more than 25%. That means the future of online search is local, however, with Google Local Services ads, your physical business can reap many benefits.
Local Services by Google are a huge addition to the existing local SEO strategy for industries like plumbers, locksmiths, electricians, HVAC services, and garage door professionals.
What's more Google Local Service Ads take your strategy a step further thus ensuring they connect searchers to suitable advertisers.
Next, let's explore how Google Local Ads can help you earn conversions for your business.
A History Of Local Services Ads
Local Services Google Ads was originally known as "Home Service Ads" and started in 2015 as a beta. The Google local ads were first offered to limited service-based companies in San Francisco.
To help your business showcase these ads, your business will have to undergo an extensive screening process that's aimed at ensuring that the company is "legit."
In 2017 Google decided to include more locations other than California and rebranded the Google local ads to "Local Services Ads."
Earlier people who wanted to find a service would call directly from your ads or choose from three businesses from a list of companies and request quotes for comparison.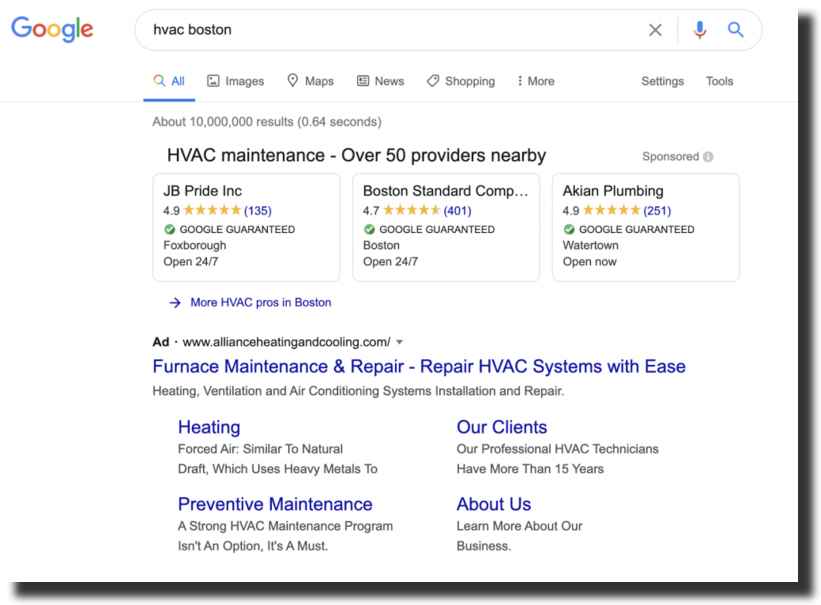 Today, however, consumers don't have to select businesses for quote comparison. Still, they can call and message the business directly from the ad.
One feature that remained consistent with the 2015 beta when using Google Local Services Ads is the business screening process or "Google's Guaranteed" approval.
What are Google Local Services Ads?
Google Local Ads are ads purposely designed for local service-based companies. The ads allow such companies to showcase their businesses on Google so they appear at the top of SERP (search engine results page).
The good thing with Google Local service ads (LSAs) is that they let you earn leads directly from these ads in form of messages or phone calls.
Also, you can reply to messages, manage all the leads and track bookings in real-time. What's more, you can easily manage everything from the Local Services Google Ads app especially if you're always on the go.
How Google Local Services Ads Work
As potential customers start a search query, Google uses automatic keywords and location to match them with services they seek in the specific area they are searching, with what a business offers.
Here your Local Services Ad will display at the top of Google's search results page. Often they appear on top of Google's traditional paid ads – alongside with other relevant businesses Local Services Ads by Google.
Google Local Ads offers potential customers your business name, the rating of your service, Google's Guarantee Badge (we'll look at this later), all the locations you've opened in, and the opening hours.
Based on the information, customers can easily contact you by clicking on your ad and they won't have to scroll through pages on businesses in the area that don't offer the specific services they seek.
To be sure of this, Google will prompt anyone who clicks on the Google local ads to confirm their location and the services they seek.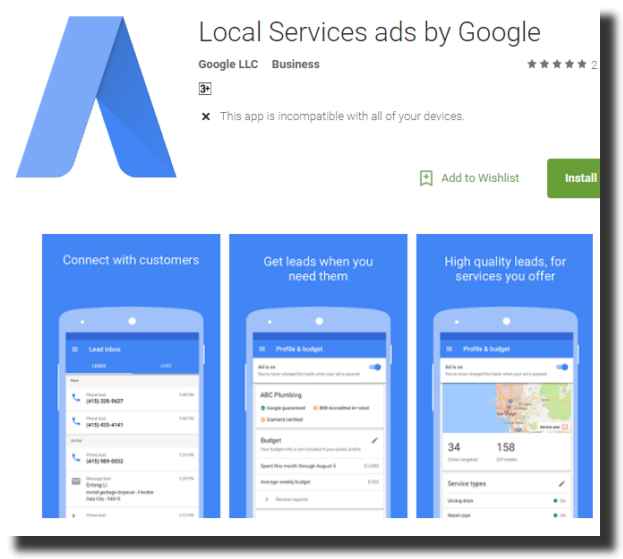 Through the Google online portal or Google Local Services Ads app, your business can track bookings, respond to customer messages, and more.
The best part is you'll pay per valid leads generated only, therefore, if your business doesn't operate or offer the services in the region the customer is searching, Google saves you the costs and hassle by linking them with the right business.
How To Create Google Local Services Ads
Set Up Your Business Profile After Confirming Your Eligibility
Before you create a local ad, you have to confirm your eligibility using Google's eligibility checker. After you've confirmed your business eligibility, you can proceed to set up a business profile.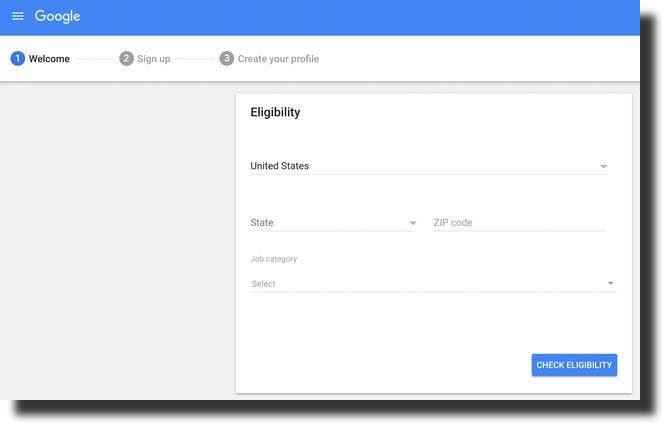 When setting up your profile be sure to tell Google your business location, the services you offer. Also, not that your budget will depend on the number of leads you seek to generate per week.
Become Google Guaranteed
Next, submit your insurance details and proof of licenses to Google to earn Google's Guarantee Badge.
Here your business needs to show Google that your business is located where in the area you stated in the profile (company registration number or utility bill).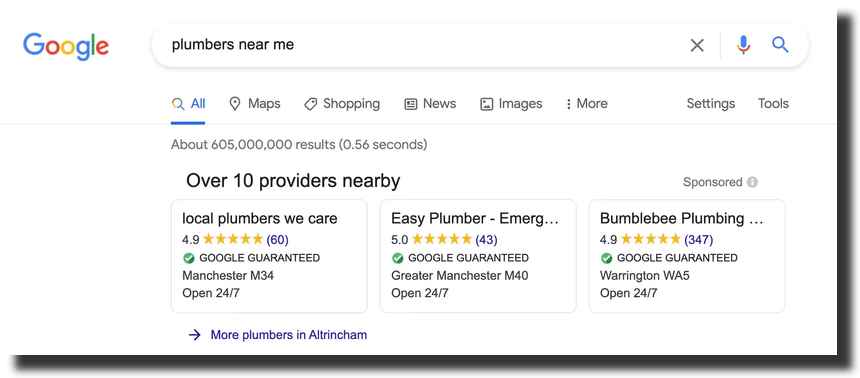 Also, this lets Google know you have the mandatory public liability insurance. For specific industries, you need to have an existing affiliation with the sanctioned licensing bodies for your profession.
Ad Preview Is Generated And You Can Receive Leads
Be sure to choose the jobs you'd like to take (here you get to call, reply, or decline customers' job requests) as well as track your appointments via Google.
Based on the details you entered, Google can then generate local ads for you. Also, you can go over the details to make any changes you need.
Manage And Optimize Your Google Local Ads
Similar to Google Ads, you should expect that your spending will be slightly higher or lower than your set budget each week. Even then, Google will not exceed your set monthly maximum budget.
What's a Google Guarantee?
Google's Guarantee is an approval given to businesses showing that Google has vetted and verified them. This also helps improve the business rankings.
With this quality guarantee, customers can make an appointment for a service using your Local Services Ad. And if they aren't happy with the work done (or uncompleted) they can get reimbursement from Google.
There's a duration limit to this coverage, which varies from region to region. However, eligible customers can apply for reimbursement from Google for a maximum of $2,000 for shoddy service.
How To Improve Your Ranking On Google Local Services Ads
Note that Google uses indicators like your review score, location, your response rate as well as the amount your business plans to spend on leads.
To help improve your ranking, you can use the following strategies which include:
Improving Your Reviews Score
Your business reviews score look at how many reviews you've received and the average review score against 5 you get.
To get the most of Google services, you should consider getting onto Google My Business. This is a free tool offered by Google where you can create your business profile that then appears whenever customers search for your business.
Using the Google My Business tool, you can build a strong online presence by nudging customers to review the services you offer and even reply to the existing reviews.
To optimize your location, you should specify areas you want to generate leads from as you fill details in your business profile.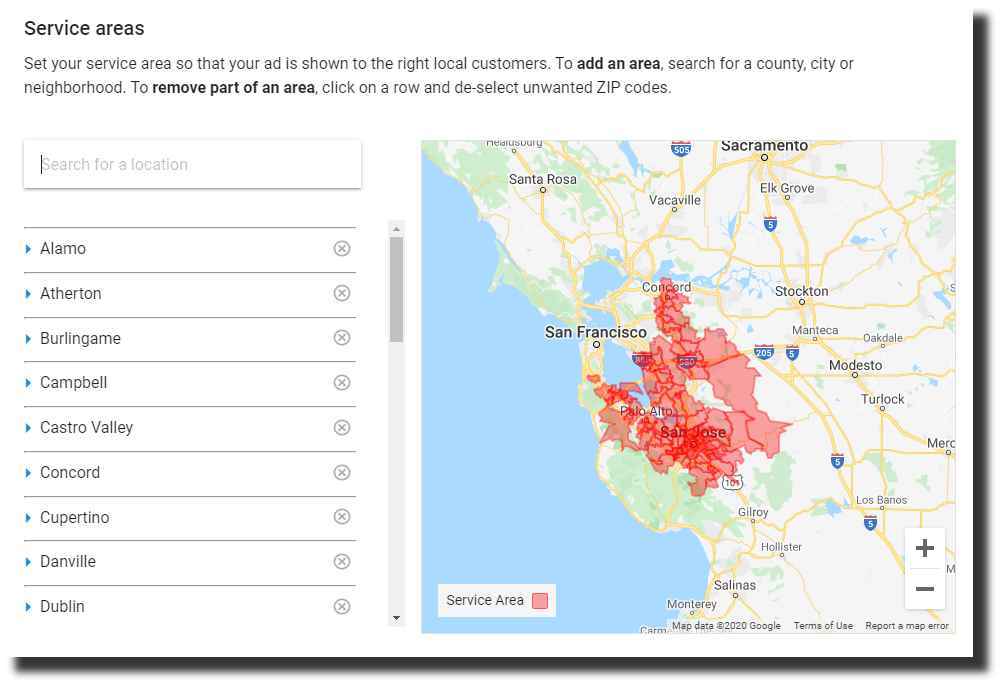 Also, be sure to keep your business opening hours up-to-date.
Improve Your Response Rate
Also, Google looks at how quickly and how often your business replies to messages or calls. If using organic search, you must have a consistent phone number on your website, the Google My Business page, and any citations on other websites.
However, using a separate number on your Google Local Services Ads will not affect the other marketing channels. Plus it'll only cost you a few pounds/month.
What Are The Benefits Of Local Services Ads?
Investing in Google local search ads comes with some major perks.
Builds Trust
Since the Google local ads are what potential customers see first, they also become a hit thanks to the green "Google Guaranteed" badge.
By your local ad appearing at the right time and getting the backing of the right authorities makes all the difference when it comes to your conversation rate and CTRs.
Gets You Higher Quality Leads
Since you pay per lead and not for each click, you tend to get higher-quality customers contacting you using these ads.
Gives You an Easy-To-Use Management Platform
The LSAs management interface is quite simple. Also, you can use the Local Service Ads app which makes managing your leads a lot easier.
Timing and Position
Google Local Services Ads help you connect with customers at the right moment they're searching for specific services you provide.
Oftentimes, people are searching for a specific service job since there's some emergency. As such a home won't function properly without functional door locks or good plumbing.
This sense of urgency benefits your business. And since these Google local ads are placed at the Google page top, it's what they'll see first after submitting their search request.
Automatic Local Service Reviews
The local service ads interface allows you to mark leads as "booked" and Google automatically sends the booked customers the opportunity to leave reviews.
In doing so, you'll start receiving more customer reviews for your business. This then helps you rank higher while showcasing your top quality of service.
The above are some of the benefits you can enjoy from Local Services Ads. Their power becomes evident once you optimize your CTAs and headers towards your local customers.
This way you'll start generating more phone calls, more engaged clicks, as well as more and better business.
How Much Do Google Local Services Ads Cost?
Different from traditional pay-per-click ads, the Google Local Ads let your business only pay per valid leads generated.
Also, Local Services Ads let you set a budget depending on how many new leads you want to generate per week. That also means you can increase and even decrease your budget as part of your ads optimization strategy. Plus you can pause the Google local ads any time too.
Your spending on Google Local Services Ads will depend on factors like competition and industry. This also means it's hard to set an exact amount on the LSA costs since they vary per industry.
However, our research has shown that you could spend between $5-30 for each lead and an average of $25. While that seems a lot if compared against CPC for Ads on Google, you'll only pay for all the relevant leads.
Rather than pay for clicks from customers who aren't from your region or who used broad search criteria and aren't looking for services you're offering, Local Service Ads match your business with the relevant customers.
By matching you with the right customers, Google makes sure all new leads are of higher value to your business.
Getting Reviews
Since reviews play an important role in your Google local ad rank, it's crucial that you make sure you gather reviews from all your satisfied customers.
Fortunately, Google will help you reach out to customers that have booked appointments from your Local Service Ads and ask for reviews.
Using the "Reviews" tab on your Google Local Ads manager, you get to review the jobs you've done for your customers. This also allows you to directly ask for reviews on Google for your services.
Even then, make sure you personalize messages send to your customers to help increase the chances of them leaving reviews for you
Can Google Local Services Ads Generate More Leads For Your Business?
We have looked at how you can create your Google Local Service Ads. So, if you want to improve your digital presence and increase your store's traffic, LSAs make a great profit generator for service-based businesses.
Its interface is easy to manage compared to that of PPC Google Ads campaigns. What's more, the quality of leads it generates is much higher.
When you combine this marketing strategy with ordinary display, search, and retargeting campaigns, your Google local service ads will become a powerful factor in your lead generation formula.
If your company falls under the categories supported by Local Service Ads, using this strategy is worth trying.
Above all, be sure to monitor your reviews, this way your business profile will remain clean. This will in turn ensure your business performs better when you launch your Google Local Services Ads.
Tags: google, google local services, lead