We are now living in a gigantic online marketplace, where billions of people across the world are online keeping up with the latest trends and shopping till their credit cards drop. 
Most brands are now at your fingertips and you can stretch as far as you can to grab whatever catches your interest. And that makes the audience for any brand global too. You have to think big, outside the local box. 
Keeping this in mind, it's no surprise that CRM marketing and e-Commerce strategies go hand in hand, how else will businesses build long-lasting customer relations? 
With a greater scope, comes greater challenges. And that's why what you need as a brand is an effective e-Commerce campaign. That hooks in customers enough to make them want to come back for more. 
CRM marketing seems like a drag but it is worth it in the end. If you're looking to expand your business horizons past your local area and reach out globally. 
There are many eCommerce tips, tools, and techniques available nowadays that can help in getting your name out there. And CRM marketing is at the heart of it all. Start marketing your brand and products/services in a way that hits bulls-eye with your audience each and every time.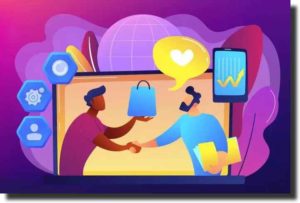 Source: Alycom Business Solutions
Before going any further, you have to understand what CRM marketing is. CRM stands for Customer Relationship Management and it refers to strategies, tactics, and its accompanying technology that is used to manage the relationship between marketers and their customers. 
The main aim of CRM marketing is to improve customer relationships and earn their loyalty. Therefore, earn their revenue, and build a customer lifetime value. 
Customer lifetime value is something all businesses should consider. It is the total worth to a business of a customer over the period of their relationship. It is a vital metric because, in practical terms, it costs less to keep existing customers than it does to acquire new ones.
Usually, you will find companies invest in a CRM database. 
Some platforms simply collect and organize customer data, while others go the extra mile and support advanced customer data analysis, customer segmentation, and next best action recommendations. Depending on what type of company you are and in which industry, marketing CRM software can include additional features and components as well. 
Types of CRM marketing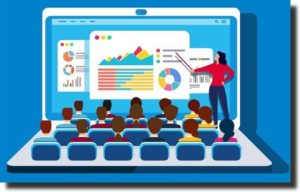 Source: Really Simple Systems
Times have changed drastically from what they were decades ago and the global markets have abandoned sellers to focus more on customers. Now, it's the customers that have the real power and are the driving force behind any market. 
To accommodate this kind of change, there has been the development of different kinds of CRM. These are based on changes in customer portfolios, speed of business operations, handling of large data, and the requirement of sharing information, and resources. Let's see what these categories are. 
Strategic CRM is all about putting the customers first. What goes in here is the collection, segregation, and application of information about customers and the current market trends. The purpose of this is to come up with better value propositions for the customers. 
The customer's voice is considered to be the base of the business's survival. Companies who adopt this kind of CRM marketing believe that a happy customer will buy more frequently than an unhappy one. 
The key is to therefore keep a customer-centric approach that revolves around acquiring, and maintaining profitable customers.
Operational CRM takes into consideration customer-centric business processes, which include marketing, selling, and other services. There are various automation part of this category such as Sales Force Automation (SFA), Marketing Automation (MA), and Services Automation (SA). 
Salesforce is what you would go for in regards to CRM for large established businesses. It is the application of technology to manage selling-based activities. It involves the standardization of sales cycles and sales issues among all the sales employees of a business. 
Marketing Automation on the other hand involves market segmentation, campaigns management, event-based marketing, and promotions. The modules involved here are set to enable the marketing force to evaluate customer-related data for designing and executing targeted offers, and communications. 
Lastly, service automation has to do with service level management, resolving any issues about the product, as well as addressing inbound communication. IVR (Interactive Voice Response) systems are used so that customers can directly interact with business computers. In addition, consumer products are also serviced at retail outlets at the first contact. 
Analytical CRM is based on interpreting, modifying, and processing customer-related data. 
Internal data is crucial, especially for business intelligence organizations that collect information regarding customers' demographics and lifestyles. It gives the business answers regarding who their most valuable customers are and which type of consumers responded positively to any ongoing campaigns they might have. 
Thanks to Analytical CRM, a business is able to set different selling approaches depending on which customer segment it is. This results in more customized and efficient solutions to problems, expanding the prospects for sales, and customer acquisition 
Collaborative CRM has to do with the alignment of resources and strategies between separate businesses for identifying and maintaining valuable customers. It is generally used in B2B scenarios where multiple businesses can conduct product development and market research together. 
It helps with keeping up smooth communication and transactions between businesses because of the integration of advanced communication channels such as chat rooms, web forums, Voice over Internet Protocol (VoIP), and Electronic Data Interchange (EDI). 
CRM strategies for eCommerce – tips & tricks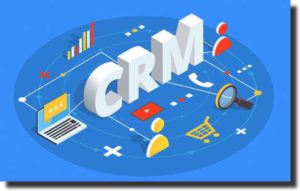 Source: Soffront
Here are some CRM strategies that you can implement to improve your eCommerce campaigns and improve your understanding of your target customers when creating campaigns. 
Consider going multi-channel 
When it's the question of customer engagement, there are so many options available for marketing in eCommerce. Gather tools such as SMS messaging, CRM email marketing, in-app advertising, push notifications, social media ads, and on-site overlays. 
There are platforms online that can help you organize and push on-brand messaging to various social channels all at once that you can take advantage of. For CRM and email marketing management, you can try out Wiremo and see how that smooths out your marketing workflow process. 
The main objective is to find and speak to your audience wherever they exist online. Make sure to remember that every communication channel has its own guidelines and specifications, and it is different for each one on how to garner its full potential. 
Discount codes are a great way to lure in a new audience and persuade them into making on-the-fence purchases. You can also deal with overstocked inventory, promote new products, and re-engage regular customers that are starting to grow bored with existing products. 
Although it is common to run site-wide discounts or all-access coupon codes. Making the discount deal look like a one-time thing and special is the most effective way to encourage people. 
The point is, don't overdo it. If you become known as the brand that's always giving away discounts then people will be put off from buying full-priced products completely. This will only serve to devalue your product in the long run. 
Contextual discounts are a give-and-take situation. As an eCommerce business, giving away discount codes for signing up to your mailing list is a good way to implement this strategy. 
Keep a single user identity in mind
By creating a user identity, you are able to keep track of customers and their actions such as searches and purchases. 
A great tracking method regarding this is having customers sign in to your store. That way, every action with their account can be recorded and contacting them will be more efficient. 
Getting people to sign up is a bit difficult. However, since anything that takes more than five seconds of your time is a drag to most people who are browsing online. Using cookies is a good solution to this. Since it identifies different IP addresses that will visit your eCommerce store. 
The information you will get can then be used to develop a unique user identity. Regardless of whether they are a loyal or casual buyer. To get the best kind of customer data, your best shot will be to start a membership or club that your audience can join. 
Offering Buy 1 Get 1 Frees or allowing a system where they can collect points on each purchase that they can trade for other products are also good strategies. 
No matter what, data should be your main priority. To get the best out of any CRM system, you need to have an expert team. Usually, they know how to analyze it. So this is where you should invest in a data science team. 
Your marketing team will have numerous questions that need answering. When it comes to looking at customer location data, or how can the product information data be best visualized for the sales department. 
A skilled data expert team can evaluate all types of information. 
Keep a hawk-eye on open rates 
Open rates aren't always reliable. This is because the number of people who open an email from you depends on which people you are sending the email to. If you segment address lists by new customers, this might have a shallower open rate compared to loyal customers. 
CRM marketing when it comes to emails won't be as effective when it comes to newer customers. They simply don't know you like that enough. 
What you should do is track the open rates. Also, re-send emails to people who have opened their last message within the span of the last few weeks. From this, you can assume that people who are regularly opening your emails are willing to engage with your business. 
As long as you target engaged users with CRM email marketing, you will see positive results. 
Consider starting loyalty programs 
There are many different kinds of loyalty programs. The trick is to figure out what is going to appeal to your customers. 
Some options you can consider can be:
Points on every purchase can be redeemed afterward;
Members-only product catalog to choose from;
Free shipping available only to loyalty program members; 
Free returns for members only while non-members have to pay a fee;
Extended product warranty with no additional costs for loyalty members only.

CRM marketing software 
Now all that's left to do is get your hands on a CRM marketing software – like Wiremo.  the benefits are endless and your business will benefit greatly from the many advantages a platform like this brings. 
Some of the features you can take advantage of are being able to centralize location for audience. Data, segmenting and targeting various customer groups more efficiently, creating personalized content, and having a seamless connection to marketing channels. 
In addition, you can easily create and track your marketing campaigns. Furthermore, you have automated customer review management, automated review request statistics, keyword and search widgets, and much more. 
To choose the right CRM software for your eCommerce business, remember to consider what you want to primarily use it for, what level of complexity does your business need, and which marketing channels will you use to connect with your audience.
Tags: crm, crm marketing, e-commerce