Using Wiremo Dashboard you can easily monitor, respond and improve every interaction along the customer journey. Below you will find the most important features of the Wiremo Dashboard, and how you can use them.
I. Dashboard
Once you login to your dashboard, you will find all the information you need, all stats and will have access to all settings to setup and use the Wiremo account. In your front page, you will find the next points: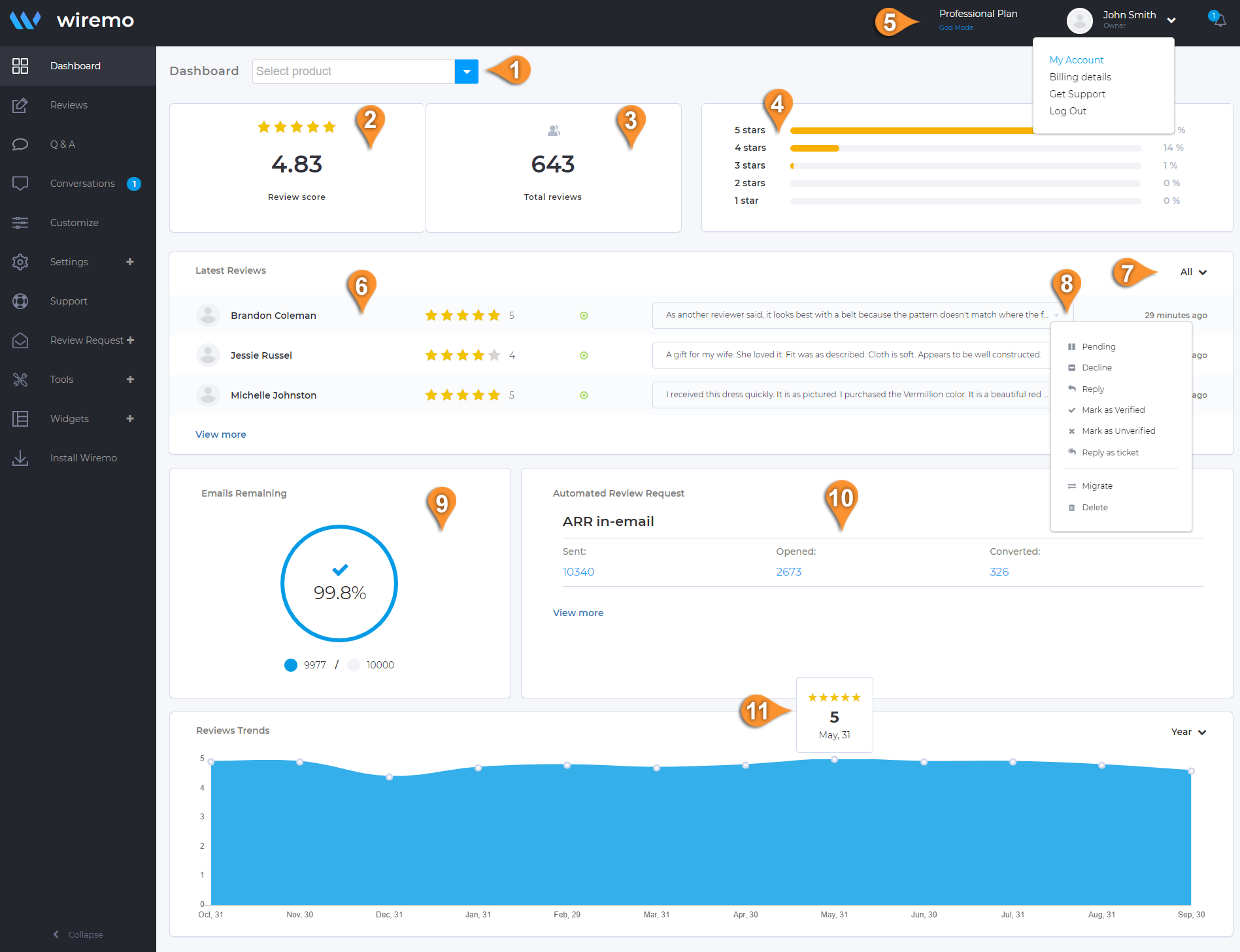 ---
1. Select product (pin 1) - Select the product for which you want to see the Review score and Total reviews.
2. Review Score (pin 2) - The average of all your scores, from the reviews you have accepted.
3. Total score (pin 3) - Total number of accepted reviews.
4. Star rating statistics (pin 4) - Here you can see, in percents, star trends.
5. Administrator menu (pin 5) - Your Wiremo plan, by clicking on your name you will see a menu with the most important links - Your account setting, Billing details, Access to support page and of course Log Out.
6. Latest Reviews (pin 6) - In this block are listed latest received reviews with ratings and the review text.
7. Sort Latest Reviews (pin 7) - You can sort your latest reviews by stars, just click on "All" and choose the number of star rating for filtering.
8. Customer Review text (pin 8) - By clicking on the arrow of customer review text, you can change the current status of the review, from Accepted to Pending or Declined, mark your review as verified or unverified, you can reply to this review, migrate or delete.
9. Emails Remaining (pin 9) - The statisctics of the remaining emails that are left for the current month from your ARR/PRR/MRR campaigns, Review emails, Q&A emails and Conversation emails. The number of the emails per month are different, depending on your Wiremo plan.
10. Automated Review Request (pin 10) - A short statistic of your ARR/PRR/MRR campaigns, by clicking on "View more" you will be redirected to the full statistic of your campaign.
11. Review Trends (pin 11) - In this block is presented the chart of all your accepted reviews. Check the trends by day, week or year.
---
Thank you for choosing Wiremo!