If you've ventured into the world of e-commerce, you might be wondering which online shopping platform works best for you. This article will go into detail about both shopping platforms. We will look at their pros and cons to help you understand which platform works best for you. For this, we will need to dive in the Ecwid vs Shopify article.
Ecwid and Shopify are two of the leading online shopping platforms. Since its launch, Ecwid has been used by over one million online business owners. However, Shopify is the most popular. It launched in 2006, and its users have sold over $82 billion worth of goods online.
Both shopping platforms offer great benefits for e-commerce business owners, but it can be hard to choose when it comes to Ecwid vs Shopify. Worry not, as this article will present you with a detailed review of Shopify vs Ecwid. This guide will help you decide which is better, Shopify or Ecwid.
Ecwid vs Shopify: What Distinguishes Them?
On the surface, Ecwid and Shopify might look like they offer similar e-commerce tools; however, there are completely different platforms.
These differences are the main distinguishing features of Shopify vs Ecwid. In a nutshell, Shopify is software that helps create an entire e-commerce site. While Ecwid is a program, you can 'plug' into an already up and running site.
This core difference can also affect the different types of e-commerce business budgets. Shopify pricing plans are better suited for companies that want to build their e-commerce sites from the ground up.
However, Ecwid's costs are better suited for e-commerce businesses with a website up and running. E-commerce companies with a built-in social media following can also benefit from Ecwid's pricing plans.
However, there is some overlap in what these platforms offer – Shopify has tools that let you add e-commerce features to existing websites. Ecwid has an online store builder feature too. However, even with these tools, these two platforms have different strengths in each aspect.
So, your deciding factor could be whether you already own a site you're happy with.
Overview of the Platforms
Before we get into the Shopify vs Ecwid debate, it's important to get an overview of the two companies.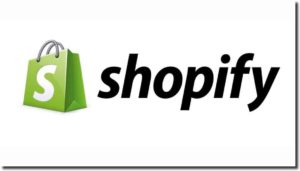 Let's take a look at Shopify.
Shopify is a subscription-based eCommerce channel that helps businesses of any size sell physical and digital products. You can create a Shopify store or connect it to an existing website. You can also use Shopify with social media, guest blog posts, emails, and in-person with a Shopify buy button.
The Shopify platform is the second most popular eCommerce store builder globally, mainly because it is easy to use. Any user can easily create a Shopify website that is unique and eye-catching. If you're a small business just starting, you don't have the technical expertise to build a Shopify website. Many Shopify reviews highlight the platform's ability to help grow small businesses.
Furthermore, Shopify is a great e-commerce tool that offers customers the benefit of both a website and an online store builder. With Shopify, you can sell your products and build your unique online store.
On Shopify, you can create:
Blog Posts;
Contact Pages;
FAQs;
Testimonials and many more.
Shopify users also get access to over 100 payment methods. With this wide variety of choices, you can easily find a payment option that works best for your business. Customers should be able to easily purchase your products via a credit or debit card transaction. This variety of choices gives Shopify a slight edge over Ecwid. The Ecwid platform only offers 55 to choose from, which is still many options.
Now that you have information on how Shopify works, you might be wondering what does Shopify costs?
Shopify offers several different pricing plans. This means that there is always an option to fit anyone's budget. You can also always change through the other pricing plans based on what your business needs.
Here is the Shopify pricing plan at a glance
The price of Shopify Lite costs $9/month. This package includes the Shopify buy button. However, you do not get the option to build an online store at this price point. Shopify lite is a great option if you just want to try out the platform for the very first time.
In Basic Shopify, you get a buy button, in-person selling, and an online store with two staff accounts, up to four inventory locations. This can be in-person stores, warehouses, etc. This option costs $29/month.
This stander Shopify pricing plan costs $79/month. In this plan, you get all selling channels, five staff accounts, up to five inventory locations, discounted credit card rates, and discounted transaction fees.
The Advanced Shopify costs $299/month. This is a little pricier compared to the other plans. Advanced Shopify includes all selling channels, 15 staff accounts, eight inventory locations, further discounted credit card and transaction fees, duties and import collections, custom international product pricing/variants.
This plan works best if you have an up and running business. This could include a physical company and not just an e-commerce one.
Shopify Plus is a premium option for larger businesses or enterprises. This option has varied costs that start from $2,000/month.
Shopify Lite and Shopify Plus
Three price options make up the core pricing plan on Shopify. These include basic Shopify, Standard Shopify, and Advanced Shopify. However, these are two extra options that fit two different business needs.
Shopify Lite
The Shopify lite is designed for business owners who don't want or need a full online store.
Furthermore, Shopify Lite works as an eCommerce tool that lets you add a sales element to almost any platform, including:
Social media posts on Instagram, Facebook, Twitter, Pinterest, and TikTok;
A website you currently own created by web builders such as WordPress, Squarespace, or Wix;
Someone else's website;
Marketing emails;
Landing pages;
Direct messages.
However, there are more benefits to a Shopify Lite account. With this option, you will be able to accept credit card payments or create invoices for custom, phone, or wholesale orders.
You can even use Shopify's point of sale app to accept payments in person. By connecting your Shopify Lite account to your iOS or Android device, you can do so.
Shopify Plus
Large businesses with over $500,000 in sales each year can elevate their online business with Shopify Plus. The Plus plan is Shopify's enterprise-level plan, and it comes with a price point of $2,000 per month. You can also use the Shopify plus plan when your business makes over $800K in sales every month or has a monthly fee of 0.25% of sales volume.
Like all versions of Shopify, Shopify Plus is simple and easy to use. However, this top-tier version comes loaded with impressive features, such as unlimited selling capacity and special tools like Shopify Flow for automation. Shopify offers Plus plan members guaranteed priority customer service.
Now that we know how Shopify works, let's look at Ecwid functionalities.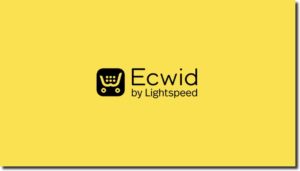 Ecwid is another great tool for building your online store. Ecwid is marketed as a software as a service product; you don't own the software but pay a monthly fee to use it.
Like other e-commerce platforms, Ecwid allows you to set up a catalogue of products and add photos, pricing, weight, etc., for each item.
All the key things you would expect to do using an e-commerce solution. You can customize shipping rates, accept credit card payments, and much more. This is all done through a web browser, and you don't need to install anything on your computer.
Ecwid operates a lot differently than Shopify. Ecwid is not really designed to let you create a standalone e-commerce website. Instead, Ecwid is a plugin. that you add to an online store on an existing website.
However, in recent years Ecwid has added some new functionality, called 'Instant Sites,' that does let you create a basic, one-page standalone offering. Ecwid's Starter Site is a basic website builder you can use to create a landing page for your online store. This is a great add-on feature, but Ecwid is not designed for building unique websites like Shopify.
You can add the Ecwid plugin to an existing website to unlock the wonders of e-commerce functionality. This feature is perfect for small businesses experiencing growth who want to add an online store to engage customers and expand their operations.
The Ecwid pricing model is slightly different from the Shopify pricing plans. These include:
Unlike Shopify, Ecwid offers an option that is completely free of charge. If you only want to sell a few products (up to 10 products), then Ecwid is entirely free.
The free plan is a basic version of Ecwid. This plan does not offer key features such as discount coupons and the ability to sell digital goods. Ecwid's free program only allows you to sell up to 10 products.
Furthermore, you can't use this plan to sell products on key social media sites like Facebook or Instagram. However, this may be good enough for business owners with very simple requirements.
One of the biggest downsides of the free plan is that it is not great for search engine optimization. To get SEO benefits, you need to be on a paid plan to ensure that your product pages rank highly on search engines in the best way possible.
This plan starts at $15/month. The Venture plan is quite restrictive in terms of how it allows you to display your products: you can not use variants of the same product on this plan.
The Venture plan does not allow you to manually edit existing orders or create ones. You will need to be on a more expensive plan to be able to do that. The Venture plan also does not allow you to list your products on established marketplaces.
The Ecwid business plan costs $35/month. The business plan has the same features available in the venture plus some additional benefits. You can schedule some consultation time when setting up your store with the business plans.
The consultation time available with this plan is 2 hours. On the Ecwid business plan, you also have access to phone support and multilingual shopping features.
The Ecwid Unlimited plan costs $99/month and is the most expensive option available. With Ecwid Unlimited, you get all the Ecwid Venture and Business plan features, plus a few more. Only the Ecwid Unlimited plan gives you full access to point-of-sale features.
Some Other Key Features of Ecwid
With Ecwid, you can process credit card payments using other software such as PayPal, with no extra charge additional than Paypal's commission.
Some are country-specific, so the same range available to you will depend on your location. Some payment gateways require an additional monthly charge, so that is something to keep in mind when considering Ecwid.
So, you may find it easier to start with Paypal and then add a payment gateway after some time if and when your sales volume justifies it.
With Ecwid's POS functionality, whether a customer buys a product in-store, online, on their phone, or through Facebook, business owners will have all the information as Ecwid sync all purchases.
There are two main ways to use POS with Ecwid: using its 'mobile POS' option or its full POS integrations.
Ecwid vs Shopify: Button Functionality
With the rise of Ecwid's popularity (and other similar programs), Shopify added a new feature known as the 'Buy Button.' This enables Shopify users (on all plans) to embed a button onto their existing websites, which allows them to sell lone products or whole collections of merchandise by copying and pasting a few lines of code.
Although this functionality is similar to Ecwid's, it's not as sophisticated. With Ecwid, you can create an entire online store and add it to your site, whereas the Shopify 'Buy Button' functions more like a checkout page.
Ecwid vs Shopify: POS Systems
Unlike other comprehensive e-commerce builders, Shopify offers a point-of-sale functionality enabling entrepreneurs to sell products in-house. Business owners can utilize their own iOS devices or purchase tills, barcode scanners, receipt printers, etc., to get started with in-person selling.
If you want to access the full suite of Shopify's POS features (read our Shopify POS review), you'll need to purchase the $79 'Shopify' plan or higher.
You can still use POS features with lesser plans, but you'll be limited to what you can do.
Just like Shopify, Ecwid also offers its users point-of-sale options. You can utilize Ecwid's card reader (powered by Paypal), which integrates with ease with other POS brands.
However, if you want to use more than just a mobile device and make the most of the full range of Ecwid's POS hardware, you'll need to purchase the most expensive Ecwid payment plan.
Ecwid vs Shopify: The Pros and Cons
Now that we've discussed the core functions of each site, here's a quick look at the pros and cons of both Ecwid and Shopify
Ecwid Pros
Thre's no need to start from scratch. Ecwid makes it quick and easy to turn your existing website into an online store;
Beginner-friendly – it's fast and easy to add e-commerce capabilities to your website; no coding skills are needed;
No limit on product options;
45 languages to choose from;
Mobile app for your store also available;
You can easily sell your products through multiple channels.
Ecwid Cons
Limited design choices;
Ecwid can't support too much growth. This means that fast-growing stores will run into limitations;
It doesn't calculate shipping costs for you;
The basic free plan (not much functionality), no access to the app market, and no chat or phone support.
Shopify Pros
Shopify is a great option if you want to build your site from scratch;
The Shopify app is Beginner-friendly. You don't need coding skills or any other technical information to use this platform;
Tons of professional looking templates to get you started;
Lots of HTML and CSS access;
SEO ready with plenty of options;
Expert multi-channel integrations;
Powerful tools for managing your inventory.
Shopify Cons
Transaction fees can make things expensive;
Limited flexibility when you pick a theme;
Limited trial period.
Key Takeaways
If you're creating a store from the ground up and want lots of customizable options, Shopify is the platform for you. Shopify is a great tool for businesses just starting and looking for growth.
If you have an existing online store and want something to enhance your business, you should use the Ecwid plugin. This platform is easily integrated into your site without the hassle of any technical expertise.
Tags: Ecwid, Ecwid vs Shopify, shopify