---
Welcome to Wiremo! We are proud to present you the second version of Wiremo Customer Reviews Widget. We made it much more friendly, flexible and easier to customize. As before, you can adjust every element of the widget, but now we made this process much more powerful. Let's see how it works now.
Note:Please note! Below are described a lot of new feature that comes with our second version of the Widget. Some of this features and options are available only for our Professional and Premium plans. If a feature is available for a specific plan it will be noted this way: (only for Professional and Premium).

Login to the Dashboard and go to Customize (pin 1). As you can see in the image below, we've separated all our customizable features in three tabs (pin 2): App Configuration, App Design, Email Customization and Additional Questions. On the right side of the screen, you will find the preview of your widget (pin 3). Now there are 2 very important things for you to mention:
All the changes that you make in the "App Configuration" or "App Design" will be instantly applied to the widget preview. This will help you adjust your widget faster and better.
At any time, while customizing the widget, you can see how the widget will look on phones and tablets. Just click on one of three icons at the top of the widget preview (pin 4).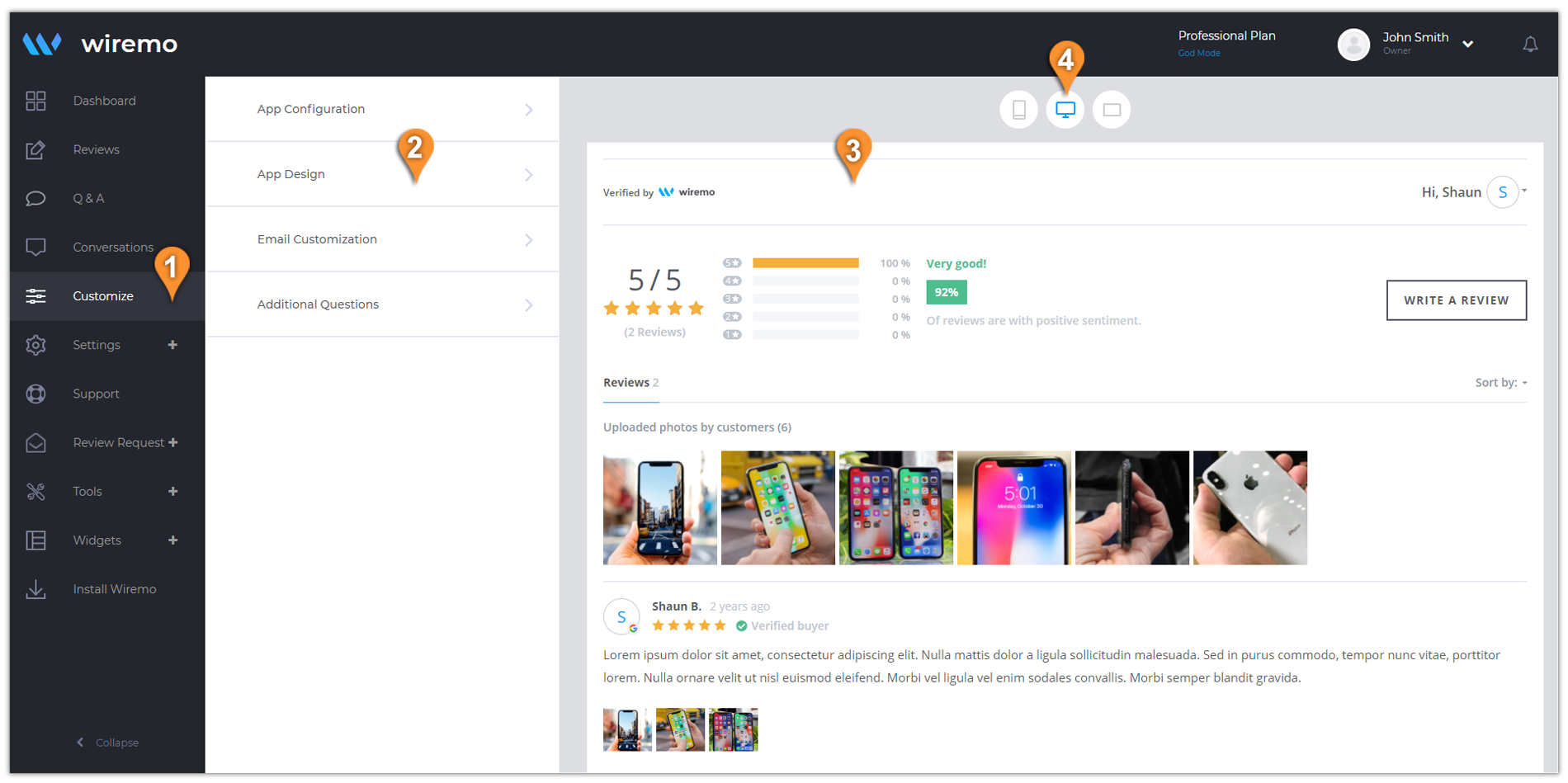 ---
I. App configuration
In this tab, you'll have to set some general and important settings. For an easier way to configure we've divided it into some intuitive blocks.
Customer Avatar Image
The customer avatar is very important for social proof and credibility. In "App Configuration" you can choose Default Avatar or switch to a special one. Just tick the checkbox near to the "Upload your photo" or "Change user avatar" button if you already selected one, and then access and select a default avatar for your customers who write reviews.
Also, we've designed the "Dynamic avatar". There are 2 configurations for this feature:
You can use only the first letter of your customers' name in the avatar. For example, John Smith will be displayed as J.
And you can use the first letter of the first and last name. For example, John Smith will be displayed as JS.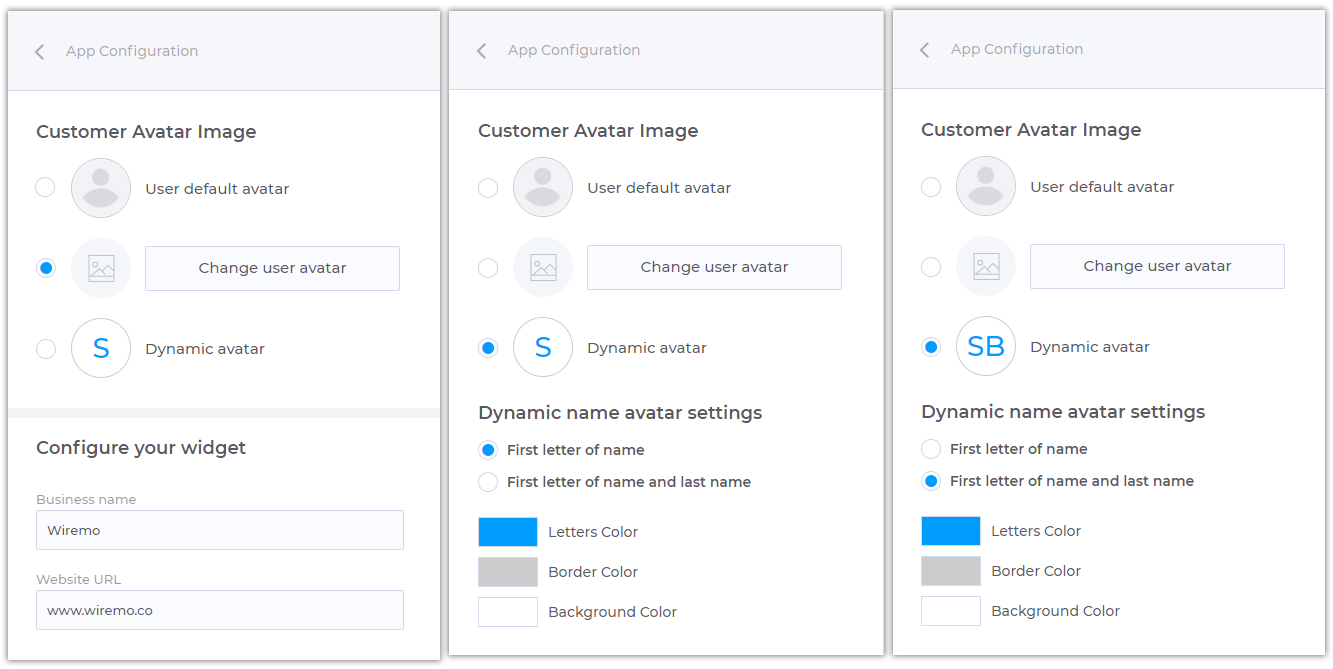 ---
Other settings
Below find a more detailed list of other settings:
1. Configure your widget. Here you need to type your Business Name and Website URL.
4. Language. You can select your preferred widget language between English, Spanish, French, German, Russian, Polish, Romanian and others. Check the full list of available languages.
4. Select the business category.
5. It is important to select your site type for schema.org. You need to select the right one for you: E-commerce store or Service website. If you have a website that sells one or more products select E-commerce store, for other types of sites select Service website.
6. Enable showing your service and customer reviews on our Seller Rating Website. This will increase your credibility and will provide more opportunities. (only for Professional and Premium)
7. In "App Configuration" there also is a very important feature to set up - "User Roles & Notifications". You can add new users with different roles like Admin or a User. Please check this tutorial for more details about this feature - User Roles & Notifications.
8. Sort reviews by Newest, Oldest, Most helpful, reviews with photos and with the verified buyer status.
9. Collapsed review message length - sometimes the review can be too long. You can configure the customer review's length that will be displayed.
10. You can also enable Auto-approve reviews. You can specify the rating for the reviews that to be auto-approved.
11. And of course, you can select the of displayed customer reviews per page. You set from 1 to 50.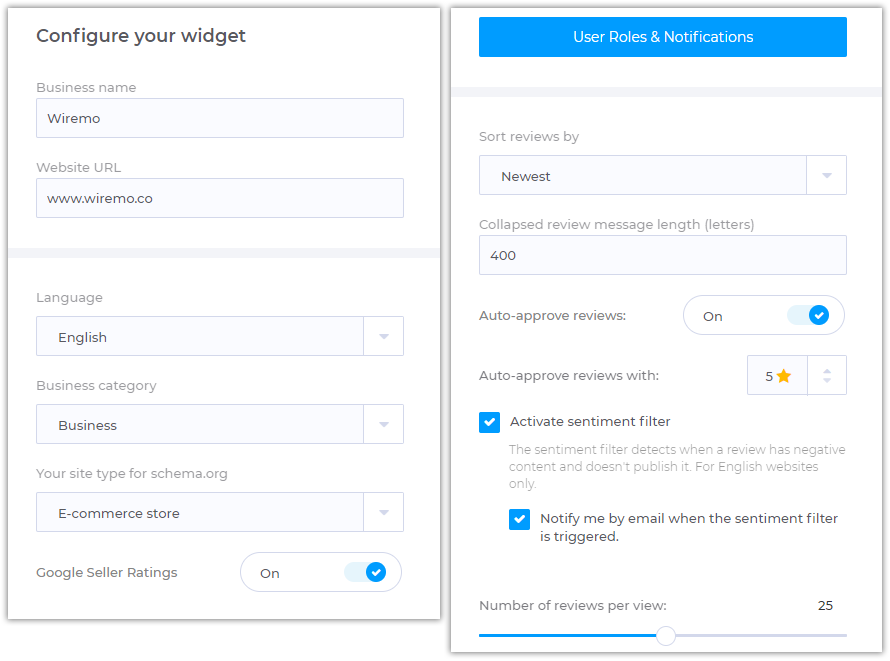 ---
II. App design
With the second version of our widget, we have a lot of new features. That's why we've divided "App design" in 6 main blocks: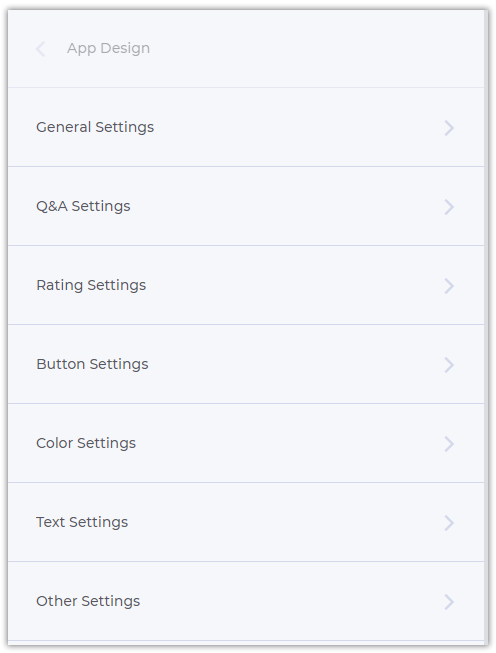 ---
Now let's check them one by one!
---
General Settings
Please take a look at every setting in this block. Enabling or disabling some of them can make your widget look absolutely different than the default.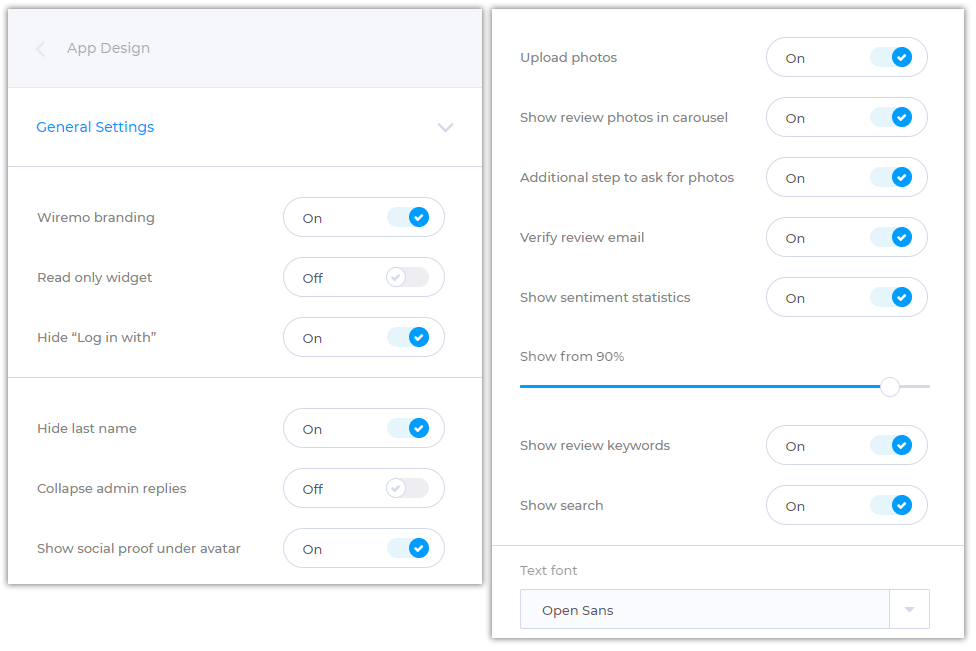 ---
1. Wiremo branding - you can disable Wiremo branding in your widget.
2. Read-only Widget - by enabling this option your visitors won't have the possibility to write a review using the widget. The main button "Write a Review" will be removed. This feature was created for those who want to get reviews only through Automated or Manual Review request.
3. Hide last name - this option will hide or show the last name of your reviewer.
4. Collapse admin replies - you can collapse your replies to customer reviews. Your visitors will be able to read them by clicking on the reply number link in the widget.
5. Show social proof under avatar - this option can add the social media logo to the avatar, that your reviewer used to log in with.
6. Upload photos - uploading photos of a product for review it is very important. But sometimes for services of some type of businesses, there is no need in this option. So you can switch it off at any time.
7. Show review photos in the carousel - once you have photos of your product in reviews you can enable our brand new feature, photo carousel.

---
8. Additional step to ask for photos - again one new great thing we've added. Once your customer wrote the review and didn't upload any photos, you can ask him again before leaving.  (only for Professional and Premium)

---
9. Verify reviews email - This option provides the possibility to get and accept anonymous reviews, without email confirmation. There were lots of requests for this option, which we don't recommend to use because it's decreasing the social proof of your reviews. It is for those who are okay to get anonymous reviews. By switching off this option your reviewers' won't need anymore to confirm their email.
10. Text font - this option gives you the possibility to change the default text font in the widget.  (only for Professional and Premium)
---
Q&A settings
Questions and Answers is an important feature to help your customers an increase your customer loyalty and credibility. For more details check our dedicated tutorial:
How to setup and use Questions and Answers in Wiremo widget.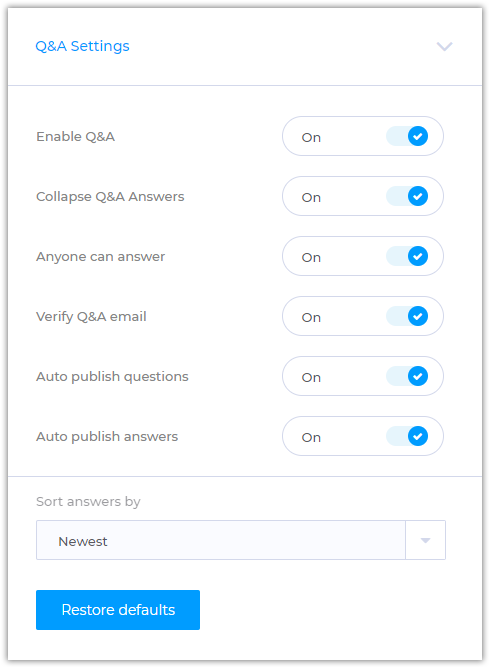 ---
Rating settings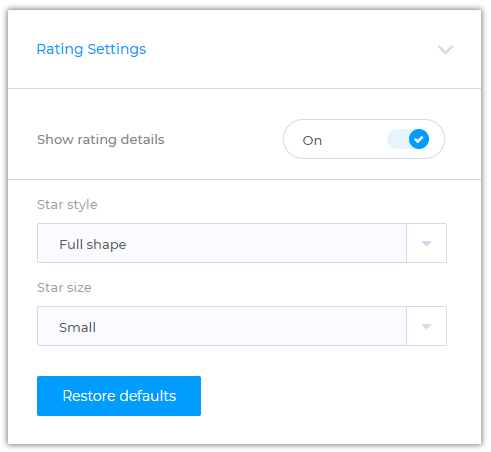 ---
1. You can show or hide your rating details
2. Choose star style: Stroke or Full shape
3. Star size: Small, Medium or Large
---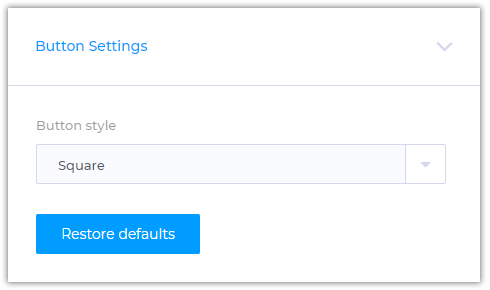 ---
Button style - you can set the button style as Square, Soft, or Round.
---
Color settings

---
We've made color setting flexible and adjustable. First of all, now you can select the background color and the most important you can set it transparent by checking the box near this option. The second important option here is that you can choose your widget color scheme. We've predefined two main widget design: For lite background and dark background. In the image below you can see a screenshot of the color scheme for the dark background.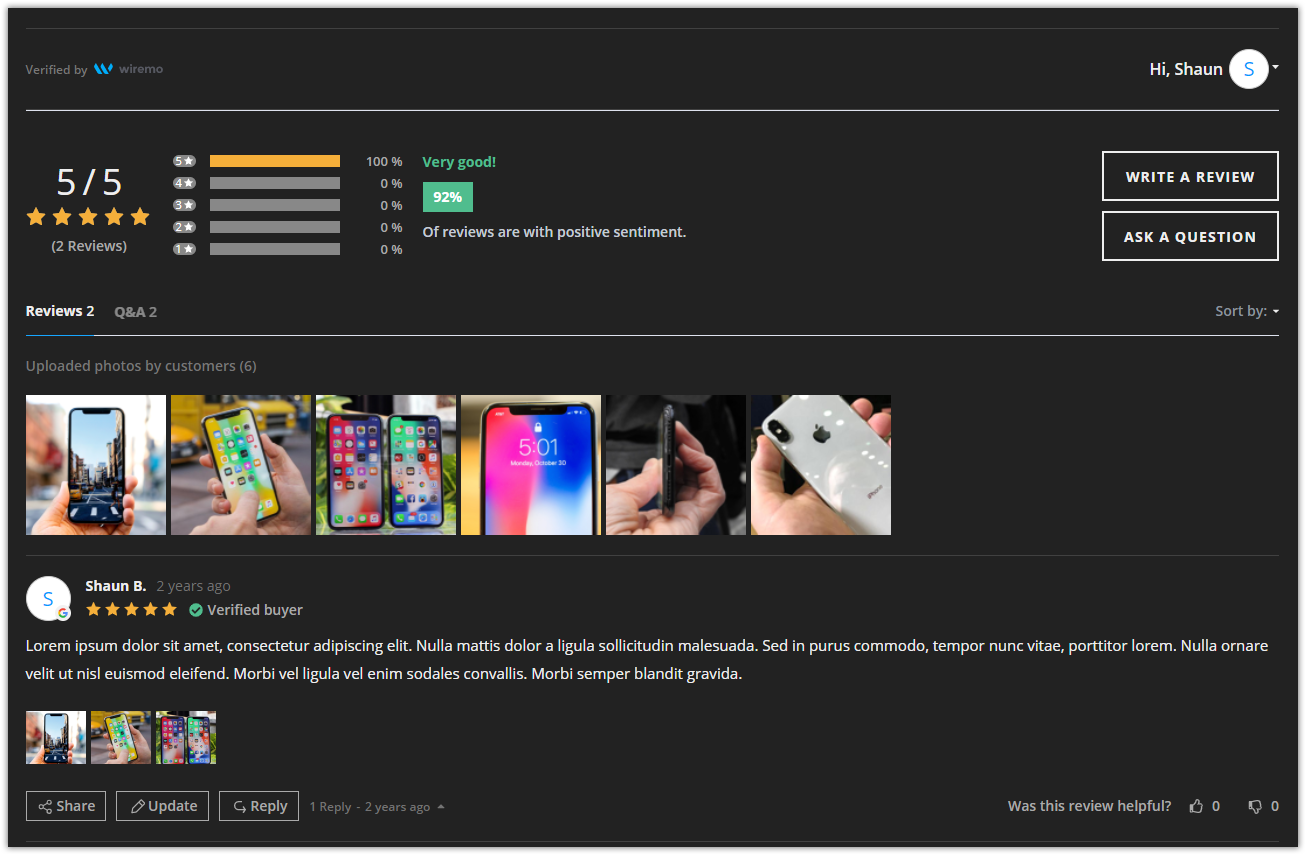 ---
As you can see it's the same widget but absolutely perfect adjusted for a dark background.
Now let's take a look at the buttons color settings. An important thing we've added to the second version of our widget is that you can fully adjust all the buttons. You have the possibility to change the text, border, and background default colors of the button and on hover. This way you can make the widget match perfectly your website design.
Also, an important element is the color of the stars. You can also change it in this section.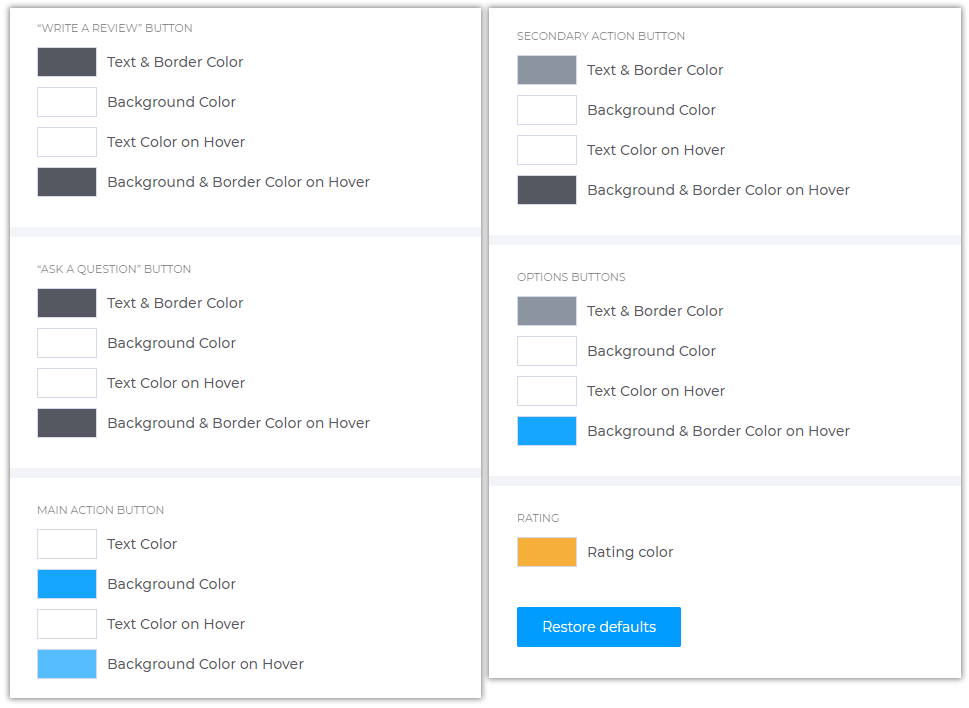 ---
Text Settings
(only for Professional and Premium).
And again a great new option!
---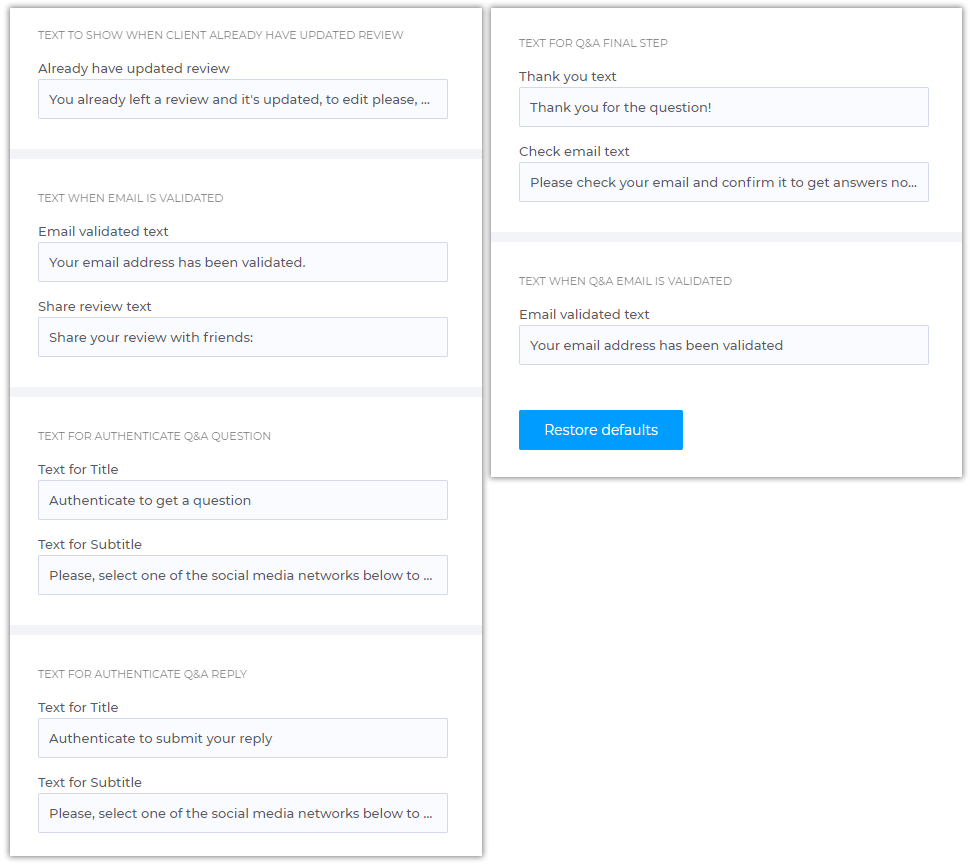 ---
You can change all the important, call to action, or general text from the widget. If you don't know where is the text from, just click on the edit box and the widget preview on the right side of the screen will show the step where this text is from. For example, as it is shown in the image below, you want to edit the text "How would you rate your experience?" from Text Input Step 2 (pin 5). Once on the text box, the preview of the widget will show this step (pin 6).

---
Other settings
This new option is available only in our professional plan. It allows you to make much more serious and deeper changes using CSS. (only for Professional and Premium).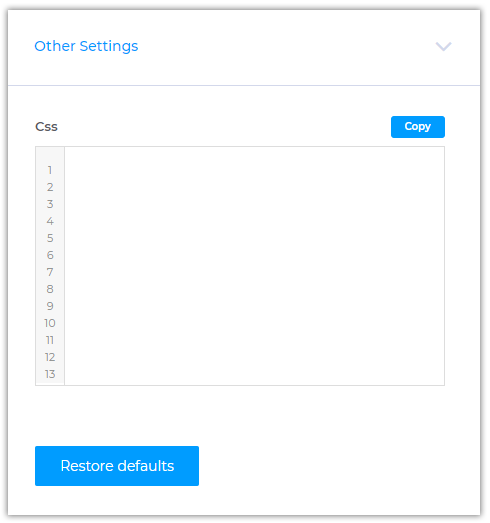 ---
III. Email customization
This block is about the confirmation email for your customers.
You can upload your logo, type your brand name in the field "From" and your business email in the field "From email", so your customers will understand who's writing and what is about the email. This way they will confirm their email prompter.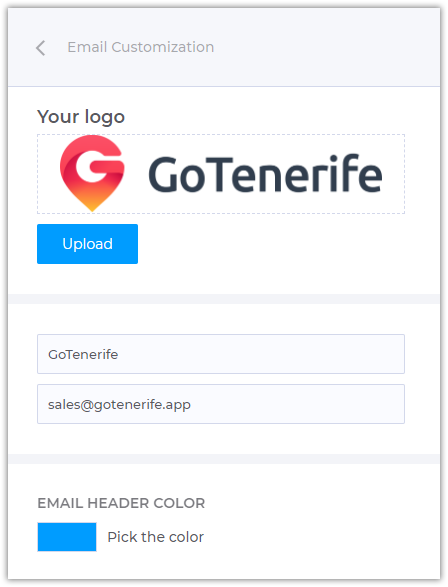 ---
Also, there are 3 main groups of emails that you can adjust as you wish.
- Review Emails (All emails related to the review)
- Q&A Emails (All emails related to Q&A)
- Conversation Emails (All emails related to a conversation)
For more details on how to customize notification emails, please check our dedicated tutorial: How to customize notification emails.
Important:Please note that adjustments option for the notification emails is available only for our Professional and Premium plan users.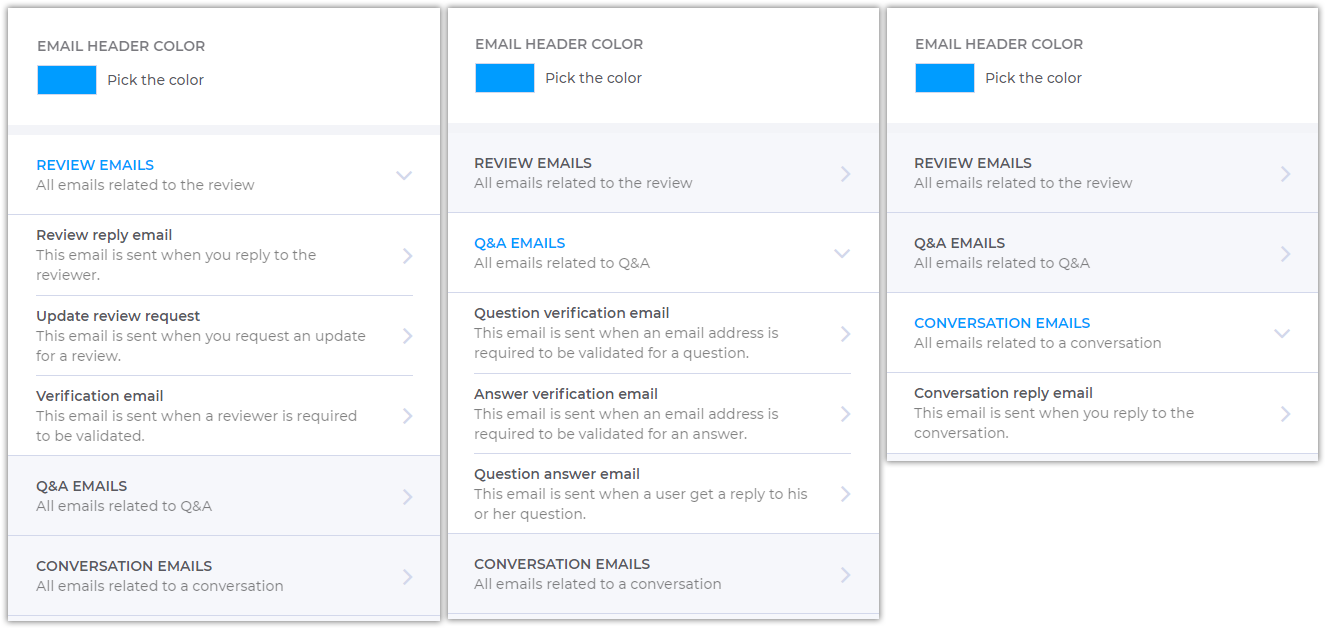 ---
IV. Additional Questions
The final settings part is about Additional Questions, a special and important feature. You can find out more about it in our dedicated tutorial:
How to setup and use Additional Questions.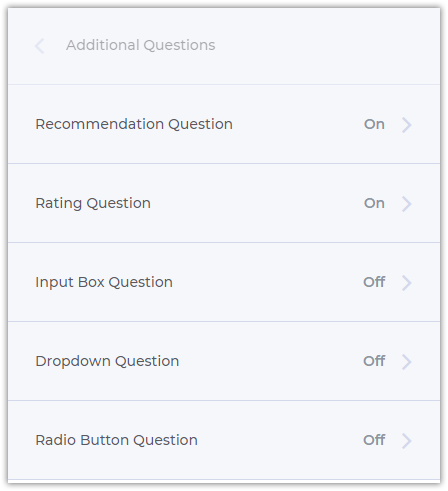 ---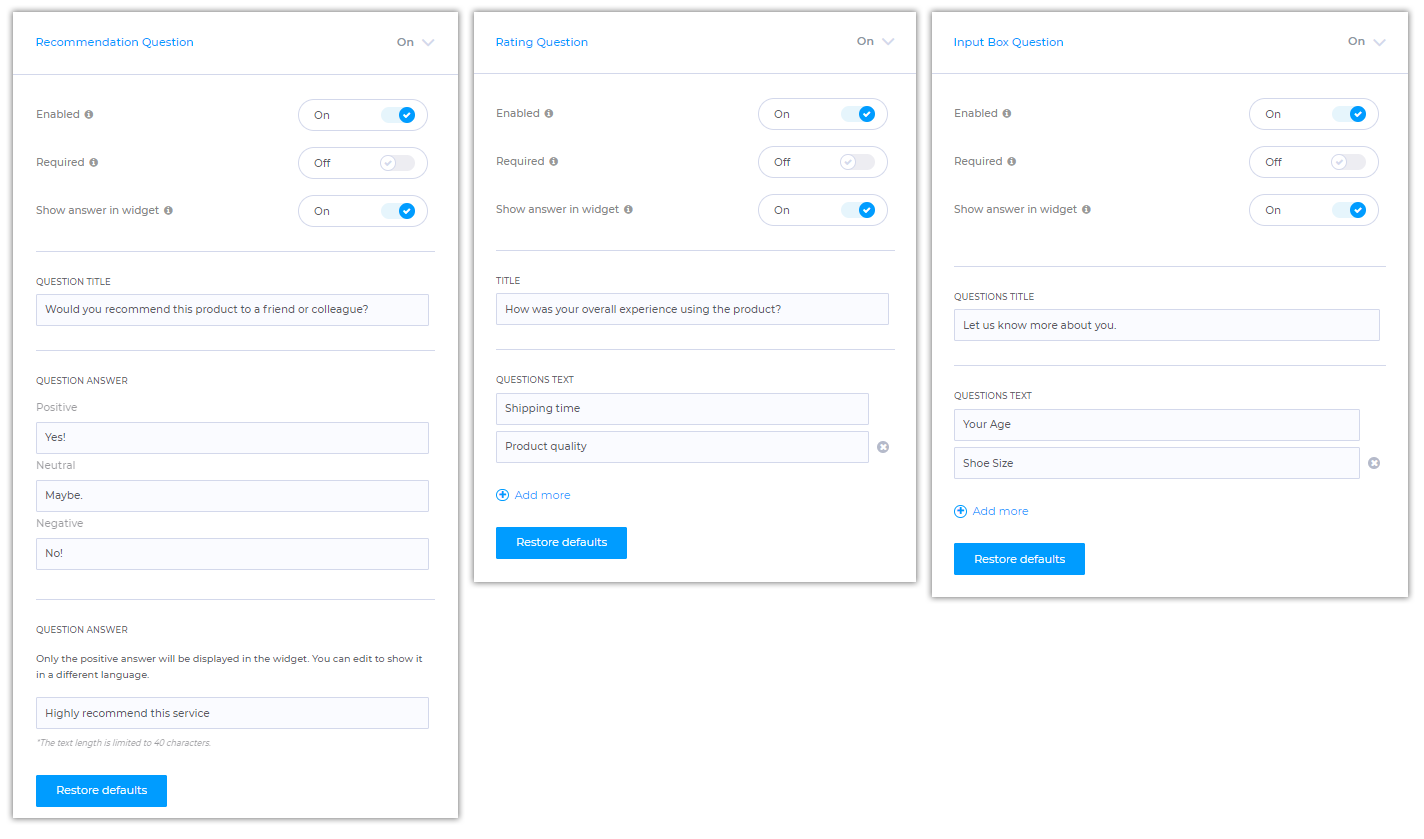 ---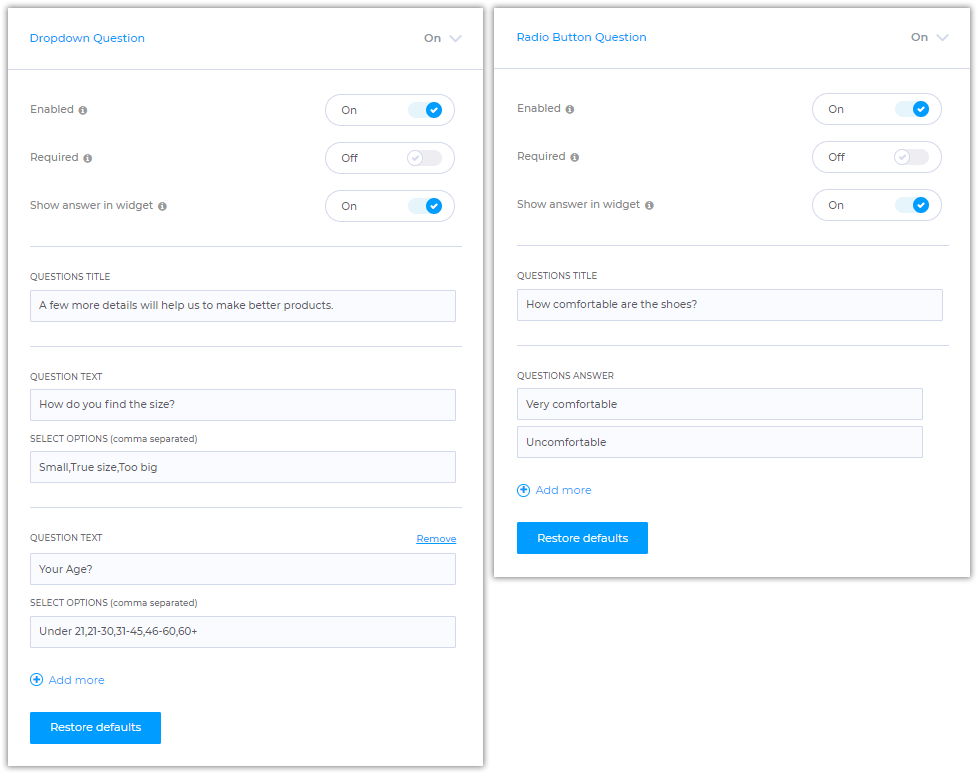 ---
Once you're done just press the "Save" button. And of course, you can restore all settings by pressing the "Restore defaults" button.
Thank you for choosing Wiremo!