Managing different projects all at once and even delegating tasks to different teams can be pretty difficult. In some instances, it can prove to be more challenging, especially if you come across unforeseen obstacles.
The data and the tasks that should be undertaken in a project can be too overwhelming for most people. Project management can be time-consuming and inefficient if you're using spreadsheets and keep going for the weekly meetings and updates.
This can be such a waste of time and energy. However, today project management has been made much easier by the use of free project management apps.
Using the best free project management software leads to better communication among teams, and improves efficiencies.
The best part is that there are many free project management tools to help keep your team on track without breaking the bank.
What's Project Management Software?
A project management software or app is used in different industries to ease project planning, scheduling, and resources allocations.
It helps the project managers and the entire team to control their budgets and track all the documents exchanged through the project implementation process.
These apps are platforms that enhance collaborations among project stakeholders.
How to Choose a Project Planning Tool?
When choosing any tool for your business, you need to satisfy your requirements. It should first have all the features that are essential to a project manager. It should also be a tool that your entire team is ready to use.
Here are 9 steps to make sure that you choose the right tool that will match your needs:
Outline your project management tool needs;
Do extensive research on the best project management tools in the market tools;
Ensure you test out different tools;
Get feedback from your team on which tool they prefer to use;
Compare the costs of the different apps and choose one that fits within your budget;
Get executive buy-in;
Purchase the project management software;
Implement the project management software;
Analyze the performance of the tool with a retrospective.
What Features Should You Look For In A Good Project Management Software?
There are different features to consider when choosing the best app for your organization. Here's a list of some of the features you need to look out for before deciding on which to go with.
Communication
Good communication means fast and easy problem-solving. So you need to choose an app that has an easy navigable messaging platform for ease of communication.
Task lists
A good platform should have a platform that is easy to assign and update the status of the tasks, so that everyone in your team can be on the same page.
Schedules
Most project management tools offer Gantt charts, calendars, and milestone tools that will help you know where a task fits into a project, and help you understand how much time it will take to complete.
File sharing features
A good platform lets you share and organize key projects and documents, eliminating the time wasted while searching for files.
Reporting
All team members need to be able to update themselves on the whole project when they need to. It is also great for project managers, since they can easily track the progress of all the tasks that need to be carried out on time.
With all these features in mind, here is a look at the top 20 project management software available today.
20 Best Project Management Software
#1. Toggl Plan
Toggl Plan is one of the best project management tools in the market. It will help you effortlessly automate your task delegation process and help you visualize which tasks are done and which are not completed yet.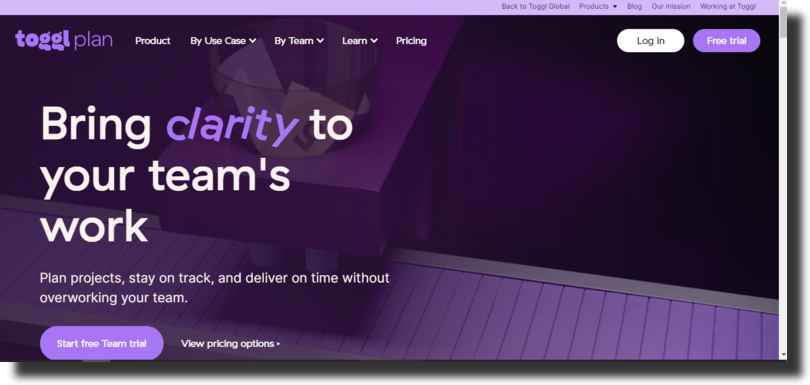 This is a valuable tool if different departments need to collaborate on a project.
Features
Integrations with Evernote, Github, Slack, and other apps;
Has Gantt-chart visualization that helps track essential projects and deadlines;
Easy team collaborations with the shared calendars and task notes.
Pricing
Free for the first 14 days;
$8/user/month (Team);
$13.35/user/month (Business).
#2. MeisterTask
Meister Task is another excellent project management tool that features a robust Kanban structure. It facilitates smooth project management of projects.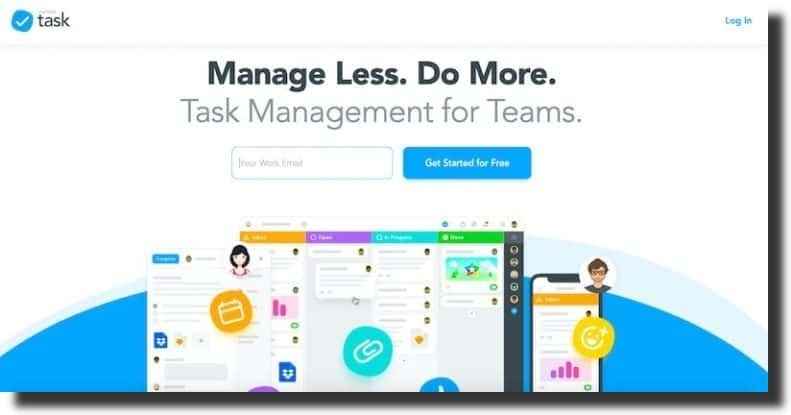 It has a wide range of collaborative capabilities with a clear and clean visual design for a great user experience.
Features
It mentions watching, tags, and task scheduling, making it easy to collaborate in-house and from the home office;
Moreover, it has a personal board where you can pin tasks from different projects and keep them pinned and organized;
In addition, it is pretty fast even with its extensive functionality;
Features a range of intelligent automation and has native integrations with softwares such as Slack, G-suite, and GitHub.
Pricing
The free Basic version selected core functionality;
Pro Version- $8.25/ per user/ Per month and is ideal for single users;
Business package- $2.75/per user/per month;
Enterprise package - Upon request.
#3. Basecamp
Basecamp is one of the most popular project management softwares that is used by most teams in the world.
This tool features different collaboration features like the designated area for discussions where the users can leave comments.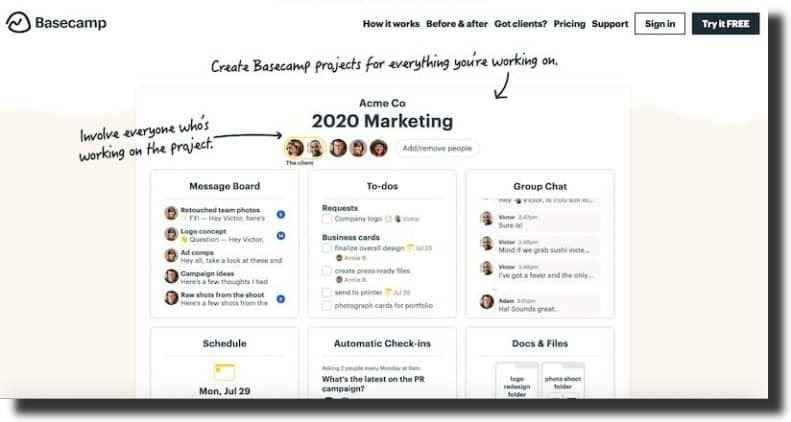 It also has a recap of the projects your team has been working on, for example, updates and statuses sent to you daily through email.
Features
Users can contribute to discussions via email and on the platforms;
Features a powerful search tool that helps its users locate any conversation and files;
However, it does not have milestone features, customization options, and the ability to estimate how long a task will take;
Offer daily email updates.
Pricing
Available to businesses at $99 per month;
It is free to teachers and students.
#4. Nifty
Nifty is one of the new wave project management tools that help reduce project development cycles and help improve your teams' productivity by putting together all the essential project management features.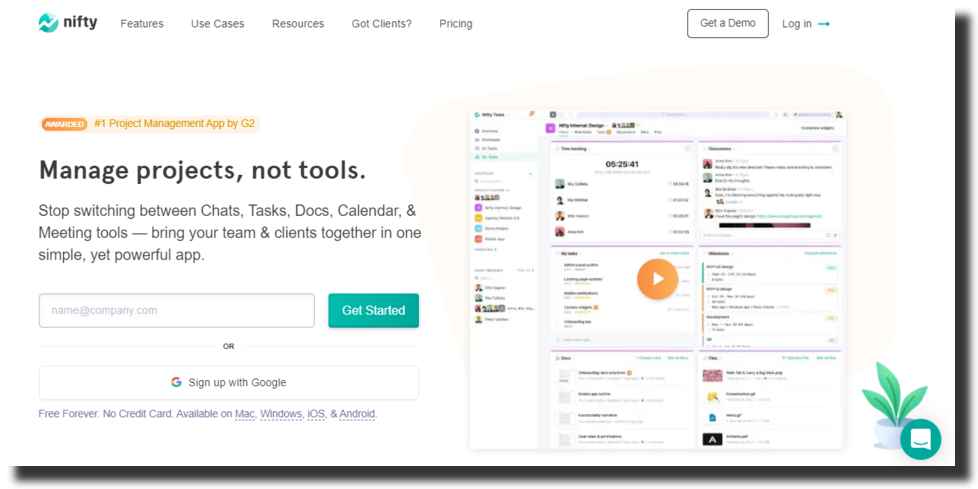 It offers milestone-driven progress that helps keep teams inspired and ensures that your organizational goals are right on schedule.
Features
Nifty allows users to manage tasks either through list view or Kanban;
Features an in-built calendar that is integrated with google and file and document sharing;
The platform encourages Project-specific communication through individual threads, which makes it easy to collaborate through different departments;
Integration with Github and encourages department collaboration.
Pricing
10 team members- $39 per month;
25 team members -$79 per month;
50 team members- $124 per month.
Note: with each plan, you can invite as many guests and clients as you want at no extra charge.
#5. Hubspot Project Management Software
The Hubspot project management tool comes with task automation, task creation, and pre-made to-do lists.
It is mainly designed for marketing teams. It is designed to integrate with Marketing Hub easily.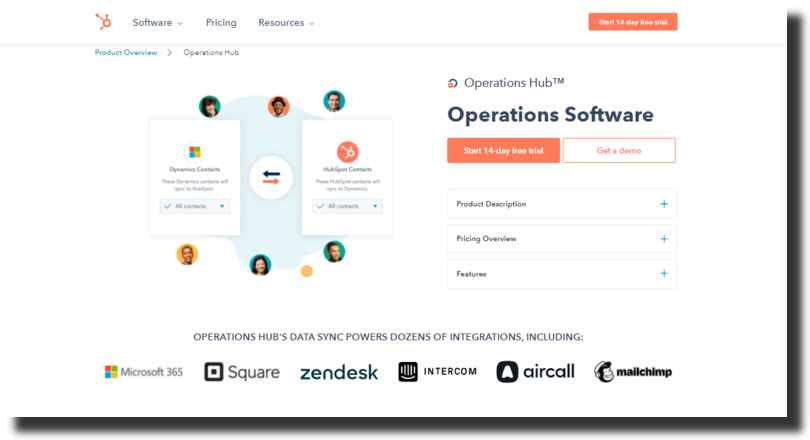 With HubSpot's management tool, you can easily keep track of all your marketing projects so that they are all managed on the same platform and not on different tools.
Features
File attachment capabilities that make it easy to track important assets;
Offer task management alongside marketing workflows;
Has pre-made to-do lists that help you in launching your projects;
Offers customized templates for recurring projects;
Has landing pages, workflows, and email all available on the same platform.
Pricing
Starter for 1,000 marketing contacts - $45 per month;
Professional for 2,000 marketing contacts - $800 per month;
Enterprise for 10,000 marketing contact- $3,200 per month.
#6. Project.co
Project.co is a project management system that connects your team and your clients' team all in one place. You can set up every work as a single project with notes, discussion feed, teams, and payments.
With Project. Co, you can also record the amount of time that you spend on every project.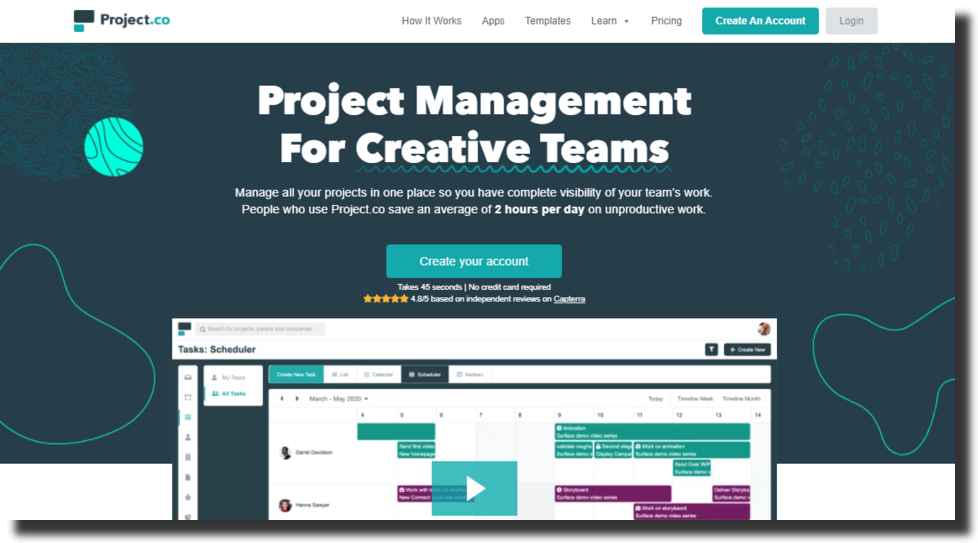 It has different projects and task views available, including calendar, Kanban, and scheduler view, which helps give an overview of the work with your team.
Features
Users can add or invite both external and internal users to collaborate on a project;
Has a discussion field for each project that has email alerts and the ability to respond to a discussion without having to log in;
Different task views can be filtered to give your team, each team, and individual users daily and weekly task lists;
Has reporting tools that help you measure the most profitable and efficient project;
Integrates payment solutions, and users can take card payments through the system.
Pricing
Free for the first 14 days;
$10 per user per month.
#7. ClickUp
ClickUp has very impressive features that users can customize. It is one of the best project management softwares where users can choose three different ways to see their projects depending on their preference.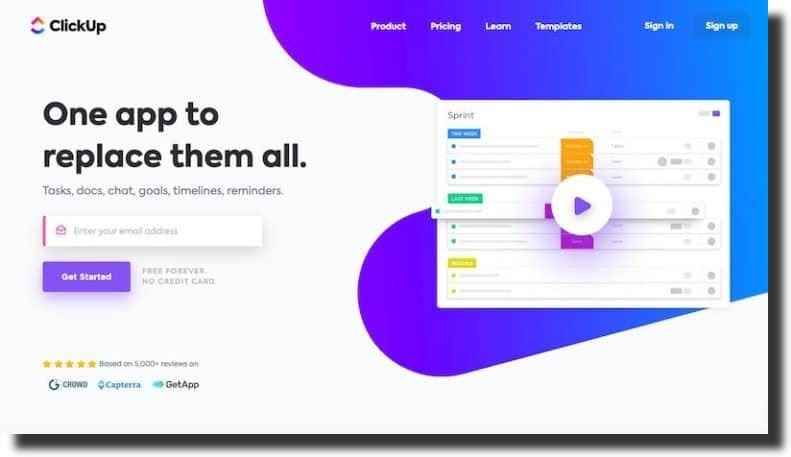 Furthermore, this is an excellent tool for organizations whose design, sales, or development tools overlap. It provides a feature that is best suited for all these departments.
Features
ClickUp can organize the projects based on priority and assign tasks to different teams;
Features a Google Calendar with two-way sync;
Has mock image ups;
Offers activity streams with the mentions function;
Include 57 integrated applications;
Has an option to set goals to remind the team of what they need to accomplish;
Activity streams with mentions capabilities.
Pricing
Free option;
$5 per user per month.
#8. nTask
nTask is a free project management software that comes with different features for task and project managers. It comes with a couple of free-range tools for everyone, including individuals or professional project managers.
The platform supports multiple task creation and project creation. You can easily define team roles, milestones, budget, and time tracking specific to the relevant projects.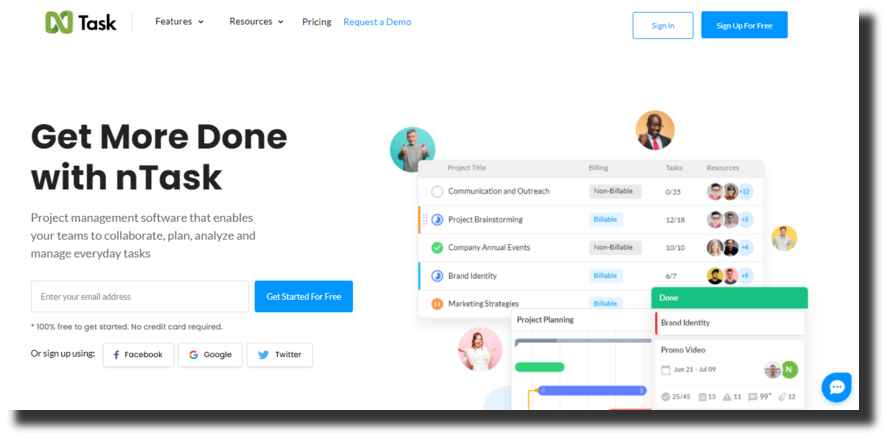 It has the Gantt chart feature that is great for advanced project managers. You can easily customize your view with the drag and drop mechanism to align the project with the ongoing real-life changes.
Features
Team management through an admin controlled process;
Integrated with Slack and other third-party apps;
It is a powerful in-app collaboration system;
Excellent for resource management;
Features multiple workspaces that are dedicated to different tasks and projects;
You can invite stakeholders to view ongoing projects.
Pricing
Basic Plan: Free;
Premium: $2.99 per user per month;
Business: $7.99 per user per month;
Enterprise: Custom.
#9. Teamwork
Teamwork is a project management app and collaboration platform that helps remote and in-house teams to stay productive and organized.
Each project lets you easily upload files, chat with the teammates and assign tasks and deadlines.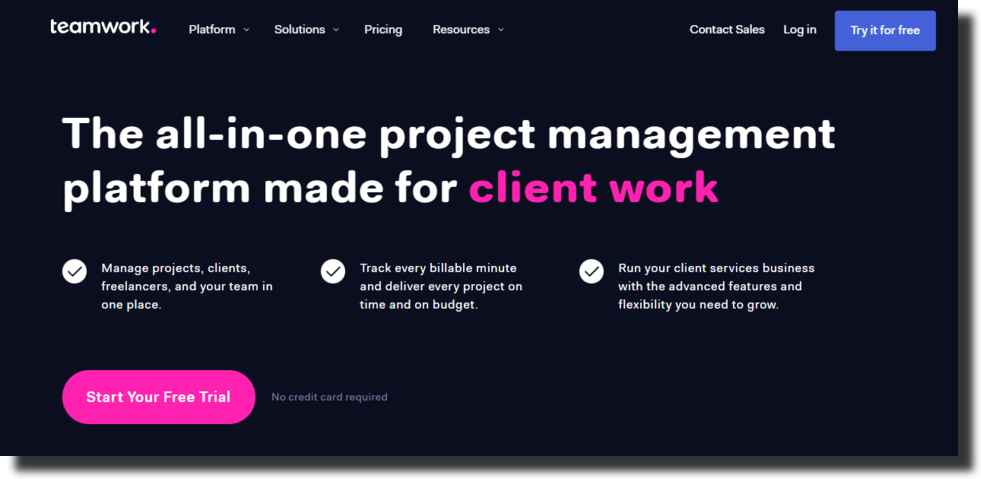 It is an easy-to-use platform that helps you get rid of misunderstandings and missed deadlines.
Features
Easily integrated with Hubspot;
Has the Teamwork Chat Instant Messenger that helps you stay in your workflow and improve productivity;
Include dashboards, Subtasks, and milestones that help you keep track of all the projects;
It has a time tracking feature that helps the project manager know where the team spends more time.
Pricing
Free;
Deliver- $10 per user per month;
Grow- $18 per user per month;
Enterprise- Customized.
#10. Freedcamp
Freedcamp is another excellent project management software. It is designed for both professional and personal use.
It has its milestones, tasks, discussion, files, and timelines with the issue tracker and calendars.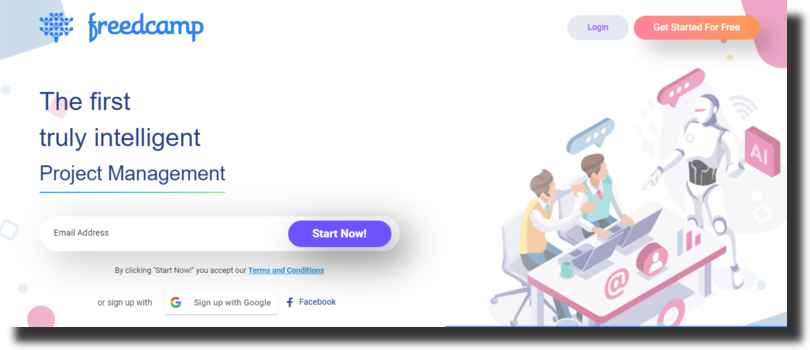 This software has a clear and concise dashboard that let's see going on with their team. The dashboard shows projects, activities, and tasks.
Features
It has a powerful Callender view that lays out all the upcoming event;
A clear message board that can help you create and have any discussion of any topic;
Features third-party integrations including Google Drive, Dropbox, Google calendar, and more.
Pricing
Free;
Minimalists- $1.49 per user per month;
Business- $7.49 per user per month;
Enterprise- $16.99 per user per month.
#11. Asana
Asana is the best free management tool that has a clean and user-friendly interface. This platform is an all one tool that helps you create boards that help you visualize what stage a project is at.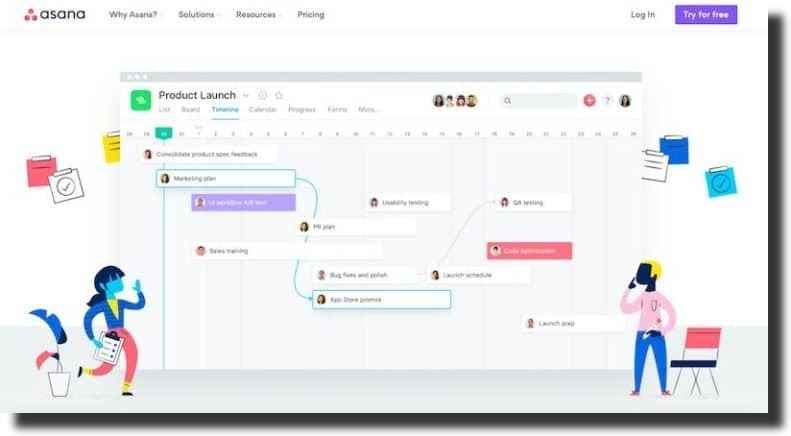 It helps keep track of projects and report on projects to help you know which task might need your attention. The platform also has team pages when you can share your conversations and ideas.
Furthermore, it has an intelligent box where team members receive messages that are only important to their projects.
Features
Has the ability to create templates to help automate mundane tasks;
You can complete custom project fields, filter tasks, and share documents;
Lets you collaborate and even share information across different teams securely and privately;
You can designate admins and even set security controls for your team;
It has over 100 integrations for an efficient start to finish process. Examples include: DropBox, Google Drive, Github, MailChimp, and more;
Easily integrates with HubSpot for easy workflows, especially for your marketing teams.
Pricing
Basic plan- Free;
Premium plan - $10.99 per user per month;
Business- $24.99 per user per month;
Enterprise- Custom.
#12. Monday.com
Monday.com is a great project management software that also offers IT and HR tools.
It allows your team members to get status updates so that all remote and in-house workers can be on the same schedule.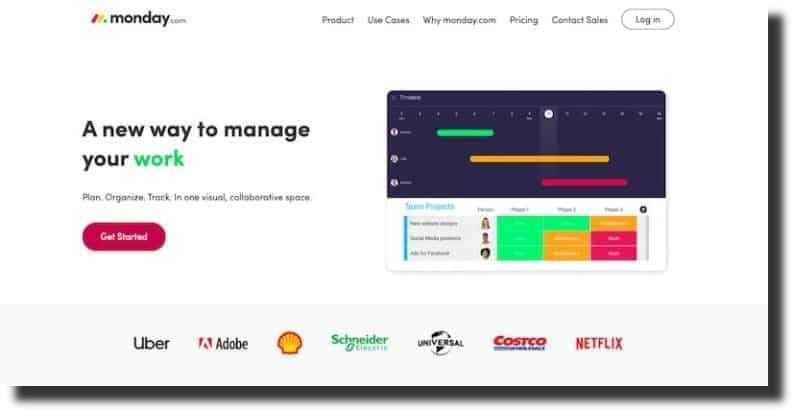 Monday.com allows easy access to projects and updates so that everything moves seamlessly.
Features
It is designed with a customizable workflow to help prioritize your team needs and take care of the small tasks;
Has HubSpot integration for everyone to collaborate easily, especially with the marketing campaigns;
It features a Gantt chart that helps you quickly visualize dates and project timelines;
Integrated with popular tools such as Microsoft Teams, Slack, and Google calendar;
Team members get status updates quickly for both the remote and the in-house teams.
Pricing
Free for the first 14 days;
Basic - $8 per user per month;
Standard- $10 per user per month;
Pro- $16 per user per month;
Enterprise- custom.
#13. Trello
Trello is another great project management software designed as a drag and drop tool that lets you move projects around.
It can be used for both professional and personal use through the workflow stages to completion.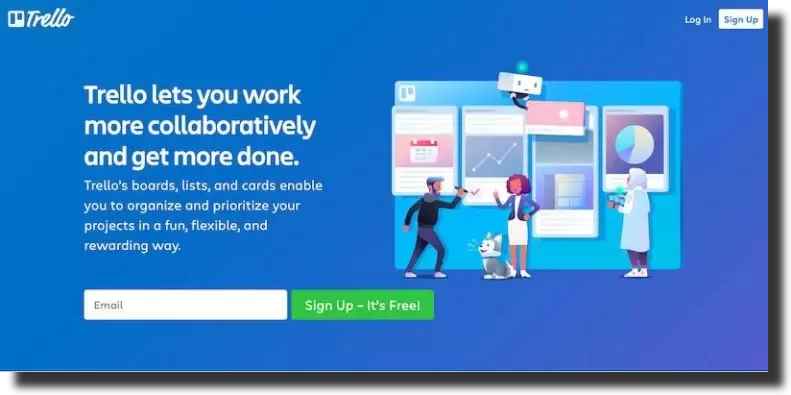 With Trello, you get to define the stages of your project as you create them. Cards represent the tasks. Each of the cards has a title and is assigned to an individual with a due date.
You can attach images and documents to each card and move the card until the task is completed.
Features
You can add a file to a card as an attachment on any card on the board;
Trello has different templates for the different project types. They range from education business and personal productivity;
You can customize your workflow to match your actual workflow process;
Drag and drop feature to move your card through your workflow stages;
Has Hubspot integration which you can sync your marketing and sales projects.
Pricing
Free;
$10 per user per month;
Enterprise- custom.
#14. Paymo
Paymo is another project management tool that is ideal for small teams such as freelancers. It is free for one user, and it is an excellent option for billable hours as well as invoicing clients.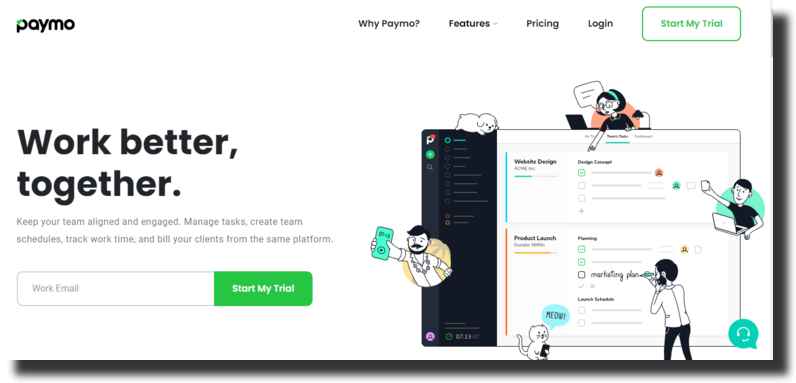 It is ideal for tracking finances and great for organizing project timelines and creating to-do lists to help you stay on top of all the budgets for your multiple projects.
Features
It has time tracking features that help keep everyone on the same schedule;
Has Kanban boards for easy visualization of all the projects at a glance;
Features Adobe CC extension and file sharing to help you easily share assets;
Has timesheet reporting that helps keep stakeholders on the same page;
Paymo has project templates that help jump-start your projects easily with just a click.
Pricing
Free;
Small Office- $9.95 per user per month;
Business- $15.79 per user per month.
#15. Wrike
Wrike is a great project management app that is ideal for teams who want to customize their workflows, edit and revise the projects from the platform.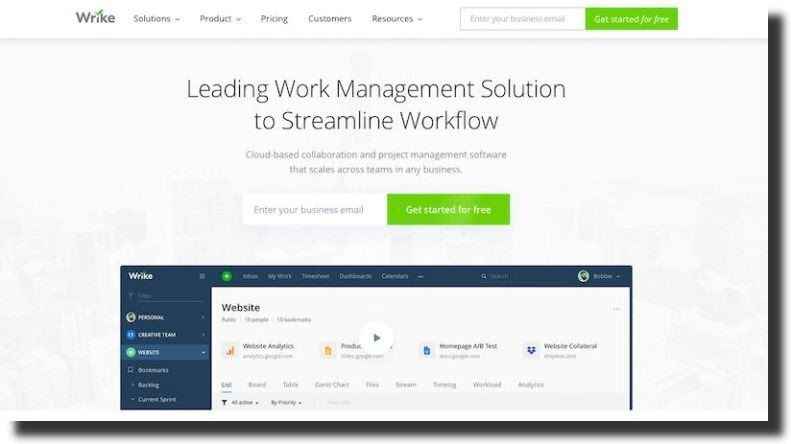 You can color code and layer calendars on the app. The tool also has a mobile app where colleagues can update each other on the progress of the projects on the go.
You can also add comments to sections, documents, videos, and documents, and customize the fields that relate to your organization.
Features
Wrike features an email and calendar synchronization that makes scheduling much easier;
Include security features that ensure that only authorized people have access to project information;
Has an activity stream that allows project managers to keep track of all the tasks. They can see activities in chronological order and can tag other team members;
It comes with the option to unfollow activities that you are not interested in and declutter your stream;
Features built-in approval and editing features.
Pricing
Free;
Professional -$9.80 per user per month;
Business- $24.80 per user per month;
Enterprise- custom.
#16. Airtable
Airtable is a project management tool that is a customizable database and spreadsheet app at the same time.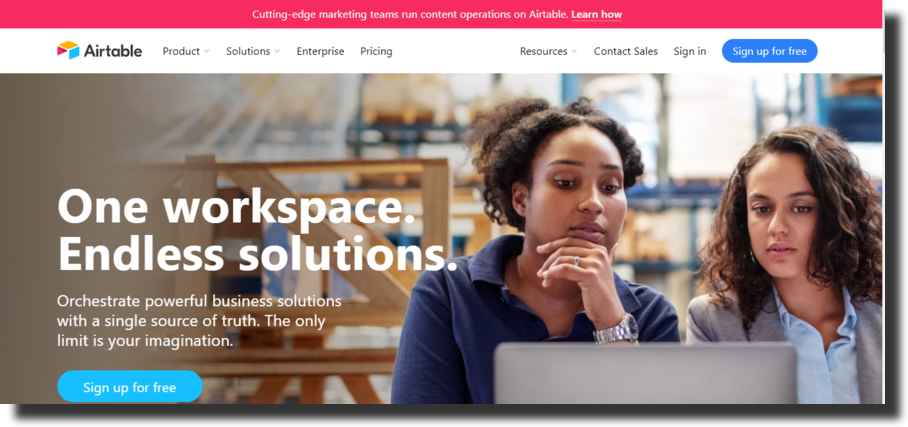 It is designed as a project tracker template to manage projects from spreadsheet - like environments easily. It is a great option for people who are used to using google sheets and Ms. Excel often
Features
Has the ability to establish time estimates and assign tasks;
Features a subtask creation within tasks;
It has additional templates that help remote teams aligned with the project with asset tracker and team hub;
Easily integrated with tools such as Slack, Asana, Google Workspace, Hubspot and Dropbox.
Pricing
Free;
Plus- $10 per user per month;
Pro- $20 per user per month;
Enterprise- custom.
#17. Todoist
Todoist is one of the best free project management software available in the market. It is a simple but powerful tool that lets you create interactive and powerful to-do lists.
You can assign your to-do lists according to their priority level. Also, you can be set to your team and flagged with a customizable reminder only available for premium users.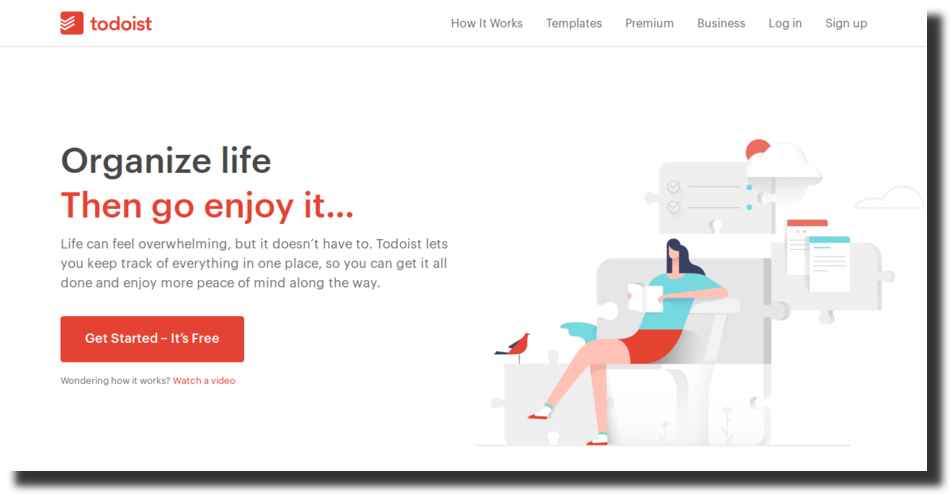 The tasks you have can be categorized into different projects, making an understandable and straightforward list. Each list should have a project name and a series of actions.
The app is very flexible and makes it easy to customize your project and get work done.
Features
Has a template list that guides and inspires you when creating your project;
Include recurring due dates for any regular tasks you might have;
Provide notifications and labels and discussion feeds that help you keep organized;
The platform has Karma points and productivity visualizations for completed streaks and tasks.
Pricing
Free;
Pro-$3 per user per month;
Business- $5 per user per month.
#18. Primetric
Primetric is a project management software designed to forecast profitability and people workload through your project pipeline and task allocation.
It features budget and time tracking modules to compare your plans to reality and optimize them.
Primetric also gives real information about resource availability and considers public holidays for the different countries, contract times, and time off for all the task members.
Features
An intelligent resource that helps you find the ideal resources for the planned and ongoing projects based on cost rate, hard or soft skills, availability, or experience;
The app also reports if there is a need for you to hire new personnel in your organization. It uses a CV generator and even a skills matrix to show if there exists a gap in your organization;
Offers different organizational capabilities such as financial, HR, Sales, and many more;
With one Primetric account, you can manage multiple corporate locations by creating custom dashboards and reports for the different teams and departments;
Integrates with Redmine, BambooHR, Calamari, Tempo Timesheets, Teamwork, Jira, Clockify, and Harvest. You can leverage their open API to help you connect with more tools if need be.
Pricing
$171 per month and $17.10 per user, and an additional $6.30 per virtual seat per employee are managed through the software without administrative access.
#19. Kissflow Project
Kissflow Project is a great project management app that allows users to plan their teamwork to see who is working on what.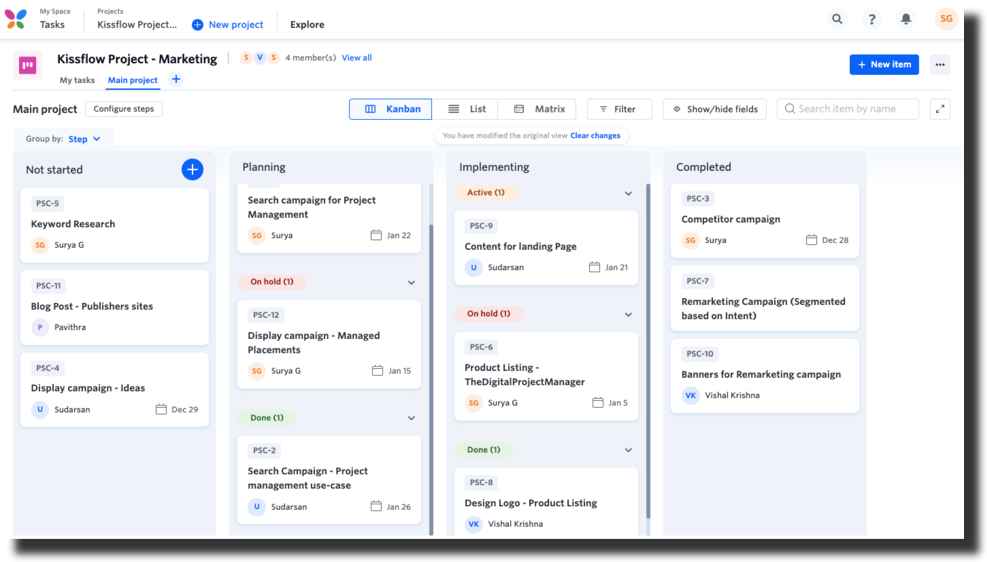 The app delivers exceptional results with the least amount of tracking. This management tool focuses on transparency, collaboration, productivity, and coordination.
It also has streamlined tracking features to provide a clear view of the tasks and items with a higher priority.
Features
Has customizable features that let you have total control of the platform to suit your teams' needs;
Include different project views such as swimlanes, Kanban boards, and list views;
It has the Project States function that helps reduce the amount of tracking on members. Team members mark tasks with the status either, in progress, on hold, or do;
You can easily share documents, project plans, and other files, and directly discuss the projects on the software;
Team members get email reminders when their deadline is approaching, which is great to help them set priorities and avoid missing deadlines;
It has integrations such as Microsoft and GSuite. The platform also offers webhooks and a Rest API.
Pricing
Free Version;
15 days free trial;
From $35 per month for 5 users.
#20. Hive
Hive is built on the emphasis on collaboration at the workplace. This project management software offers a wide range of communication features.
With project access, you can use Hive chat, Hive mail, comments, and multiple and shared inboxes.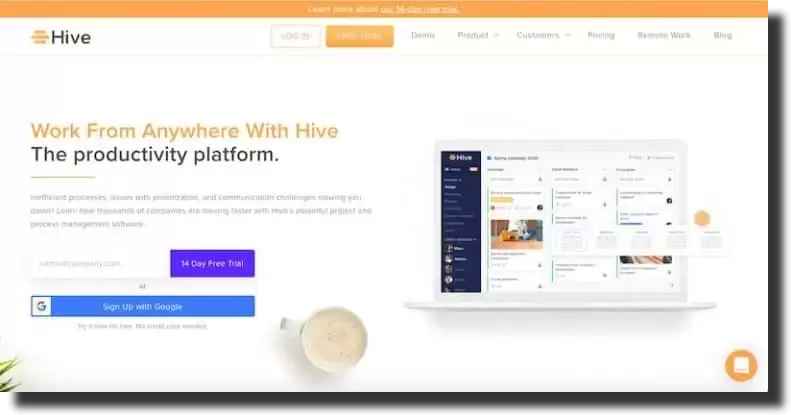 Hive allows you to easily collaborate with your team members in different ways that work for most people. You get to choose the various ways in which your team can access your project.
Features
Many team members can communicate by sending them messages, tagging them in the comments, or even letting them know about any urgent tasks;
The card has priority levels while determining who can see the information;
Hive has more than a thousand apps integrated, but requires a paid plan via zapier to access them.
Pricing
14 days free trial after signing up;
From $12 per user per month.
#21. Mavenlink
Mavenlink is a great resource management software with advanced Project planning tools ideas for project accounting execution and analysis.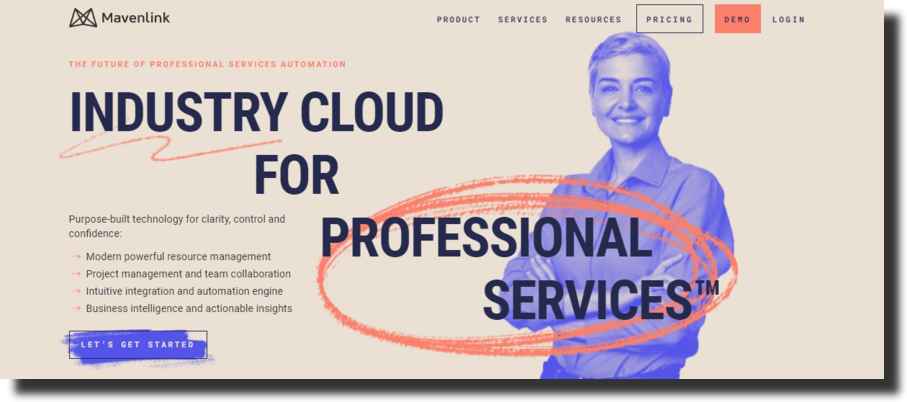 Businesses can leverage the app for intelligence and team collaborations for a great project management experience in one platform.
Features
The software offers a wide range of system dashboards, expense tracking features, and a great documenting system;
It features the BI suite module that supplies built-in reports, trend analysis, custom reporting, data visualization, and data integration with other systems;
Also, it offers more accounting tools than other tools on this list with project and task management, project costing, real-time utilization, and margin tracking;
The platform also has features such as rate card invoicing and integrations towards the back-end financial systems;
Furthermore, it provides great collaborations by enhancing public and private discussions around tasks and other project objects;
Operates on its integration platform M-Bridge, which lets you connect to other business apps such as financial software, CRM, and HCM;
The M-Bridge platform has inbuilt tools such as Jira, Netsuite, Expensify, G Suite, Salesforce, Xero, Slack, Qualtrics, Concur, Dynamic 365, Sage Intacct, and Quickbooks.
Pricing
Free version;
From $19 per month for up to 5 users.
Which Project Management Software Is Right For Your Business
Using project management software will improve the efficiency of your team and help them collaborate seamlessly.
With communication hurdles out of the way, you are guaranteed that your team will focus only on what is important. It will bring in more business and empower your customers to grow alongside your business.
Before you choose the ideal project management software for your organization, you must consider factors such as the size of your team and your business as well.
You must also consider the features that are mostly required in your business. Keep in mind that - what works for another business might not work as well for you.
Regardless of the tool you choose to go with, you will release that having project management software in place will make your day-to-day operations much easier.